'Straight Outta Compton' Star Aeriél Miranda Talks About NWA And Transitioning To Film From 'Pretty Little Liars'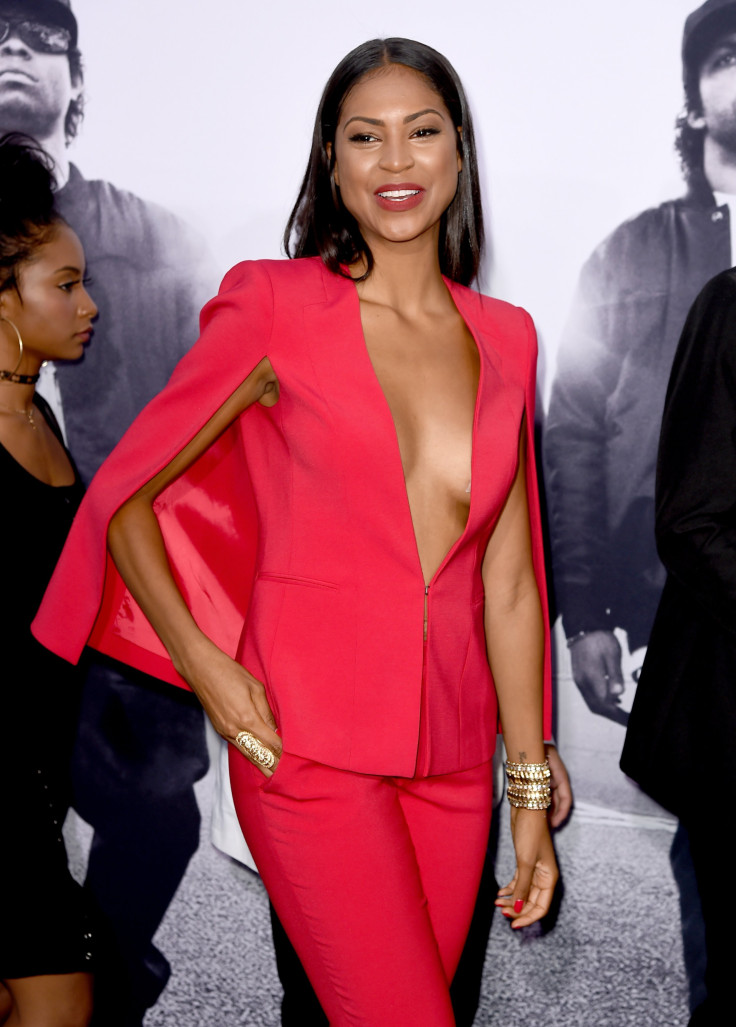 Now that the NWA biopic "Straight Outta Compton" is a decided hit, many that were involved in the film are looking back at this edgy historical music drama for the improbable delight that it was to make. Perhaps one of the most grateful for the opportunity to join the film was actress Aeriél Miranda.
Many fans of teen dramas may remember Miranda from her recurring guest roles on shows like 'The Nine Lives of Chloe King" or "The Tomorrow People." She was perhaps most well known as the character Shana Fring on ABC Family's smash hit, "Pretty Little Liars." However, for the cadre of people that went to see "Straight Outta Compton," you'll know her as "Lavetta."
"I play Dr. Dre's baby mama, Lavetta, and I think what we represent in the film is just reliving the events of a dream for Dre and how he has to make certain sacrifices in his home life to keep the dream alive. I am the representation of that particular struggle in his life," Miranda told International Business Times in a recent phone interview. "Dre is out here trying to pursue the dream and manifest this vision that he has and, you know, he has to deal with the realities of life."
At this time in his life, the NWA co-founder was a very young man with a child, girlfriend, family struggles and little to no income. His ability to keep his music goals alive despite the insurmountable odds against him is one of the things that Miranda said attracted her to this project. In general, the experience of telling the story of NWA was intoxicating to her as well.
"To just be so in touch with the world of NWA, which represents so much for L..A. culture, it was mind blowing. It's my mother's generation, my aunt's and my uncle's generation. It's the generation before me and the generation before them, that was their music, that was their time, you know?"
Although Miranda had to play the person that was trying to shut it all down by forcing Dre to quit music and provide for her, she says that she couldn't have picked a better film to help her transition from the world of TV to movies, where she says she feels significantly more at home.
"For me, as an actor, going from TV to film was interesting because TV and film are two very different things. I actually prefer film to TV, but I don't know why. I think there's just a different energy. That's really what it was," she said after pondering the issues for a moment. "As an actor you're used to jumping from character to character and role to role, but that was still the biggest transition for me, it wasn't necessarily my character. It was funny doing 'Pretty Little Liars' and 'Straight Outta Compton' back-to-back."
However, before you mistake her comments for those of someone who isn't a fan of the hit show that made her popular, know that Miranda has nothing but kind things to say about the series she left in Season 5.
"'Pretty Little Liars,' you know, it's a teen show that grew to be something bigger. I think you had girls from ages 7 to, like, 20 watching the show and that was the predominant audience," she said. "Then it grew to be for girls, boys, men, women people who are 7 to 35.. I think that's crazy. It's such a huge show and it's such a phenomenon. Just to be connected with that demographic feels really good."
Although Miranda says she's more at home in the world of movies after working on 'Straight Outta Compton," she said that her fans can expect her to make a return to TV at some point in the near future, although not necessarily "Pretty Little Liars." In the mean time, they can see her as Lavetta in "Straight Outta Compton."
© Copyright IBTimes 2023. All rights reserved.