'Stranger Things' Star Gaten Matarazzo Teeth Condition: Cleidocranial Dysplasia Campaign Is A Success After T-Shirt Campaign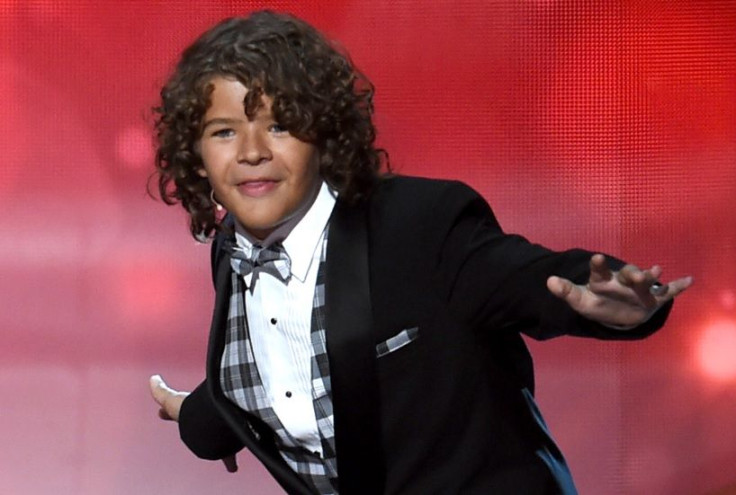 "Stranger Things" star Gaten Matarazzo took to Twitter and Instagram to thank his followers for supporting his battle with cleidocranial dysplasia, a rare bone disorder. Because of CCD, Matarazzo is missing his front teeth, which ultimately gave him a signature look as the character Dustin from the Netflix series.
To help raise awareness, Matarazzo created T-shirts. Each blue T-shirt has an image of a smiley face that was missing its front teeth, just like him. "Thank you all so much for making my T-shirt campaign a success and helping me raise awareness for CCD," he wrote on his social media posts Tuesday. "If you didn't get a chance to buy a shirt this time, never fear! I'll be doing them again in the future. You guys rock!"
The 14-year-old actor spoke openly about CCD last month. "There's a one in a million chance that you have of getting it – most likely you get it from a parent, but it just happened for me," Matarazzo told People Magazine. "I have a very mild case so it doesn't affect me as much, but it can be a very difficult condition to have."
The actor has had to have mouth surgeries for his condition. Others have to undergo back and face operations. Many with the condition have an underdeveloped clavicle, which Matarazzo said can be a benefit since many have a higher range of motion with their shoulders, like being able to move them into the midline of their bodies.
Now, many consider Matarazzo an inspiration. "The feedback has been great," he said. "A lot of people were messaging me saying, 'You made me feel better about myself, that you can show that you have this condition on TV and embrace it.' I feel like I'm raising awareness for it. It makes me feel good."
"Stranger Things" was picked up for a second season.
Follow me on Twitter @mariamzzarella
© Copyright IBTimes 2023. All rights reserved.