'Street Fighter V' Gets More Details On PS4 Beta And New Brazilian Stage And Character Teaser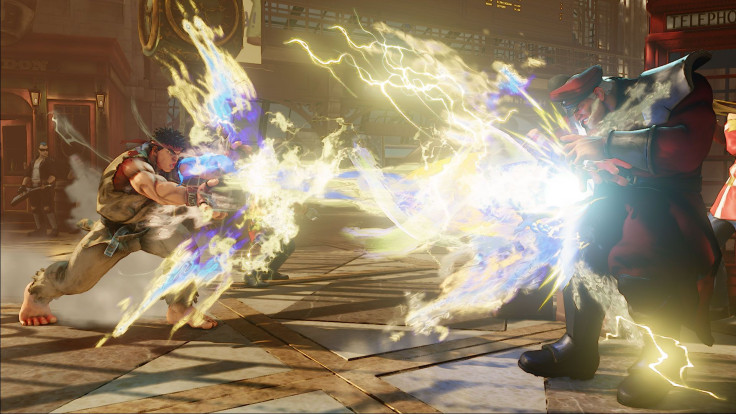 With the beta of "Street Fighter V" set for the last week of July, developer Capcom has provided a breakdown of what players can expect when they participate. The kickoff is July 23 and it will last for five days for PS4 players. Capcom said this is the first beta, so there is a possibility of another following it.
According to Capcom, the beta will mostly be for testing the online net code to improve the launch-ready version. Six characters from the "Street Fighter V" roster will be available during the beta, which are basically those that were seen at E3 2015 in June. However, at the beginning of the beta, only four characters will first be playable, with Cammy and Birdie to follow on the 25th.
During beta, players will get to experience how the match works, from choosing a player to getting matched with an opponent and taken through the different areas for fighting. Currently, three stages for the fights have been mentioned as part of the beta. These are namely the side street set in China, the terminal station in London and the Forgotten Waterfall.
Capcom also hinted it is looking into the use and functionality of the PS3 joystick for when "Street Fighter V" releases. However, for beta, the PS3 joystick and controllers will not work.
Players from different areas will have varying ways of participating in the beta. Those in North America and certain countries in Latin America should preorder the game to access the beta. For Europe and other territories, players need to sign up through PSN so they have a chance to be selected to participate. For Asia and Japan, PlayStation Plus members can apply for the beta by downloading the "Street Fighter V Closed Beta Test Ticket," though only select players from this roster will be notified of qualification.
As far as new updates for the main "Street Fighter V" game, Event Hubs has spotted a new video in which Capcom's Yoshinori Ono reveals a new Brazil stage. There is accompanying footage of the Brazilian stage, but Ono teases that new characters will be announced at the Brazil Game Show. Considering that Ono had donned a Blanka costume while hinting at the new character, this is a high possibility.
Brazilian stage reveal for "Street Fighter V" (Credit: YouTube/Street Fighter)
© Copyright IBTimes 2023. All rights reserved.