Super Bowl 50: Lady Gaga Gives Hillary Clinton Vibes In Gucci Pantsuit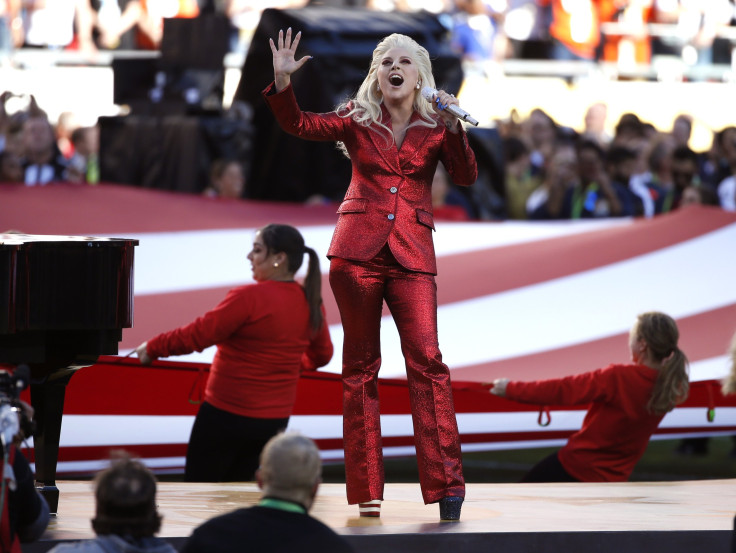 Lady Gaga gave Hillary Clinton vibes in her conservative red pantsuit during her rendition of the U.S. national anthem at the opening ceremony of Super Bowl 50 held at the Levi's Stadium Sunday. The singer appeared to be a younger and glammed up version of the 68-year-old politician. Hillary is always seen wearing monochrome pantsuits.
The 29-year-old singer gave a nod to the former secretary U.S. secretary of state, Hillary Clinton in her sparkling red Gucci pantsuit. Known for her eccentric sense of style, Gage toned down her look for one of the biggest sporting event in the U.S. Her pantsuit from the Italian fashion house was custom made for the "Born This Way" singer.
Gaga's Gucci pantsuit featured red sequins. The trousers were fitted and flared with a very 1970s retro style. The jacket was very traditional and featured long sleeves and oversized pockets. It also had wide lapels and chunky silver metallic buttons.
"Mother Monster" accessorized with diamond earrings and her heart-shaped engagement ring. Gaga went complete patriotic for Super Bowl 50 appearance with red, white and blue colors in her striking ensemble. Her red glitter eyeshadow, matching her outfit, was done by makeup artist Sarah Nicole Tanno.
Gaga took to Instagram and shared a selfie of her getting ready for the event. "Star Spangled Red-Slipper eyes!" she captioned the picture.
Gaga also showed off her glittery blue manicure and wore pink lipstick. Her long blonde hair was styled into a half up "do." The singer, who is engaged to Taylor Kinney, completed her look in a pair of mismatched platform sandals -- American flag heels. Her custom made Gucci sandals featured a blue glitter high heel and another red and white striped heel.
Gaga's heels are also popularly known as stripper heels. The singer sent Twitter into a frenzy over her pantsuit. She also took to Instagram and shared a snapshot of her heels. "Red White and Sparkly Blue. Thank you Alessandro for my beautiful custom outfit tonight! #gucci," she captioned the picture.
© Copyright IBTimes 2023. All rights reserved.