Super Saturday Results Leave Ted Cruz, Donald Trump Fighting For Delegates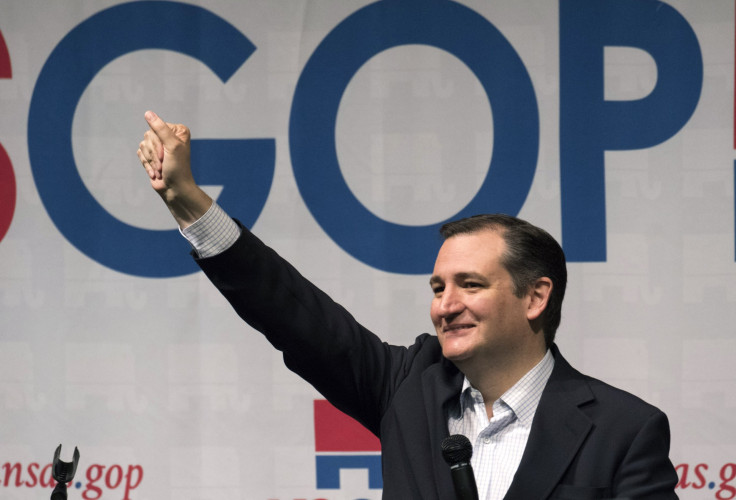 This Saturday wasn't a super one for Donald Trump. The Republican billionaire lost two presidential caucuses to rival Ted Cruz, allowing the Texas senator to emerge as a serious challenger on Trump's path to the White House. Trump won the primary election in Louisiana and caucus in Kentucky, but Cruz crushed him in the Maine and Kansas caucuses.
Trump still has the most delegates to the Republican National Convention, but the Super Saturday results could prove problematic for the businessman as the GOP establishment scrambles for a way to block him from the Oval Office. With Florida Sen. Marco Rubio failing to rise above third place Saturday, Cruz is looking more like the only lawmaker who may be able to stop Trump.
"Today has been a very good day," Cruz said onstage late Saturday at a campaign stop at Boise State University in Idaho. "To all of the people in Kansas, in Maine, in Oklahoma and Texas and Iowa and Arkansas and Minnesota and Idaho who have come to join us, let me say thank you. And welcome to our team."
A candidate needs 1,237 of the 1,739 available delegates to win the party's nomination at the convention in July. Heading into Saturday, Trump had 329 delegates to Cruz's 231 and Rubio's 110.
There were 155 delegates up for grabs Saturday in four states, three of which were holding caucuses. But, as ABC News noted, Trump tends to perform better in primaries. He found himself amassing only 23 percent of the vote in the Kansas caucus and about 33 percent in Maine. Cruz, meanwhile, scored 48 and 46 percent, respectively. Rubio and Kasich struggled to garner significant support anywhere.
The final delegate count after Saturday's contests was not yet clear.
At a news conference Saturday night, Trump seemed undeterred, saying his campaign was crucial so he could appoint a conservative judge to the Supreme Court to replace the late Justice Antonin Scalia. He thanked his supporters and looked ahead to primaries later in the month as well as the general election.
Trump also called for Rubio to drop out of the race, citing his low numbers. "Marco has to get out of the race, has to," Trump said, adding that he hoped to take on Cruz one-on-one. "Oh, do I want to want to run against just Ted. That would be easy."
He couldn't resist mocking Cruz, who he said won Maine, "because it's very close to Canada," where the senator was born. Trump then vowed to destroy Democratic candidate Hillary Clinton should they both make it to November.
"I'm the only one that's going to beat her," he said. "And I am the one person, trust me, that she does not want to run against."
2016 Republican Primary Delegate Allocation | InsideGov
Trump's bid for the White House was not yet derailed, though his competitors have ratcheted up their attacks on the businessman since he nabbed seven states on Super Tuesday. Among his biggest critics was 2012 Republican presidential nominee former Massachusetts Gov. Mitt Romney, who tore into the real estate developer in a speech earlier in the week.
"His domestic policies would lead to recession. His foreign policies would make America and the world less safe. He has neither the temperament nor the judgment to be president," Romney said. "And his personal qualities would mean that America would cease to be a shining city on a hill."
The anti-Trump rhetoric spread to the Conservative Political Action Conference (CPAC), a gathering of public officials and GOP activists, as it wrapped up Saturday in Maryland. Rubio criticized Trump after he canceled his appearance at the event on Friday, instead opting to hold a rally in Kansas. Cruz and Kasich also spoke at the conference.
While Trump's last-minute decision appears to have backfired, his competitors' choice to show up seems to have worked. CPAC attendees voted Cruz their favorite candidate in a straw poll often seen as a bellwether of conservative support. Rubio came in second.
Cruz has often cast himself as an outsider, capitalizing on voters' frustration with the state of the union under President Barack Obama.
"I think what we saw in Kansas is a manifestation of a real shift of momentum," Cruz told supporters in Idaho Saturday after winning Kansas with more than 35,000 votes. "The scream you hear, the howl that comes from Washington, D.C., is utter terror at what we the people are doing together."
That momentum could help Cruz catch Trump or have an impact if the GOP sees a brokered convention, in which no person gets the 1,237 delegates needed to get the nomination, this summer. In that scenario, the delegates would be able to support whomever they want.
Cruz has said he's not a fan of the brokered convention idea and urged voters to get behind him. Rubio, meanwhile, has been focusing his attention on winning his home state of Florida in its 99-delegate primary March 15. Kasich has been drumming up support in the 66-delegate Buckeye State.
Public opinion wasn't quite aligned with the Saturday results, though. Rubio was polling in second place nationally, with about 19 percent support, while Cruz had about 17 percent. Kasich trailed behind both at 7 percent.
Instead of individually grasping at votes, conservative blogger Eric Erickson wrote on his website that the lawmakers should work together against Trump.
"It is time for Ted Cruz to accept we need a unity ticket and for Rubio to agree to be Cruz's vice presidential pick, uniting the outsider and insider factions of the party and stopping Trump in the process," Erickson said."It is time to divide the map, combine the campaigns, and fight Trump state by state all the way to the convention as if a single ticket."
The candidates' next chance to impress voters on a national stage will be Thursday, when they attend a debate in Miami.
FOR FREE to continue reading
✔️ Unlock the full content of International Business Times UK for free
offer available for a limited time only
✔️ Easily manage your Newsletters subscriptions and save your favourite articles
✔️ No payment method required
Already have an account?
Log in
© Copyright IBTimes 2023. All rights reserved.