Can The GOP Stop Donald Trump? Yes, But Republican Establishment Has A Narrowing Path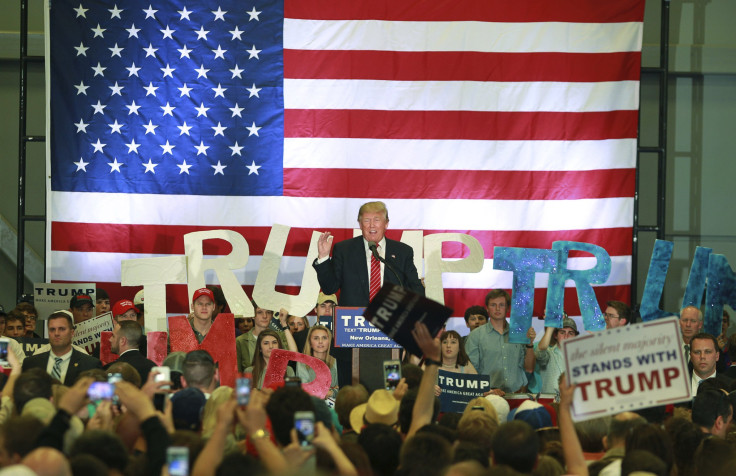 With Republican voters casting ballots Saturday in primaries and caucuses in Kansas, Kentucky, Louisiana and Maine, power brokers within the GOP are left considering the options for stopping presidential candidate Donald Trump — the party's front-runner — from becoming the nominee. While Trump holds a commanding lead in delegates, it's possible he could be stopped, but it won't be easy.
Republicans do have a shot at denying Trump the 1,237 delegates necessary to sew up the nomination before the Republican National Convention in July. Should Trump pass that threshold, under current rules, he automatically becomes the nominee as delegates are bound to a candidate in a first round of voting. But should no candidate hit the magic 1,237 mark, delegates can switch their votes in the second and subsequent rounds. That would leave open the possibility of perhaps the best chance at denying Trump the nomination: a much-discussed brokered convention — conjuring images of the smoke-filled rooms that produced candidates in the past. Such a convention has not happened in decades, and it's feared it would damage the relationship with voters.
Donald Trump Presidential Candidate Profile | InsideGov
But the idea of a contested convention has left many concerned. At the Conservative Political Action Conference in Maryland Friday, Republican National Committee Chairman Reince Priebus downplayed the likelihood of a contested convention, calling it "highly, highly unlikely." Former Republican presidential candidate Carly Fiorina railed in a keynote speech at the convention against the GOP establishment for considering ways to stop outsider Trump, who is outpacing his remaining competitors, Texas Sen. Ted Cruz, Florida Sen. Marco Rubio and Ohio Gov. John Kasich.
"If we want to defeat Donald Trump, we cannot turn to the establishment once again and ask them to guide the citizenry to the right answer," Fiorina said. "If we want to defeat Donald Trump, we must defeat him at the ballot box, by offering citizens conservative solutions to the problems in their lives."
The pushback against a brokered convention comes after 2012 Republican presidential nominee Mitt Romney, a figurehead of the so-called establishment, delivered a searing attack Thursday against Trump, deriding his temperament, lack of clear policies, business acumen and reputed dishonesty. And while the remaining Republican presidential candidates have indicated they would come around to supporting Trump should he be the nominee, other GOP lawmakers have indicated otherwise. Among the most notable who have not committed their support are South Carolina Sen. Lindsey Graham and Nebraska Sen. Ben Sasse, who stated publicly he would not back Trump.
RCP Poll Average for Republican Presidential Nomination | InsideGov
But should Trump be denied the necessary delegates to win outright — perhaps because of wins by Kasich and Rubio their home states of Ohio and Florida, respectively — there could still remain another significant hurdle. The Hill points out candidates can only make it on the nominating ballot if they have earned the backing of a majority of delegates from eight states, thanks to a 2012 rule change. The simplest way to acquire that support is through winning eight primaries. Currently, Cruz has won four states and Rubio has won one. For a new GOP candidate to emerge at the convention, such as Romney, an idea that has been floated, the rule would have to be changed.
Trump has proved nearly bulletproof during the election cycle, never fading after countless controversies that typically would have sunk any other presidential candidate. His own party has worked against him, and it's possible that come the July convention, the GOP could be thrown into a chaotic scramble. The nominating process, at the very least, has led many within the establishment to question what the future looks like.
© Copyright IBTimes 2022. All rights reserved.
FOLLOW MORE IBT NEWS ON THE BELOW CHANNELS