Super Tuesday 2 Results: Biden Expected To Win 5 States, Democratic Nomination
KEY POINTS
Joe Biden wins Super Tuesday II, dealing a death blow to Bernie Sanders' brave campaign
Biden has won three of the six states and looks set to win two more
Biden said his and Sanders' shared goal is to beat Trump in November
If "Uncle Joe" Biden wins Super Tuesday II in six states and most of its 350 delegates, it'll be "Bye Bye, Bernie" for the democratic socialist senator from Vermont.
As of 11:30 p.m. ET, Tuesday, Biden has won -- and won big -- in Mississippi, Missouri and Michigan and looks set to win in Idaho and in Washington despite a tie with Sanders, according to CNN polling.
FiveThirtyEight estimates Biden has a 60% chance of winning Washington and an 81% chance of winning Idaho. Biden leads in Idaho, 46.7% versus 38.9% (43% of votes counted). Sanders leads in North Dakota.
This early, and it's safe to say Joe Biden will be the Democratic Party's candidate for president in November.
With 86% of the votes counted in Mississippi, Biden has won the state in a massive landslide: 81.1% against 14.8%. Biden took Michigan, where Sanders sought to repeat his 2016 win, by 52.9% to 38.1% with 85% of the vote counted. Missouri went for Biden, 60.1% to 34.5% with 89% of the counting ended. Analysts said the loss in Michigan is the death blow to Sanders' campaign.
Surprisingly, Sanders is in a tie with Biden in Washington at 32.7% with 68% of the vote counted. Sanders will likely win North Dakota where he leads, 39.7% to 26.2% with 31% of votes counted.
Biden had 812 delegates against Sanders' 655 before Super Tuesday II. Analysts surmise the next four primaries in Arizona, Florida, Illinois and Ohio leave no path open for Sanders' to somehow wrest victory from the jaws of defeat. The math is against Sanders.
Biden took his victory lap early. Speaking to his ecstatic supporters, the man that ran as a moderate to Sanders' radicalism, said he'll focus on unifying Democrats.
"We're going to bring this nation together," said Biden. "We're regenerating a Democratic base, the Democratic Party."
"The African American community," Biden went on. "High school educated folks ... labor, suburban women, veterans, firefighters, union members and so many more. People of every economic station. The poor, who are struggling, and they are struggling in this environment. The middle class, who worries about whether or not they're going to be able to hang on and stay there, maintain economic security."
Biden again reminded his people he and Sanders share the common goal of defeating Donald Trump.
"I want to thank Bernie Sanders and his supporters for their tireless energy and their passion," declared Biden in Philadelphia, Pennsylvania. "We share a common goal, and together we'll defeat Donald Trump. We'll defeat him together."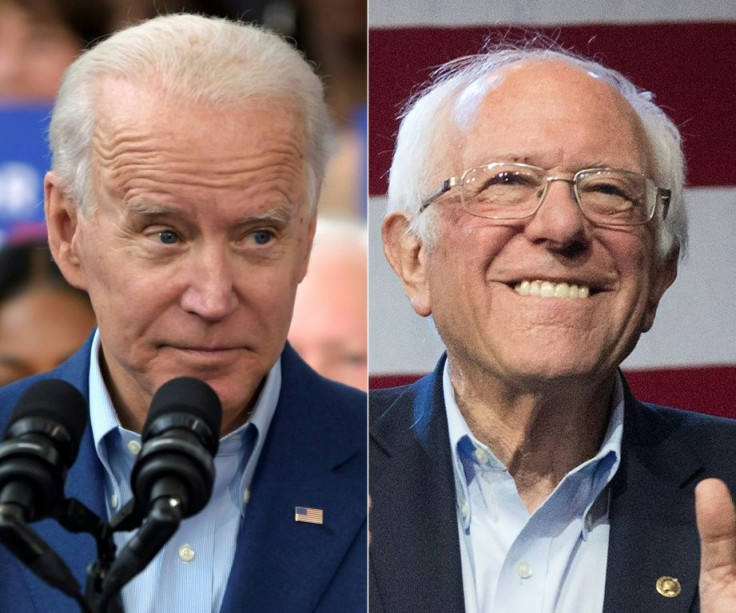 © Copyright IBTimes 2023. All rights reserved.