'Supernatural' Season 11 Spoilers: Sam Teases Return Of Metatron In Episode 3 Sneak-Peek Video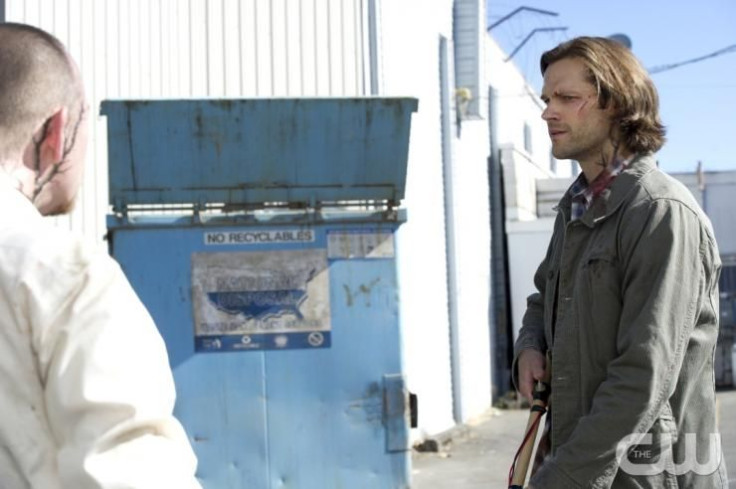 Things aren't looking so good for the Winchester brothers. In episode 3 of "Supernatural," Sam (Jared Padalecki) and Dean (Jensen Ackles) will attempt to hunt down The Darkness –- an evil, primordial entity that took on the form of a baby. But trying to track down the child, named Amara -- who went missing in episode 2 -- will be harder the than brother's initially anticipated.
"No one saw anything unusual going on at the house the day the baby disappeared," Sam reveals to his brother after getting in touch with neighbors. But little does Sam know what kind of gruesome chaos went down in Jenna's (Laci Mailey) grandmother's home the night the baby was kidnapped by Crowley (Mark Sheppard).
Dean, still traumatized by the tragic deaths of Jenna and her grandmother, questions what exactly they're trying to find -- is Amara even a newborn anymore?
"It is still a baby right? The Darkness I saw is an adult so it still has to grow up," the eldest Winchester asks. But Castiel (Misha Collins), who is suffering tremendously under Rowena's (Ruth Connells) spell, reveals that in the case of The Darkness, he's not sure what "growing up" means for the infinite force.
The trio then discuss what God's role in this mess is -- after all, he did "kick this thing's a** once before." But Cas tells the boys not to hold their breath.
"I believe [God] made a fairly definitive statement when he walked away," the sick angel says.
That's when Sam suggests a Plan B -- one that sends chills up Dean's spin.
"I hate to point this out… but you both know who we might need to help deal with The Darkness," Dean's younger brother says, implying that the two may need to call upon Metatron (Curtis Armstrong) for a helping hand.
Dean is less than enthused to hear that his brother wants to enlist the very same archangel who killed him in Season 9 and caused his transformation in a demon. "He was God's scribe. He did hear about everything," Sam argues of why they need his help.
Jeremy Carver, executive producer of "Supernatural," dished during the 2015 San Diego Comic Con that audiences would reunite with fan favorite characters in Season 11. He elaborated in an interview with TVLine that the characters set to be brought back would help Sam and Dean take down the evil force.
"As responsible as the boys feel for having released The Darkness and how much they personally want to defeat it, they're not going to be able to do it alone," Carver teased of what Metatron's role would play in Season 11 of "Supernatural."
"Supernatural" airs Wednesdays at 9 p.m. EDT on the CW.
© Copyright IBTimes 2023. All rights reserved.