'Surviving Compton' Exposes Michel'le's Abuse By Dr. Dre And Relationship With Suge Knight; 16 Things We Learned From Lifetime Biopic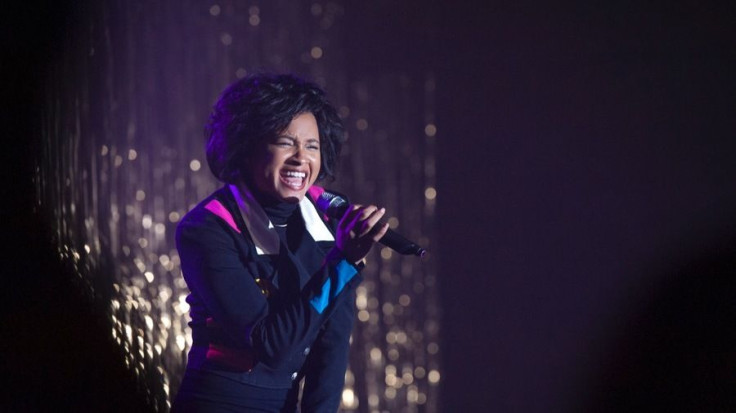 On Saturday, Lifetime aired its latest biopic, "Surviving Compton: Dre, Suge & Michel'le," the story of R&B singer Michel'le and her rise to fame. The movie also featured her down fall, which included substance abuse and alleged physical abuse.
Portrayed by actress Rhyon Nicole Brown, the film began at the start of Michel'le's career and showed her relationships with Dr. Dre and Suge Knight. Check out 16 things we learned from the biopic:
1. Raised in South Los Angeles, the women in Michel'le's life raised her to believe that if a man hit a woman, the woman just had to deal with it and it was her role to take care of the man. This is what may have led to the singer staying in an abusive relationship.
2. Michel'le's first taste of the music world came when she was asked to sing on the World Class Wreck Wreckin' Cru's "Turn Off the Lights." Unfortunately for Michel'le, she also got her first taste of the how music business works and wasn't paid for her contributions to the song.
3. According to the film, when Michel'le just began dating Dr. Dre, the producer-rapper had two children from two different women on the way. In reality, Dr. Dre already had three children when he began dating her.
4. Michel'le's first hit solo single came in 1989 with "No More Lies." While Dr. Dre was the producer behind the Ruthless Records' songs, it was Eazy-E who wanted to give Michel'le a shot at a solo career.
5. While grateful for her relationship with Dr. Dre and the world it opened her up to, Michel'le also revealed that she was terrified at the same time, never knowing what Dr. Dre would do to her next.
6. As the abuse at the hands of Dr. Dre got worse, it was Eazy-E and Jerry Heller who tried to convince Michel'le to leave the producer. Throughout the film, both men repeatedly asked the singer to leave Dre.
7. Michel'le's substance abuse began as the abuse from Dr. Dre got worse. The singer began drinking and taking prescription drugs to mask the physical pain from being hit.
8. After realizing she was pregnant with Dr. Dre's child, Michel'le thought about having an abortion. She and Jerry Heller both thought it wasn't in her best interest to have a child at that moment in her career but Dr. Dre wanted to keep the child.
9. Although Michel'le had three Top 40 hits during her time at Ruthless Records, Dr. Dre decided to take her and himself to Suge Knight's Death Row Records.
10. As things with Dr. Dre began to worsen — including having the lights in her house cut off — Michel'le turned to Suge Knight for help, someone she originally didn't like at first.
11. While Dr. Dre's career continued to take off during his time at Death Row, Michel'le was in a downward spiral and needed help. Although Dre didn't want to help her with rehab, Suge Knight covered all the costs and made sure the singer got clean.
12. During her time at rehab, Dr. Dre got engaged to another woman. Michel'le didn't find out about the engagement until she returned home.
13. After returning from rehab, Michel'le began a relationship with Suge Knight. Even though Knight was already married at the time, Michel'le had no problem with being the other woman for Knight.
14. Shortly after she began her relationship with Knight, he was sent to jail. While in jail, Knight had a list of rules for Michel'le including mandatory prison visits and stopping her from seeing her family. During his time in jail, Knight also paid Michel'le $30,000 a month, thus making the singer an employee of his.
15. Michel'le didn't only have to put up with abuse from Dr. Dre. During her time with Suge Knight, he also abused her but luckily for the singer, having a child with Knight was the only thing that stopped the abuse.
16. While in prison, Knight proposed to Michel'le and the two were married in the jail. Knight told Michel'le he would divorce another woman to be with her but it turns out the marriage between the singer and Knight was fake, as Knight never got the divorce.
© Copyright IBTimes 2023. All rights reserved.