T-Mobile Un-carrier 5.0: June Event Continues The Network's Mobile Industry Shakeup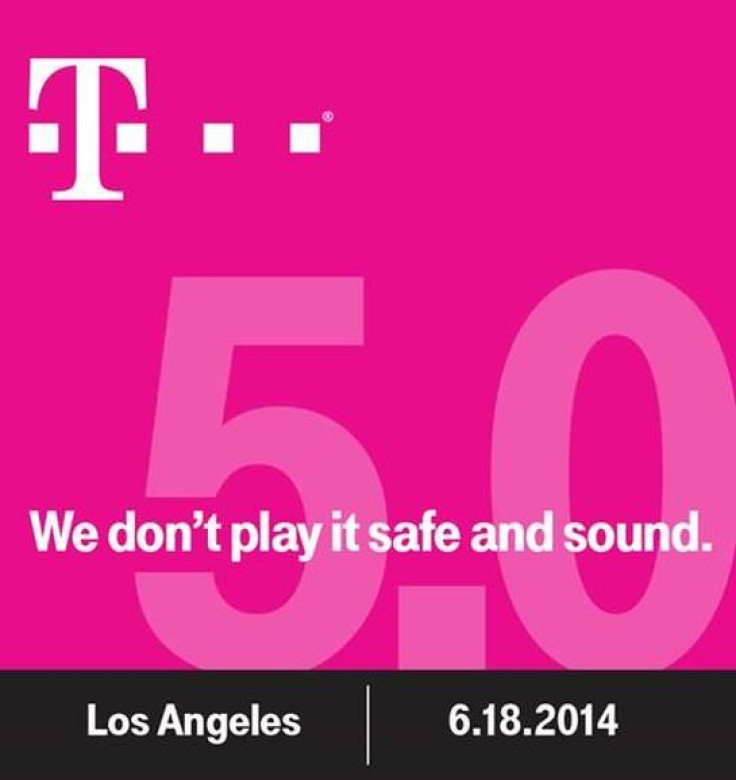 T-Mobile US, Inc. (NYSE: TMUS) continues its shake up the wireless industry in the U.S. with its "Un-carrier" initiative, which soon moves into its fifth phase. Since early 2013 the Magenta network has been altering the way mobile consumers think about owning and powering their smartphones, including the use of two-year contracts; subsequent changes in T-Mobile's business structure have caused competitors to take notice and adopt similar strategies.
T-Mobile has announced that the unveiling for its Un-carrier 5.0 initiative will take place June 18 in Los Angeles. Currently there are few details on what the event will entail, but T-Mobile has teased "We don't play it safe and sound."
In advance of the event, we review T-Mobile's previous Un-carrier announcements and its evolving strategy, which has shaken up the U.S. wireless industry in just one year.
Un-carrier
T-Mobile announced its Simple Choice Plan in March 2013 as the first phase of its Un-carrier initiative. With the Simple Choice Plan, T-Mobile got rid of the standard two-year contract structure used by most U.S. mobile networks. Customers start with one line at $50 per month for unlimited talk, text and Web with 500MB of high-speed data and can add extra lines and extra data to their plans for small fees. In addition, customers pay off the value of their device in monthly installments instead of paying a subsidized price.
According to T-Mobile, the Simple Choice Plan gets rid of data caps; overage fees and other erroneous charges often associated with standard wireless contracts and also makes the breakdown of payment structure easier to understand. The price of the phone and the price of the wireless service are more clearly laid out to the consumer.
"Many Americans don't realize the actual cost of the phones they're purchasing with a two-year contract because the cost of that phone is included in the cost of their data plan and the fees associated with their contract," Brandy Bishop, a T-Mobile spokesperson, told the International Business Times.
Since the implementation of T-Mobile's Simple Choice Plan, many rival carriers have responded by establishing their own payment plans options in addition to the option of having a two-year contract. AT&T Inc. (NYSE:T) has the Next Program, Verizon Communications Inc. (NYSE:VZ) has the Edge Program and Sprint Corp. (NYSE: S) has the Easy Pay Program.
Un-carrier 2.0
T-Mobile introduced its Jump Program in July 2013 as the second phase of its Un-carrier initiative. With the Jump Program, T-Mobile customers have the option of upgrading to a new smartphone more frequently than every two years. Enrolling in the Jump Program costs $10 per month and includes premium handset protection for lost or stolen devices and personal information protection with the Lookout Mobile Security service.
Originally, customers could upgrade their phones with the Jump Program twice a year after a six-month waiting period, without a specific number of payments made on a device, and T-Mobile would cover the full remaining balance. This has since been changed to allow users to upgrade to a new device without any waiting period. Instead, customers now have to pay 50 percent of the device's value in order to upgrade. This change has been criticized by consumers, but T-Mobile's Jump Program has still been an example for competitor carriers. The AT&T Next, Verizon Edge and Sprint Easy Pay are also influenced by T-Mobile Jump in that they also allow customers to upgrade their phones more frequently than every two years.
Un-carrier 3.0
T-Mobile introduced the third phase of its Un-carrier initiative in October 2013, which will allow Simple Choice customers to have unlimited data and texting in more than 100 countries worldwide at no extra charge. Un-carrier 3.0 also introduced free data for tablets; tablet owners on T-Mobile will get 200 MB of free 4G LTE data every month for the entire time they own their tablet. Competitor carriers have not directly countered these deals with offers of their own.
Un-carrier 4.0
T-Mobile introduced the fourth phase of its Un-carrier initiative at the 2014 International Consumer Electronics Show in January. The company enticed customers to switch to T-Mobile from AT&T, Sprint or Verizon by offering to pay their early-termination fees. Customers switching to T-Mobile must trade in an eligible phone, for which they will receive a credit for up to $300 off the cost of a new phone. Once customers receive the final bill from their old carrier, indicating their early-termination fees, T-Mobile will send a payment of up to $350 per terminated line.
Following this announcement there was a frenzy of AT&T, Sprint and Verizon customers switching to T-Mobile, and many commemorated the moment by posting "break-up letters" to their old carriers on social media. AT&T promptly responded by establishing its own offer to pay termination fees, which included $450 in account credit and up to $250 for trading in a device. Additionally, AT&T offered an extra $200 credit to customers porting their number from T-Mobile. Sprint also followed suit with a limited-time offer to pay termination fees. Verizon has yet to respond with any termination offer of its own.
Does T-Mobile really have that much influence?
Though it is clear that carriers are taking notes from T-Mobile's moves with its Un-carrier initiative, there is a fundamental trend that even drives T-Mobile. The most popular smartphones are usually offered by all of the major mobile networks, which leave carriers having to devise other strategies to gain and maintaining customers.
"It comes down to developing ways to grab as much land as possible. Make sure you (as a carrier) have the devices consumers want, but ultimately the devices aren't driving business anymore. It's the services," Technology Business Research analyst Jack Narcotta told eWeek in January.
T-Mobile's strategy has been the catalyst for changes that have been a long time coming.
© Copyright IBTimes 2023. All rights reserved.