T-Mobile Un-carrier 5.0 May Bring Billing Changes And Phone Unlocking To The Magenta Network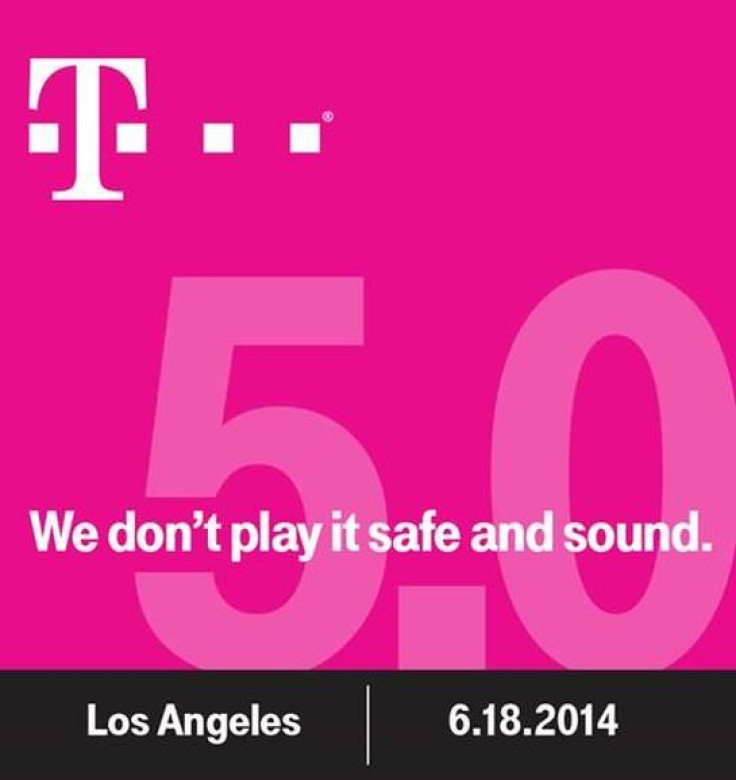 T-Mobile US Inc. (NYSE:TMUS) will announce the details of its Un-carrier 5.0 initiative at its much-anticipated event in Los Angeles on Wednesday, and there have been a few hints as to what the Magenta Network may unveil.
"We don't play it safe and sound," reads the press invite for the Un-carrier 5.0 launch event, where music artists Macklemore and Ryan Lewis are set to perform. While T-Mobile has given scant other clues on what to expect from the event, reports indicate that the carrier may introduce a new billing structure as well as phone unlocking to its network.
New Billing on T-Mobile
According to the unofficial insider blog TmoNews, one change that may be announced at the Un-carrier 5.0 event is an overhaul to the billing protocol, intended to map out the network's charges in a way that's easier for customers to understand.
Primarily, T-Mobile may rid its billing system of separate taxes and other extraneous charges, meaning that if a user signs up for a $50-per-month plan, they will pay $50. All charges will be included in the advertised price. The mobile network Metro PCS, a subsidiary of T-Mobile, already uses this billing model.
T-Mobile may also get rid of its prorated charge structure with Un-carrier 5.0. Currently, when a customer signs up for T-Mobile, his or her first bill includes charges accrued between the dates of activation and billing date, in addition to the first month's bill, so his or her first bill tends to be higher than each subsequent one. Without prorated charges, a customer's first monthly bill will account for only the first month of service, regardless of when in the month they sign up with T-Mobile.
Lastly, the carrier may also modify the payment structure for its Equipment Installment Plans (EIP) so that charges for a device are included from the first bill. As opposed to the subsidized prices most other carriers offer for their devices, T-Mobile allows customers to pay off the full cost of a device in 24 monthly payments. However, the carrier often doesn't begin collecting EIP until several months after a plan has started. Customers may not be charged for their devices until three months after their plan has begun. With EIPs included from the first bill, customers will be more aware of their overall charges from T-Mobile.
Phone Unlocking on T-Mobile
Reports indicate that T-Mobile may announce plans to allow phone unlocking for its devices at the Un-carrier 5.0 event. If true, this would let users power T-Mobile devices on other mobile networks with the use of a SIM card.
The recently leaked Samsung Galaxy Avant smartphone for T-Mobile reportedly features preloaded software, which unlocks the device for use on other mobile networks. According to sources for TmoNews, they were able to unlock a Galaxy Avant test model using the software and get the device working with a SIM card from Verizon. They claim that upon contacting T-Mobile to confirm that the device was unlocked, the testers were told, "According to our local business support, gen care solution centers no longer own the device unlocking process as part of their scope of support."
While unconfirmed, this could be an indication that T-Mobile may have plans to change its protocol for unlocking devices, which may have devices include pre-installed unlocking software.
However, a person claiming to be a T-Mobile employee told TmoNews that its procedure for unlocking devices hasn't changed.
"In order to unlock any T-Mobile device, please contact care or tech support. No changes have been made to the scope of support. Thank you," the supposed employee said.
T-Mobile The Trendsetter
For the past year, T-Mobile has been rolling out its "Un-carrier" initiative to set itself apart from traditional mobile carriers in the U.S. Starting with the introduction of its Simple Choice Plan in March 2013, T-Mobile has made several changes to its business structure, which has not only made the carrier a more attractive choice for consumers but also drummed up a considerable amount of competition, with rival carriers adopting similar strategies.
Though it's clear that carriers are taking notes from T-Mobile's moves with its Un-carrier initiative, there's a fundamental trend that drives T-Mobile. The most popular smartphones are usually offered by all of the major mobile networks, which leaves carriers having to devise other strategies to gain and maintain customers.
"It comes down to developing ways to grab as much land as possible. Make sure you [as a carrier] have the devices consumers want, but ultimately the devices aren't driving business anymore. It's the services," Technology Business Research analyst Jack Narcotta told eWeek in January.
T-Mobile's strategy has been the catalyst for changes that have been a long time coming.
© Copyright IBTimes 2023. All rights reserved.