Taylor Swift Shows Off Her New Grammy Awards [PHOTOS, VIDEO]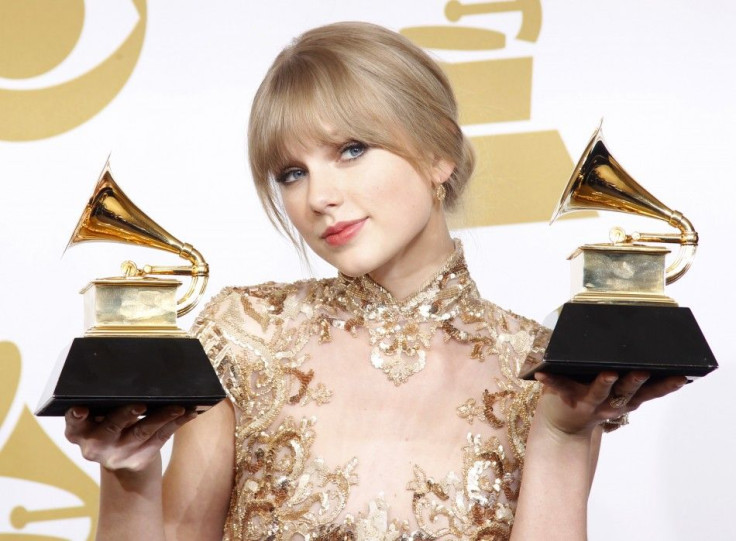 Taylor Swift is showing off her new Grammy Awards, which she won Sunday night for Best Country Song and Best Country Solo Performance.
The country music star and perennial Grammy winner took to Twitter shortly after the award show Sunday to show off her two new Grammy awards.
Best Country Song and Best Country Solo Performance. I'm floating, she posted on her Twitter account, accompanied by a photo of the envelopes stating that she was the winner of the two awards, both for her song Mean.
And later Sunday night the beauty posted a photo of her looking beautiful in a Zuhair Murad dress, holding up the two golden gramophone trophies she got to take home after the ceremony:
My two new friends!!!!!! I had so much fun tonight! Swift Tweeted.
Taylor Swift has been a Grammy darling for a number of years.
And she earned the sympathy of audiences everywhere when Kanye West infamously interrupted her part of the way through her acceptance speech for Best Female Music Video at the 2009 MTV Music Video Awards:
Yo, Taylor. I'm really happy for you, Imma let you finish but Beyonce had one of the best videos of all time. One of the best videos of all time, Kanye rudely declared after grabbing the mic from Swift. The exchange was one of the most controversial in the history of awards shows, and Taylor Swift has brushed it off with grace, racking up awards and critical acclaim in the years since.
The 22-year-old Reading, Pa., native earned four Grammys that year for her 2008 album Fearless, which earned her Album of the Year.
Watch Taylor Swift's live performance at the 2012 Grammy Awards in the video below:
© Copyright IBTimes 2023. All rights reserved.