Tech Starting To Feel Silicon Valley's Housing Crunch As Residents Leave Region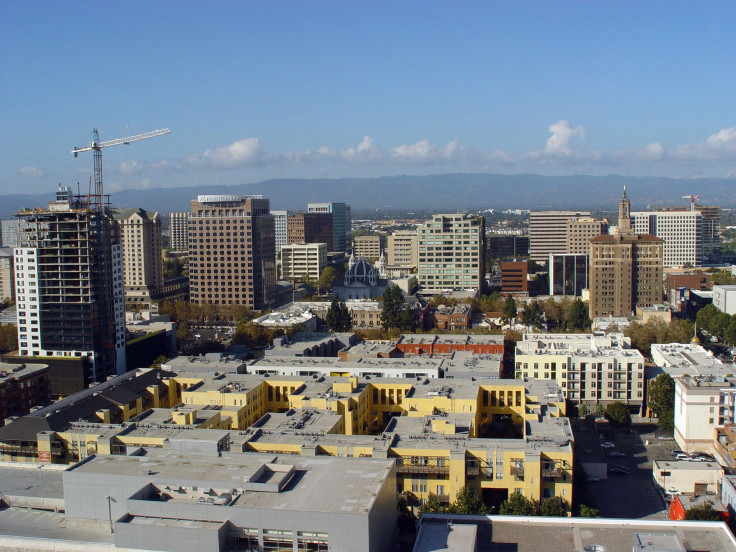 SAN FRANCISCO — Silicon Valley's housing problem, growing cost of living and unbearable commute times are finally starting to push techies away from the region. A recent report found Silicon Valley lost more residents to other parts of the U.S. in 2014 than it gained — the first time that has happened since 2011.
More than 7,600 Silicon Valley residents left the region for other U.S. cities, the Silicon Valley Competitiveness and Innovation Project found. The group's findings also show between August 2014 and August 2015, home prices increased 13 percent while rents increased 12 percent. Additionally, SVCIP's report found the average Silicon Valley commuter lost 67 hours in traffic congestion in 2014, up 13.6 percent since 2010.
Altogether, these conditions have concocted a cocktail that is making it difficult for many to justify staying in the San Francisco Bay Area. Just ask Andrew Gazdecki, the CEO of tech startup Bizness Apps.
In January, Gazdecki and his team made the difficult decision to relocate the company from San Francisco to San Diego. It's an ongoing process that will continue through April and ultimately migrate 50 Bizness Apps employees out of Silicon Valley.
"We love San Francisco, but at the end of the day there's other areas in the country with a lot of talent," said Gazdecki, whose company builds apps for small businesses. "By moving we're going to be able to recruit the best talent at lower wages than we would in San Francisco, allowing everybody to have a better quality of life, pay less for rent and basically just get away from all the downsides of San Francisco."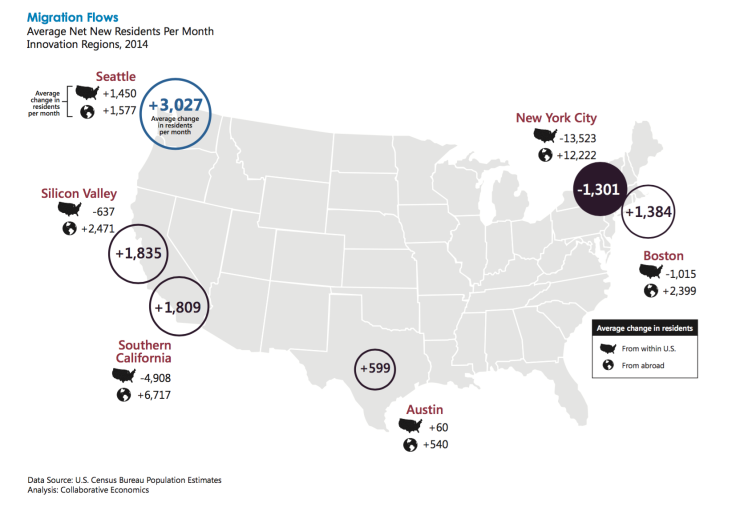 Silicon Valley's housing problems are nothing new. For years, the region's high cost of living has taken a toll on many who are unable to compete with the employees of tech giants like Apple, Google, Facebook and others for housing. But as the tech industry's demand for talent continues to grow at rapid rates that far outpace the region's housing construction, even the tech companies are starting to worry.
"The cost of living here makes it especially difficult to recruit people from out of town and it creates a vicious cycle," said said John Mracek, CEO of NetSeer, based in Mountain View, an online media and audience-targeting company. "Employers raise compensation, employees can pay more for housing and the cycle continues."
This concern has resulted in tech companies beginning to lend their names and support to efforts focused on creating more housing. Just this week the Mountain View City Council approved plans for dense housing that were heavily backed by Google. A year ago, tech companies largely refrained from partaking in efforts like this, but now, they have no choice but to do so, said Micah Weinberg, president of the Bay Area Council Economic Institute, which represents the likes of Apple, Google, Facebook and many others.
For the tech industry, this is new behavior "and in many ways uncomfortable. It's not the businesses that they run, and the politics of development are fraught," Weinberg said. "But it's become such an urgent imperative, not only for them as companies but in terms of the communities that they live in, that they are getting engaged."
But as Silicon Valley struggles to keep and attract talent, tech hubs like Seattle and Austin, Texas, are reaping the rewards. Both of these areas saw large gains in domestic migration in 2014, according to SVCIP's report. This may be due to the fact that a tech employee's salary in each of these cities goes much further than it does in Silicon Valley.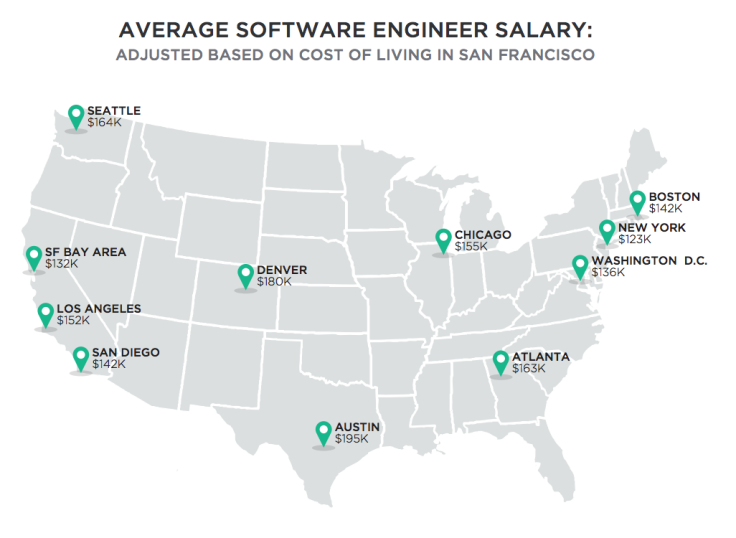 The average Silicon Valley software engineer, for example, made $132,000 in 2015, according to Hired, a startup that specializes in helping tech companies recruit talent. The average in Seattle is $125,000 while Austin's average is $110,000, but although these figures are lower, an engineer in either of these cities is getting more bang for his or her buck. When adjusted based on cost of living in San Francisco, an engineer in Seattle is is making $164,000 while an engineer in Austin makes $195,000, Hired's 2015 State of U.S. Salaries Report found.
"While it's easy for job seekers to get stars in their eyes over the salaries in San Francisco, when you adjust for cost of living, an engineer's salary goes further in every city in our analysis with the exception of New York," the report said.
This holds true for Gazdecki and the rest of the Bizness Apps team, who are already starting to feel the benefits of their move to San Diego's La Jolla neighborhood and their "instant raise."
"I pay $3,200 for a single-bedroom apartment, and it's a lot of money. In La Jolla we're looking at a two-bedroom apartment two blocks from the ocean for almost half that," Gazdecki said. "It goes to show you how much farther your dollar can go in different areas."
In Silicon Valley, the median home price in 2015 was $870,000, but that value grew more rapidly year-to-year than all other innovative regions, the SVCIP report said. For techies looking to buy a home, Silicon Valley is among the most expensive places to do so.
In San Francisco specifically the median home price is now $1.1 million, Zillow indicates. That's more than twice as much as the median home value in Seattle ($533,000) and nearly four times as much as Austin ($290,700). Some techies have even made their way to flyover country, to such areas as Lincoln, Nebraska, (median home price $149,100), to build tech communities where you don't have to be a millionaire just to own a house.
For tech companies without household names, locating in areas outside of Silicon Valley can make it easier to compete for talent against the likes of tech giants, which shower their candidates with benefits that many startups simply cannot afford.
"Paying the competitive compensation package is a must now, so what companies do on top of that is the differentiator," said Taro Fukuyama, co-founder and CEO of AnyPerk, a San Francisco company that helps tech firms deliver perks and discount programs to their employees. "There are a lot of factors such as developing a strong mission, promoting a great company culture and implementing unique perks. These are key since it's nearly impossible to only give competitive compensation packages in Silicon Valley since everyone does that."
For Gazdecki and Bizness Apps, the hope is that by moving to San Diego it'll be easier to stand out and hire top candidates without having to compete against top names like Google, Apple, Facebook, Uber, Twitter and others.
"We're a needle in the haystack in San Francisco," Gazdecki said. "By moving our company to a lower cost area like San Diego we can essentially be the haystack and be the company that people want to work for."
© Copyright IBTimes 2023. All rights reserved.