Ted Cruz Tax Plan Requires Trillions Of Dollars In Federal Spending Cuts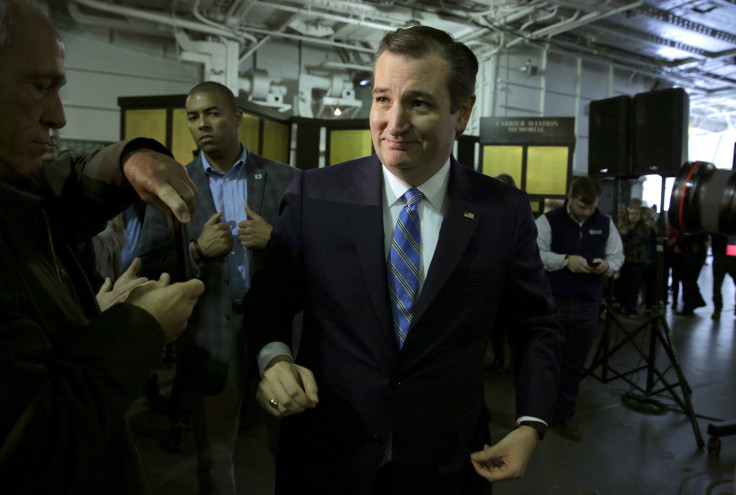 Republican presidential candidate Ted Cruz's federal tax plan would require the government to slash spending significantly over the next decade in order to balance the budget, according to a Tax Policy Center report published Tuesday. Under the plan, the budget would have to account for the $8.6 trillion reduction in tax collections between 2017 and 2026 under the plan, and another $12.2 trillion over the next decade.
Federal revenue would be reduced by a fifth, according to the report. Eliminating payroll taxes would have the most substantial impact on tax revenue, resulting in around $12.2 trillion in losses. Individual income tax reductions under the plan would result in a $11.9 trillion hole in the budget, while doing away with the corporate income tax would offset the budget by $3.5 trillion.
Cruz's plan includes a 16 percent "broad-based consumption tax," which all businesses would be subjected to, but the revenue from the tax would only compensate for 70 percent of the cuts. Wages would not be deductible business expenses, but payments to other businesses and capital expenses would be.
Florida Sen. Marco Rubio criticized this tax at Saturday's Republican debate, arguing that it would reduce income, while raising prices. "They don't get the income tax break," he said at the GOP debate in Greenville, South Carolina. "But their prices are going to be higher, because the VAT [value-added tax] is embedded in both the prices that business are charging and in the wages they pay their employees."
GOP Candidate Income Tax Plans | InsideGov
Under the Cruz plan, all income brackets would pay less in 2017 than they do now, the Wall Street Journal reported. Individual income tax rates would be reduced to 10 percent and exempt the first $36,000 of a family of four's income.
"My tax plan — typical family of four — first $36,000 you earn, you pay nothing in taxes. No income taxes, no payroll taxes, no nothing," Cruz said Saturday at the Republican debate. "Everyone pays the same simple flat 10 percent income rate. It's flat and fair."
© Copyright IBTimes 2023. All rights reserved.