Teen Girl Bravely Pushes Bear Off Fence To Save Dogs [Video]
KEY POINTS
Hailey Morinico heard her dogs barking outside
She went out and saw the large bear atop the fence
It was swatting at one of her dogs
She pushed the bear off the fence
A video showing a teen bravely pushing a bear off a fence has gone viral. Prior to the chilling encounter, the bear reportedly swatted at the teen's dogs in their California backyard.
Hailey Morinico, 17, risked her life to save her pets by confronting a large mother bear with cubs in the town of Bradbury, near the Angeles National Forest.
Initially, four dogs ran toward the bear. Hailey followed them outside and was greeted by the sight of the large animal. She shoved the bear off the dividing wall just seconds after it swatted repeatedly at one of the small dogs. The teen then picked up one of the dogs and ran off to safety.
In a TikTok video, Hailey said she "fought off" the bear to "protect my kids."
Initially, she thought the dogs were just barking because of squirrels or another dog. She even tried to make them stop.
"When I go over there to see what they're barking at I'm, like, that's a funny-looking dog," Hailey said as per the New York Post. "By the time I get there, the bear is literally like taking up one of my dogs."
Hailey's mother, Citlally Morinico, shared a video of the encounter on Facebook. "My child Hailey Moriniconiconii just saved our dog with superhuman strength. For me one of the scariest moments in life," she wrote in the caption.
The female bear and her cubs appeared to be uninjured in the confrontation. Hailey said the bear had retreated quickly.
"To be honest, I don't think I like pushed her that hard. I just pushed her enough to lose her balance," Hailey added.
The teen sprained her finger and knee in the process. The dogs did not sustain any injury.
According to the California Department of Fish and Wildlife, bear activity is not uncommon at this time of the year. "In most instances, we're witnessing the dispersal of young male black bears," the department explained. "The mother chases off her young male offspring in the spring to fend for themselves. The behavior itself is not unusual for the time of year."
"They sometimes take a wrong turn or end up somewhere they are not supposed to be – in a residential neighborhood or in the middle of town," the department said further.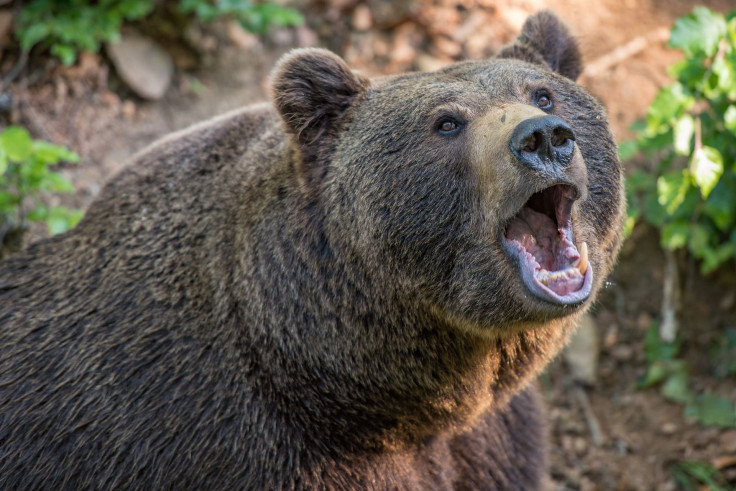 © Copyright IBTimes 2022. All rights reserved.
FOLLOW MORE IBT NEWS ON THE BELOW CHANNELS