'Teen Mom' Star Leah Messer Thinks Her Mom Enjoyed Abortion Lies
When bombshell after bombshell was released about Leah Messer's memoir "Hope, Grace & Faith," it was hard to believe that there would be anything left for readers to discover but there is.
In the book, which was released on May 5, the MTV "Teen Mom 2" star revealed some shocking details about her childhood and life in general, including the revelation that she, along with the help of her mother, disguised an abortion as a miscarriage.
"[If I could change anything,] I would have been more honest about the abortion. I would've owned that then and been 100 percent honest," Leah told Us Weekly. "I would have been more considerate — even about my journey in general, just holding myself accountable and holding myself high for my journey."
READ: 'Teen Mom' Leah Messer Joins Alleged Cult Accused of Sexual Violation, Brainwashing
The 28-year-old mother of three shared recalled the experience of taking the abortion pills in her jaw-dropping memoir, writing, "I didn't feel anything after I left the clinic, but the next day I took the second pill and a few hours later I started cramping. They told me that it would be like having a heavy period, but it was way more than that."
At the time, Leah was married to Jeremy Calvert (they were married from 2012-2015) and this was before they had their daughter 7-year-old Adalynn.
"When she told him I was having a miscarriage, the way she played the role of concerned mother was so damn convincing even I couldn't tell she was lying," she continued. "The really [expletive] up part though, was that I couldn't help thinking she was enjoying all the drama."
Leah added that she didn't think the moment would have been captured for "Teen Mom" audiences in 2012 as they had already wrapped filming for that season. However, when she notified the show she had lost the baby, a camera crew showed up the next day.
"When they showed up the next morning I was still cramping and bleeding heavily. I had barely processed what had happened, and I was genuinely heartbroken because I had convinced myself I had given up the only boy I would ever have. I hated myself for the lie, but I was in so deep there was no turning back," she wrote of her continuation of the lie that she had a miscarriage.
Eventually, she did come clean to Jeremy and to herself, which was how she was able to move forward.
READ: 'Teen Mom' Alum Jenelle Evans Reveals Who Her Return Would Have Kicked Off
"It felt so dark because it was hidden. I wasn't able to talk publicly or privately about it because I let the people who were closest to me at the time convince me that it was something I needed to hide," Leah disclosed. "It wasn't until I was finally able to bring myself to tell Jeremy what had really happened that I started to realize that as long as I was living with the lie it would keep eating away at me."
"I carried the pain and the guilt around with me for years, until I finally got to the point where I could hold myself accountable for my choices without punishing myself for them," she added.
This wasn't the only bombshell from Leah's new book that involved her mother. The West Virginia native also dished about how she was part of a kiddie "Fight Club" while in middle school and was encouraged by her mom and grandmother to fight with others.
One of those fights occurred in high-school and not only caused monetary damage to her family but also landed one of her classmates a trip to the hospital all because Leah thought the girl was after her boyfriend Robbie Kidd.
"When I finally told my mom and my grandma what had been going on, their response was that I needed to fight this girl," she wrote. "My grandma even came down to the school one day and pulled me out of class to tell me that I needed to kick her [expletive] right then and there, or I'd be in trouble with her."
The TV personality expressed that she didn't want to fight and was already walking a thin line with the administration at her school but a few days later she couldn't control herself and attacked her classmate. She two teachers had to pull her off of the girl.
"I had beaten the girl so badly that she ended up in the hospital and her family pressed charges against me for juvenile assault," Leah admitted. "I was suspended from school for three days, I had to see a parole officer once a month for six months, and my grandma had to pay the girl's hospital bill."
Leah has been a cast member and has shared her life on "Teen Mom 2" since 2011. Prior to that, she was featured on "16 & Pregnant." With so much of her life filmed for the entertainment of fans, it's surprising how many (almost) unbelievable details have emerged from her book but, alas.
"Teen Mom 2" Season 9 finished airing in November 2019, so fans are due for another group of episodes soon. When and if those happen, fans can likely look forward to Leah opening up even more about her past.
"Hope, Grace & Faith" is available for purchase now.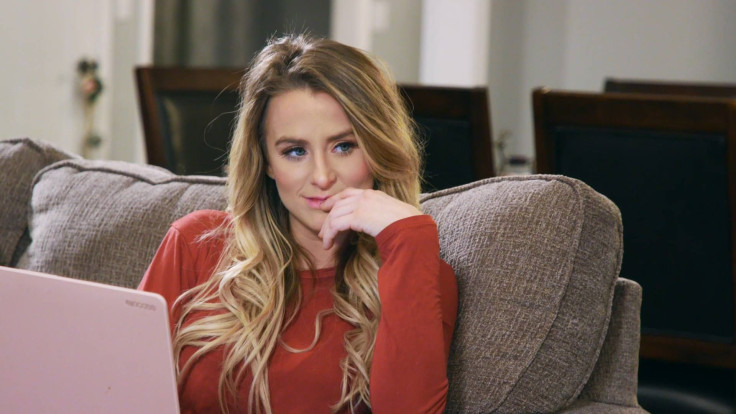 © Copyright IBTimes 2023. All rights reserved.