'Teen Wolf' Star Shelley Hennig Jokes About 'Rigged' Teen Choice Awards Win; Tyler Posey Teases Season 6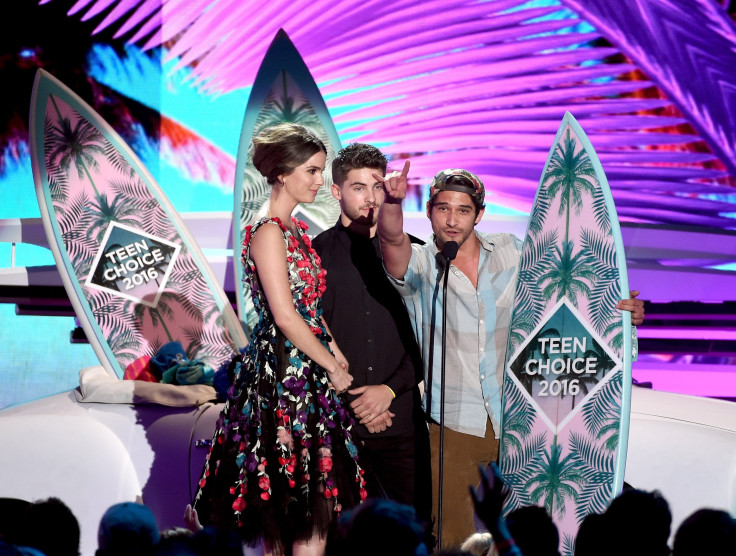 "Teen Wolf" walked away with two honors at the 2016 Teen Choice Awards Sunday. Actors Tyler Posey, Shelley Hennig and Cody Christian appeared onstage at The Forum in Los Angeles to accept separate wins for the MTV supernatural drama.
While Posey was the first to mic following the show's win for Choice Summer TV Show, he allowed his co-star Hennig, who was decked in Marchesa, to have her time to shine. Fresh off her first win for Choice Summer TV Actress, Posey said he wanted the Malia actress to have a chance to speak before giving his acceptance speech.
"Ahh!" Hennig excitedly said into the mic before accusing Posey of helping her win. "You rigged it, didn't you?" she jokingly asked before interrupting him, saying, "Don't answer that!"
Posey soon after took to the mic to address "Teen Wolf" fans and thank them for their votes.
"Honestly, we've been coming Teen Choice for, I think, the last seven or eight years now. As long as 'Teen Wolf' has been alive, and these are always just the greatest things," he commented of the surfboard trophy. "I'm just so full of love. We love each other so much and love all of you guys so much."
Ahead of the premiere of the final season of "Teen Wolf" this fall, Posey also thanked fans for their support and teased one of the show's best seasons to date. "This is the last season of 'Teen Wolf.' We just want to say thank you to Fox, to Teen Choice Awards, to every single one of you beautiful people. You're the only reason that we're here and we truly do love every single one of you. Let's make this last season one to remember."
"Lets kick some a--!" Posey concluded his speech after music played him offstage.
Season 6 of "Teen Wolf" airs on MTV Tuesday, Nov. 15. A timeslot for the new episodes has not been revealed by the network.
© Copyright IBTimes 2023. All rights reserved.