Tennessee Death Row Convict Edmund Zagorski Chooses Electric Chair Over Lethal Injection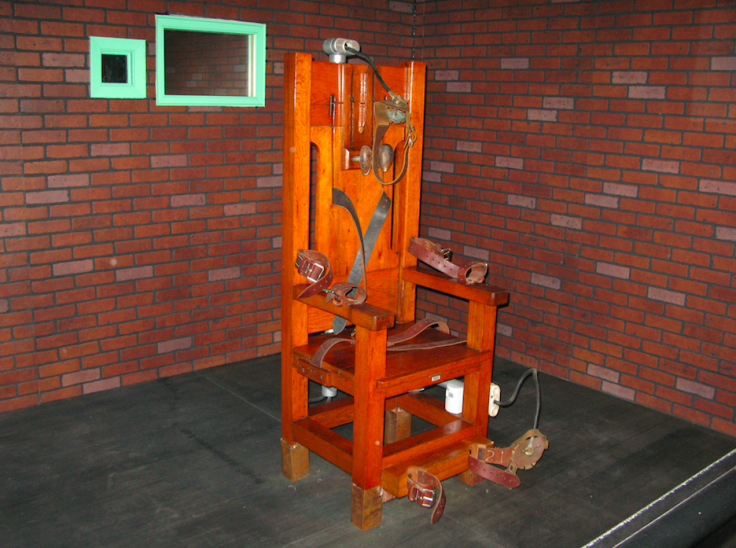 Death row inmate Edmund Zagorski has chosen the electric chair for his upcoming execution scheduled for Thursday. Zagorski's decision came within hours of a Tennessee Supreme Court ruling that approved the state's controversial three-drug lethal injection protocol.
Zagorski was one of 33 inmates, who filed a lawsuit, claiming the drug cocktail used in lethal injections torture inmates to death. However, the Tennessee Supreme Court said in its ruling that the lawsuit "failed to establish that the current, three-drug lethal injection protocol violates prohibitions against cruel and unusual punishment under the United States Constitution and the Tennessee Constitution."
The 63-year-old's attorney, Kelley Henry, released a statement Monday evening in response to the Tennessee Supreme Court's decision.
"Faced with the choice of two unconstitutional methods of execution, Mr. Zagorski has indicated that if his execution is to move forward, he believes that the electric chair is the lesser of two evils. 10-18 minutes of drowning, suffocation, and chemical burning is unspeakable. We notified prison officials of his decision within two hours of the Tennessee Supreme Court's decision," Henry wrote.
Zagorski was convicted in April 1984 of killing two men — John Dale Dotson and Jimmy Porter — in Robertson County. Authorities claimed Zagorski shot them, slit their throats and robbed them after luring them into the woods by promising to sell them a large amount of marijuana.
Along with the request for the electric chair, Henry said he will ask for a stay of Zagorski's execution to allow the Supreme Court time to review the case.
Dotson's wife Marsha spoke out recently saying she still remembers her husband as the man she loved.
"Dale was a good man. He had a good heart, he was a good provider, he took care of me and my family," Marsha said. "He [Zagorski] could have let my husband and Jimmy live. He could have took the money and went on about his business. Nobody would have went to the police about it because it was drug money, it was an attempt to buy 100 lbs. of marijuana."
She added, according to local News Channel 5: "What's more inhumane than the way he killed Dale and Jimmy? He shot them twice in the stomach then went down there and slit their throats. Now come on, how much more cruel and inhumane is that? My husband lived 3 to 5 minutes according to the autopsy, and Jimmy lived 5 to 7 minutes. He's not gonna live 3 minutes, ff that long, when they give him that lethal injection. And what's he gonna do, have a heart attack and die? Or just gonna shut his lungs and heart down? He's not gonna suffer near as long as my husband and Jimmy did. So I don't have no pity on him there."
In August, Tennessee executed its first inmate in nearly a decade and the Supreme Court at the time declined to stay the execution. Tennessee is one of only nine states that allow electrocutions, and just 14 of the 871 inmates executed in the United States since 2000 have been killed in the electric chair, according to the Death Penalty Information Center.
© Copyright IBTimes 2023. All rights reserved.