Terrifying Video Shows Skydivers Jumping From 16,000 Feet, Moments Before Stalled Aircraft Plummets [Watch]
A terrifying video of a group of skydivers jumping from around 16,000 feet while a stalled airplane loses control and plummets in South Africa has captured some nerve-wracking moments.
The video of the incident that happened on Oct. 14 in Mosselbay, in the Western Cape Province of South Africa, was shared by Viral Hog on YouTube on Nov. 3, New York Post reported.
The video that has gathered more than 74,000 views begins by showing the skydivers opening the door of the aircraft and lining up one by one at the door while preparing to make a jump from the stalled aircraft.
Stalling is an aerodynamic condition that occurs when smooth airflow over the airplane's wings is disrupted, resulting in loss of its lift. The pilots recover stalled planes by pushing the aircraft's nose down and increasing the engine power using the throttle. When airspeed increases, the pilot can level the wings and pull up the aircraft back to normal flight.
The video then shows the skydivers who are lined up on the exit door jumping from the aircraft moments before the plane goes into a twirl losing its control.
"We opened the door and began the climb out. As is normal, the skydive team was fully focused on achieving correct positioning and exit timing. This intense focus on task resulted in many of the skydivers missing the tell-tale signs of an imminent stall," the videographer Bernard Janse van Rensburg said.
After the aircraft makes a spin, it swerves close to the floating skydivers for a brief moment but did not make any contact. When the plane then takes a nosedive, one more skydiver could be seen exiting the aircraft. The video ends by showing the skydivers eventually building a pre-planned formation in the sky and descending.
"With 9 of us initially in the sky, there were still 5 skydivers inside of the aircraft. The moment was surreal and I could not believe what I was seeing. Everything happened in slow-motion and I remember thinking 'am I really seeing the plane spinning nose down next to us'." Rensburg described his experience in the caption of the video.
The aircraft landed safely on the runway, and no one was injured in the incident, Rensburg added.
The intense video has left viewers stunned and many viewers have shared their comments about the terrifying experience.
"Yikes! Not sure what's scarier, being in a nose-diving plane or jumping out at that height," a viewer commented. "These guys were lucky. Those left in the plane would have got the full tumble drier experience!!!" another commented.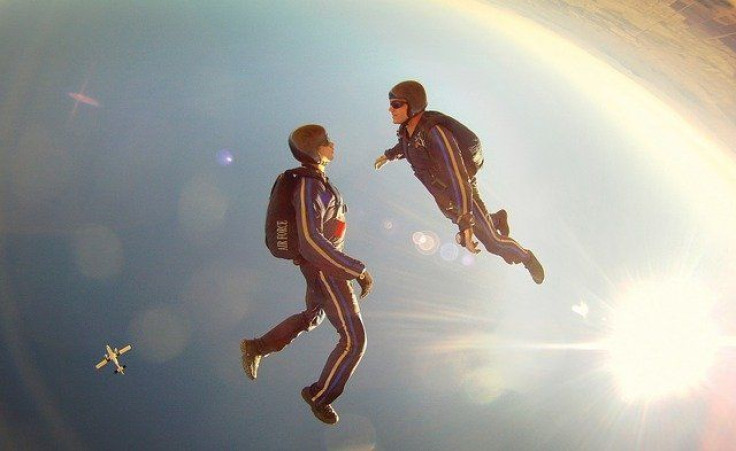 © Copyright IBTimes 2023. All rights reserved.
FOLLOW MORE IBT NEWS ON THE BELOW CHANNELS