'Terrorist Attack' In Egypt: Militants Kill At Least 28 Soldiers In Double Sinai Attacks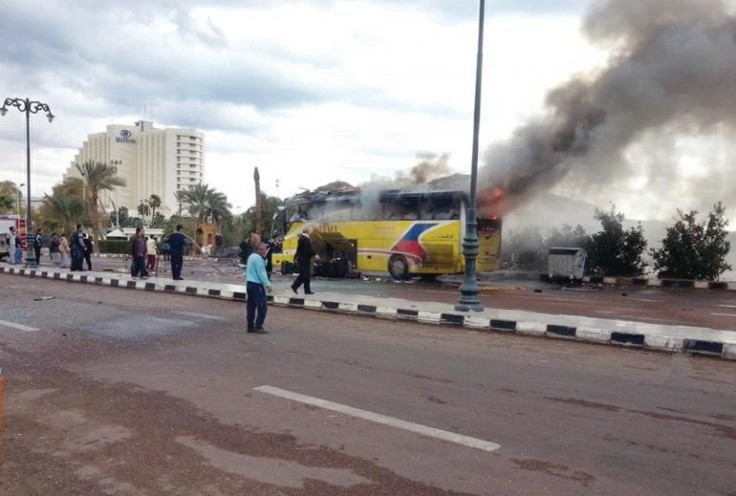 Egyptian President Abdel Fattah al-Sisi convened his National Defense Council Friday after the country was rocked by what he called a "terrorist attack." Two military checkpoints in the Sinai Peninsula were attacked Friday, killing at least 28 men from the security forces and wounding several others. This was the deadliest day for Egyptian forces in the Sinai since the military ousted President Mohammed Morsi in 2013.
No one immediately claimed responsibility for a car bomb that went off in al-Kharouba, just miles from Egypt's border with the Gaza Strip, killing at least 25 people. Hours later, a gunman, identity still unknown, opened fire at a checkpont in al-Arish and killed at least four others, according to Reuters. Medical officials told Reuters the death toll is likely to increase as several of the wounded were still in critical condition.
Sinai is home to Egypt's deadliest insurgent group, the Ansar Bayt al-Maqdis. The group is responsible for many of the recent attacks on Egyptian security forces and past attacks on Israel. Local media are declaring the group the prime suspect in Friday's attacks. The U.S. designated ABM as a Foreign Terrorist Organization in April 2013.
Egyptian officials have expressed concern that extremist groups could spill into Egypt from neighboring countries like chaotic Libya, where former al Qaeda affiliate Ansar al-Sharia has expressed solidarity with the Islamic State group. Last week, Egyptian warplanes were reportedly bombing Islamist militants in Benghazi, Libya, in an air campaign that officials said could last up to six months.
Earlier this month, militants in Egypt formed a group called Jund al-Khilafah, which aligned itself with ISIS. In its initial statement, the group vowed to attack U.S. interests and "worshipers of the cross" across the country. While there is still no direct link known between ISIS and Friday's attacks, several ISIS-affiliated social media accounts shared the news and warned of an "Islamic State" in Sinai.
The Obama administration condemned the attacks in Sinai and vowed to continue helping Egypt "counter the threats of terrorism," in a press statement.
© Copyright IBTimes 2023. All rights reserved.
FOLLOW MORE IBT NEWS ON THE BELOW CHANNELS