Tesla Model S On Autopilot Rams Into Parked Fire Truck On Freeway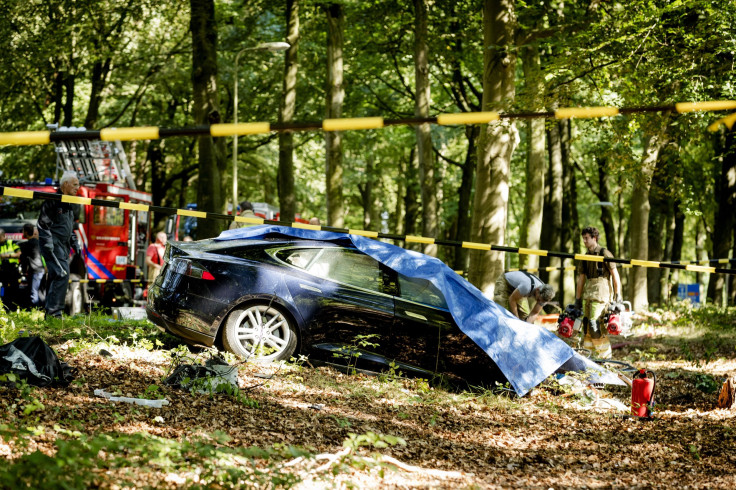 A Culver City firefighting truck was hit by a Tesla on Monday morning, reports stated. The crash occurred while the crew was responding to an accident on the 405 freeway in Washington Boulevard, CBS Local reported.
According to the authorities, the Tesla Model S was on autopilot mode when it crashed into the back of a parked fire truck which was attending the scene of the accident. No injuries were reported in the crash.
The Culver City firefighting department confirmed the crash on Twitter. In a tweet, the fire department said that the Tesla, which was on autopilot mode, was traveling at a speed of 65 mph when it rammed into the fire engine.
Culver City Fire Department Battalion Chief Ken Powell said that the emergency lights of the fire truck were on when the crash occurred. The truck was trying to block the scene of a previous accident and was parked at the emergency and carpool lane when the Tesla crashed into it, he added.
According to Powell, the Tesla suffered significant damage during the impact. He also said that the fire truck too suffered heavy damage and was taken out of service. No injuries were reported in the crash, however, the diver of the Tesla was carted off for a medical evaluation due to the force of the impact.
Tesla said the particular Model has numerous warnings that need to be adhered to while operating in the autopilot mode. The autopilot mode is "intended for use only with a fully attentive driver," reports stated, citing Tesla officials.
In the recent years, Tesla has been accused of using technology that is below par with the industry safety standards, resulting in numerous accidents involving autopilot mode.
This was not the first time a Tesla Model S was involved in a car crash. In May 2016, a Tesla Model S had rammed into a vehicle in Gainesville, Florida, raising questions about the safety of self-driving cars.
In a press release referring to the car crash in Florida, the National Transportation Safety Board (NTSB), determined that the truck driver's failure to yield the right of way and the car driver's inattention due to overreliance on the vehicle automation was the probable cause of the fatal crash.
The NTSB also said that the automation technology used by Tesla was also to blame for as the operational design of the car led to the driver's overreliance on the vehicle. The press release also stated the car's automation allowed for "prolonged disengagement from the driving task."
Speaking of the incident, NTSB Chairman Robert L. Sumwalt said: "Smart people around the world are hard at work to automate driving, but systems available to consumers today, like Tesla's 'Autopilot' system, are designed to assist drivers with specific tasks in limited environments."
© Copyright IBTimes 2023. All rights reserved.