As Tesla Motors Inc (TSLA) Stock Trades Near Six-Month Low, Model S Maker Sweetens Referral Deals In Bid To Boost Sales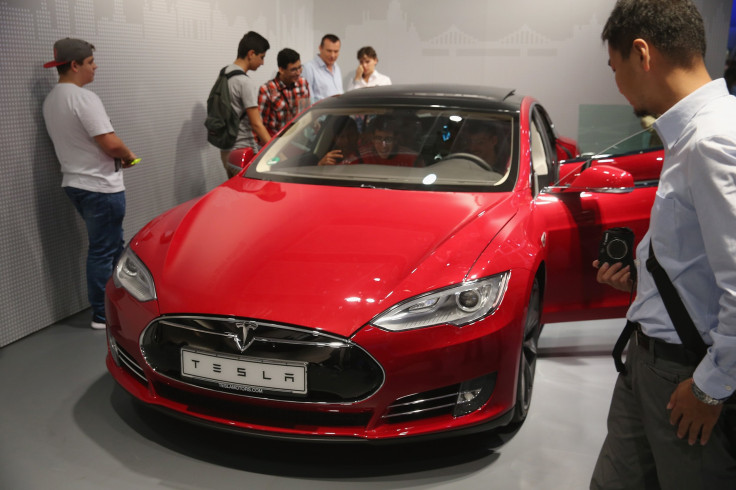 Shares of Tesla Motors Inc. (NASDAQ:TSLA) hit their lowest closing price in six months Wednesday, a day after Consumer Reports issued a sobering reliability report on the Model S electric car. In a bid to meet its 2015 sales goal of at least 50,000 vehicles, the Palo Alto, California, car company sweetened its referral program.
To deliver on its promise to Wall Street analysts, Tesla needs to deliver about 16,800 vehicles in the last three months of the year, up from its record 11,580 units sold in the July-September quarter.
Tesla announced on its website Wednesday that current vehicle owners who persuade five people to place orders by the end of October will get a Tesla Powerwall home energy-storage pack. The successful Tesla owners will also be invited to the ribbon-cutting ceremony of the battery "Gigafactory" east of Reno, Nevada. The date for the event has not been disclosed. Tesla will release its third-quarter earnings report on Nov. 3 after markets close.
The new incentive is part of the company's referral program, announced in July, that offers discounts to new customers and the current Tesla car owners that refer them. Automakers boost incentives when they need to stimulate sales. But Tesla's approach is characteristically unconventional. Instead of advertising low interest rates or rebates to customers, as seen in a typical car commercial, Tesla is recruiting its loyalists to act as unofficial sales reps.
The company's stock closed down 1.38 percent Wednesday to $210.09, its lowest closing price since April 21, days before the company announced its new home and utility-scale batteries. Tesla's shares are down by nearly 8 percent over the past 12 months.
On Tuesday, Consumer Reports, a widely read U.S. product reviewer, said the Model S has "too many problems to recommend," which led to one of the biggest selloffs in the company's stock this year.
Consumer Reports had given the Model S two stellar performance reviews, but in its follow-up on reliability it found a "worse-than-average" reliability rating. According to the report, owners have reported problems including leaky sunroofs, unresponsive windshield wipers and, more significantly, unreliable electric motors that have required replacement. On a lighter note, the review says Tesla customers have been very happy with the way the company has responded to these defects, fixing them quickly and at no charge.
Vehicle reliability over time is important to any automaker, but for Tesla it's crucial.
The company offers a lease-buyback price guarantee through its financing program in partnership with US Bank and Wells Fargo. Under a complex accounting practice, Tesla's future revenue is partially contingent on the resale value of the pre-owned cars the company takes back from lease customers.
"We are exposed to the risk that the vehicles' resale value may be lower than our estimates and the volume of vehicles returned to us may be higher than our estimates, which could impact our future cash flows and/or profitability," the company said in its last annual report on risks to its future revenue and profit.
Consumers are more likely to lease electric cars than buy them, according to a recent report from CNBC. If the Model S cars it has been selling turn out to have reliability problems, then Tesla could in the future be forced to sell its used cars at below expected prices.
© Copyright IBTimes 2023. All rights reserved.