As Thai King Bhumibol Is Ailing, Elites Worry About Crown Prince's Ties To Former Prime Minister Thaksin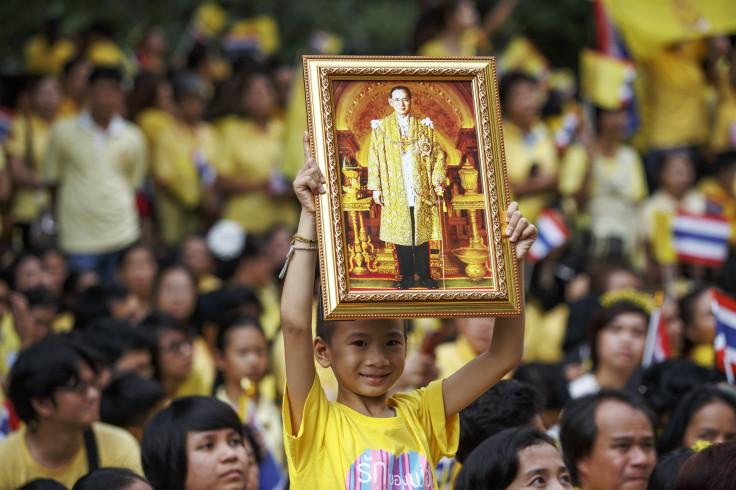 Drama is bubbling behind Thailand's royal palace walls after relatives of a princess were arrested in a corruption scandal and the king failed to appear at his own birthday celebration last week. But for many observers, Thailand's recent royal intrigue provides some hints into the struggle for power happening behind the scenes as the country prepares for a major leadership transition. The fate of world's richest royal family and the political direction of the second-largest economy in Southeast Asia may hang in the balance.
Rumors are continuing to swirl around the future of Thailand's monarchy after King Bhumibol Adulyadej canceled an appearance at his 87th birthday celebration last Friday due to health concerns. Meanwhile, his heir apparent, Crown Prince Maha Vajiralongkorn, made headlines last week after he punished family members of his wife, Princess Srirasm, by stripping them of their royal given name in the wake of a corruption scandal involving seven of the princess's relatives. Observers interpreted the move as a prelude to divorce and marriage to another woman -- and as a signal that the crown prince was getting his affairs in order in preparation for the throne.
But as succession plans continue to unfold behind closed doors, Thailand's royalist elites are worrying about the close ties between the crown prince and the highly divisive former prime minister, telecommunications billionaire Thaksin Shinawatra.
Vajiralongkorn is not popular among the Thai public, but he is especially disliked by Thailand's elite, who worry about what his connections to Thaksin would spell in the political realm. Thailand's royals may be largely symbolic figureheads, but they are immensely wealthy. Forbes estimated the king's fortune at around $30 billion in 2011: He may be worth well more today, and his fortune makes him the world's richest monarch.
"During the current king's reign, this money has been spread around through the Crown Property Bureau [an agency that manages royal property and investments] to the old elite, and everybody takes a piece of it. And that's the way harmony was always, you know, maintained," Andrew MacGregor Marshall, journalist and author of "A Kingdom in Crisis: Thailand's Struggle for Democracy in the Twenty-First Century," said in an interview with the Phnom Penh Post. Marshall estimated the king's fortune at $70 billion. "In Thaksin, the prince threatened to destroy that harmony" and create a new elite, he said.
Thaksin Shinawatra, a telecommunications mogul who served as prime minister from 2001 until his ouster in 2006, is at the center of the political tumult that has befallen the country over the past decade. While he galvanized the support of the rural poor through providing universal health care and private-sector-led economic reforms, he has also been criticized as an authoritarian ruler whose government was rife with corruption and cronyism. He has been the wedge between Thailand's "yellow shirt" royalists and his "red shirt" supporters, whose clashes roil national politics to this day, just months after the military ousted from power another prime minister, his sister, Yingluck Shinawatra. Thaksin was known to provide gifts to the crown prince and said in 2009 that Vajiralongkorn's turn on the throne would be a "shining era."
Members of Thailand's elite greatly prefer Vajiralongkorn's sister, Princess Sirindhorn, for the throne. Unlike her brother, who has garnered a reputation as a hotheaded, volatile playboy, Sirindhorn is seen as a more responsible candidate who would help maintain public respect for the monarchy without the controversial political connections. But because the princess is unmarried and childless, analysts say there is little chance she could assume the throne over the crown prince.
Some observers have suggested that the crown prince may be trying to make nice with Thailand's elite and the military, and distance himself from Thaksin. "There's some speculation that the crown prince has reached a deal with the royalist elites that would include the military, in which he agrees to clean up his act, dump his third wife, just stick with the fourth wife, not be a playboy and just be a good king," Joshua Kurlantzick, senior fellow for Southeast Asia at the Council on Foreign Relations, said. "That's a rumor. On the other hand, Thaksin is close to some military leaders who are in the junta government now. Thaksin is a pretty impressive politician, so you never know."
Although Thaksin has been living in exile and has outstanding corruption charges in Thailand, he still wields strong influence in the country. If the country's last election, which handed victory to Yingluck, is any indication, Thaksin loyalists could assume power again in the next vote. For now, the military junta has announced it is delaying those elections till 2016. In the meantime, however, the prospect of a government and monarchy influenced by Thaksin is something that elites are desperate to avoid. The crown prince has also been quietly recruiting soldiers from Thailand's rural northeast -- a Thaksin supporter stronghold -- for his Royal Guard 904 Corps, which some analysts have seen as a defensive move in case his role in succession is challenged.
To say Thailand's current status is unpredictable is a "big understatement," Kurlantzick said. "At the current moment, there's a false calm because the junta has martial law in effect, and people are reluctant to protest for fear of winding up in jail," he said. "But beneath that is a potentially explosive situation."
© Copyright IBTimes 2023. All rights reserved.