Thanksgiving 2015 Faces Bird-Flu Outbreak: Will Ham Replace Traditional Turkey Feasts?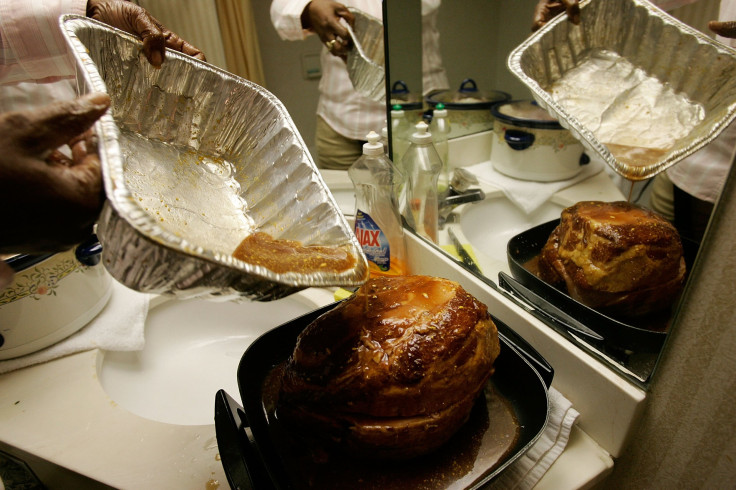 Looking ahead to Thanksgiving dinner this year, we can expect more hams being cooked in homes across the country. The bird-flu outbreak in the U.S. earlier this year means a limited supply of turkeys and higher prices, and given record-high pork production, ham will be a cheaper alternative.
Bird flu hit 15 states in the spring, and the poultry industry has not been able to make a full recovery in time for the holiday season. More than 8 million infected birds were destroyed as a result of the outbreak, with Minnesota and Iowa among the states worst affected.
This Thanksgiving, a 20-pound bird that cost $23 last year is expected to run $28, according to the U.S. Department of Agriculture.
"We're seeing tightness in supply and we're seeing tightness in variety within sizing," said Jeffrey Fisher, president of Fishers Foods grocery chain, told the the Repository in Canton, Ohio. "There's always a risk that certain brands and certain sizes may not be available. More than ever, this is the year to buy your turkey sooner rather than later."
As a result of 2015 supply levels, Rabobank International predicts for the Nov. 26 holiday more families will shop for ham, which is at its lowest wholesale price since 2009, according to Bloomberg News.
Flock Size with Confirmed Bird Flu Cases by State | HealthGrove
"Prices are lower than last year because there are a few more hog numbers, and more grain to feed hogs because of more rain," Tom Misfeldt, owner of Ranch Oak Farm Inc. in Forth Worth, Texas, told Bloomberg.
Last week, the country's pork output was estimated to have risen to 499.4 million pounds -- a 6 percent increase from the same time last year. This year's production alone has climbed 7.8 percent, according to Dow Jones Business News. The U.S. Department of Agriculture also reported Friday that wholesale prices dropped 40 cents to $74.55 per hundred pounds, basing the figure on Omaha, Nebraska, price quotes.
"We've had more ham than at any other time, so there should be Thanksgiving ham on the table, not turkey," said Will Sawyer, an Atlanta-based vice president for Rabobank International, told Bloomberg. "It's a heck of a lot cheaper than last year."
© Copyright IBTimes 2023. All rights reserved.