Thanksgiving 2015 Gluten-Free Recipes: How To Make Stuffing, Desserts, Cranberry Sauce And Mashed Potatoes Without Gluten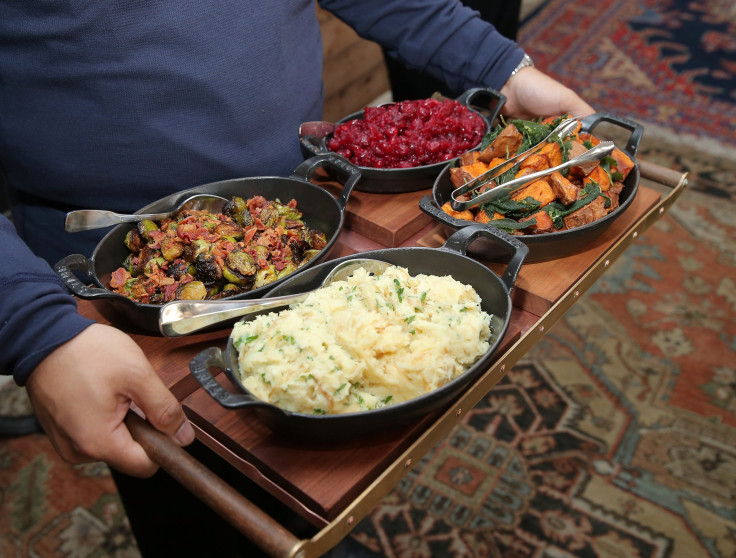 So you have gluten-free guests coming to dine at your table this Thanksgiving? Don't panic. You don't need to completely overhaul your menu. Some Thanksgiving dishes are naturally gluten-free, and there are plenty of easy and delicious recipes for those that aren't. Here's your guide to cooking a gluten-free Thanksgiving with all the beloved staples, from the turkey to the pumpkin pie.
The Turkey: Fresh, plain turkeys that don't have any added broth, spices or other ingredients are always gluten-free. Here's a recipe for gluten-free roasted turkey with anise and orange:
Ingredients:
5 teaspoons of aniseed
1/2 cup of kosher salt
1/4 cup of finely grated orange zest, plus 4 wide strips of zest
2 tablespoons of dark brown sugar
1 tablespoon of coarsely chopped fresh rosemary, sprig reserved
1 tablespoon of fresh thyme leaves, sprigs reserved
2 teaspoons of ground black pepper
One 12-14 lb. turkey (neck, giblets and backbone removed and reserved)
2 medium onions, quartered
4 large carrots, peeled, halved
4 celery stalks
3 heads of garlic, halved
1/2 cup of olive oil
Directions:
Toast aniseed in a dry small skillet over medium heat, tossing occasionally, until fragrant, about 3 minutes. Let cool; finely grind in a spice mill or a mortar and pestle, or chop with a knife.
Finely chop salt, grated zest, sugar, chopped rosemary, thyme leaves, pepper, and 4 teaspoons of the aniseed in a food processor.
Place turkey, skin side down, on a cutting board. Use a knife to score down long oblong bone in the center of breast. Turn skin side up and press down on breastbone to flatten. You should hear a crack and feel the bones give way. Rub all over with salt mixture; place turkey, skin side up, on a wire rack set inside a rimmed baking sheet and chill, uncovered, 6 to 18 hours.
Preheat oven to 450 degrees Fahrenheit. Arrange onions, carrots, celery, garlic and thyme and rosemary sprigs in a roasting pan. Rinse turkey, pat dry, and place, skin side up, on top of vegetables; let sit at room temperature 30 minutes.
Meanwhile, heat oil, orange zest strips and remaining aniseed in a small saucepan until oil is sizzling, about 2 minutes; let cool slightly.
Brush turkey with oil, add 1/2 cup of water to pan and roast turkey 30 minutes. Reduce oven temperature to 350 degrees Fahrenheit and continue to roast, brushing with oil every 20 minutes until skin is deep golden brown and crisp and an instant-read thermometer inserted into thickest part of thigh registers 165 degrees Fahrenheit, about one hour longer. Transfer to a platter; tent with foil and let rest at least 30 minutes before carving.
The Gravy: Traditional Thanksgiving gravy is made whisking together the turkey pan drippings with wheat flour. But you can make your own, gluten-free version but substituting corn starch for the flour.
The Stuffing: You don't need to do without stuffing if you're cooking for gluten-free guests. Here's a sweet, savory recipe for gluten-free stuffing:
Ingredients:
8 cups of gluten free 1-inch bread cubes
2 cups of turkey, chicken or vegetable stock
3 large eggs
2 tablespoons of olive oil
1 tablespoon of unsalted butter
2 ribs of celery, diced
1 large onion, diced
1 teaspoon of finely chopped fresh rosemary
1 teaspoon of finely chopped fresh sage
1 teaspoon of finely chopped fresh thyme
1 1/2 cups of raisins
Salt and ground black pepper to taste
Directions:
Preheat the oven to 425 degrees Fahrenheit.
Put the bread cubes in a large bowl.
Heat the stock in a small pan on high heat until boiling. Reduce the heat and set to simmer on the back burner.
Beat the eggs together in a bowl.
Set a large sauce pan on medium-high heat and warm the oil and butter. When the liquids move around the pan easily, add the celery and onion. Cook, stirring, until soft and translucent, about seven minutes. Add the rosemary, sage and thyme and cook, stirring, until they release their fragrance, about one minute.
Add the celery mixture to the bread cubes and toss to combine. Fold in the raisins. Transfer to a 3-quart casserole pan.
Pour a few tablespoons of the hot stock into the beaten eggs and quickly stir until the stock is incorporated. Slowly add the remaining stock, continuing to stir.
Pour the eggy stock over the pan of bread cubes. Press down on the cubes with your hands to distribute the liquid evenly. Cover the casserole pan with foil.
Bake the stuffing for 20 minutes.
Remove the foil and cook until the stuffing is steaming hot and browned, but not dry, about 10 minutes more. A toothpick inserted in the middle should come out clean.
Cover with gluten-free gravy immediately.
Cranberry Sauce: In many cases, cranberry sauce is gluten-free. Ocean Spray, Safeway and Publix make reliably gluten-free cranberry sauces. But it's not that difficult to whip up on your own. Here's an easy recipe:
Ingredients:
4 cups of fresh cranberries, rinsed
1 cup of gluten-free orange juice (try Tropicana, Simply Orange or Dole brands, but be sure to double-check the label)
1 cup of sugar
Directions:
Combine the orange juice and half of the sugar in a saucepan and bring to a simmer over medium-low heat.
Stir in the cranberries and return to a boil. Lower heat to a simmer and stir occasionally (and gently) while simmering for about 15 minutes, or until all the berries have popped.
Remove from heat and use the remaining sugar to sweeten the cranberry sauce to your liking.
If you're serving the cranberry sauce warm, let it stand for at least 10 minutes before serving. Or cool and refrigerate for about 30 minutes if you prefer it a bit cooler.
Mashed Potatoes: Like cranberry sauce, mashed potatoes typically don't contain gluten and it's easy to make a batch from scratch with fresh potatoes, butter and milk. Here's a quick recipe for naturally gluten-free mashed potatoes:
Ingredients:
2 pounds of Russet potatoes, peeled and quartered
2 tablespoons of butter
1 cup of milk
Salt and pepper to taste
Directions:
Bring a pot of salted water to a boil.
Add the peeled and quartered potatoes and cook for about 15 minutes or until they're tender but still firm. Drain the pot.
Warm the butter and milk in a small saucepan over low heat until the butter is melted.
Use a potato masher or electric beater to slowly blend milk and butter mixture into the cooked potatoes until smooth and creamy.
Season with salt and pepper to taste before serving.
Pumpkin Pie: Most pumpkin pie fillings are already gluten-free; it's the crust that's the problem. Still, it's not difficult to make an entirely gluten-free pumpkin pie from scratch. You can also use the crust to make other desserts. Here's how it works:
Ingredients for the crust:
6 tablespoons of cold vegan butter or chilled coconut oil
1 1/4 cup of gluten-free flour
1/4 teaspoon of salt
4 to 6 tablespoons of ice cold water
Directions for the crust:
Add gluten free flour and salt to a large mixing bowl and whisk to combine.
Add the cold vegan butter or coconut oil into the dry mixture one slice or dollop at a time, working gently with a fork to cut it in until it's incorporated.
Add the ice cold water one tablespoon at a time, using a wooden spoon to stir. Only add as much water as you need to help the dough come together.
Once a loose dough is formed, transfer to a piece of plastic wrap and work gently with your hands to form a 1/2 inch thick disk. Wrap it up and refrigerate for a minimum of 30 minutes or up to 2 days.
Once the dough is chilled, preheat your oven to 350 degrees Fahrenheit and prepare the pie filling.
Unwrap the dough and place it between two large sheets of wax paper or plastic wrap. Using a rolling pin, gently roll the dough into the shape of your pie pan.
Gently transfer the dough to the pan and use your hands to form it into the mold.
Ingredients for the filling:
2 3/4 cups of cooked, pureed pumpkin from a can
1/4 cup of maple syrup
1/4 cup of brown sugar
1/3 cup of unsweetened plain almond milk
1 tablespoon of olive oil or melted coconut oil
2 1/2 tablespoon of cornstarch or arrowroot powder
1 3/4 tablespoon of pumpkin pie spice
1/4 teaspoon of sea salt
Directions for the filling:
Add all the ingredients for the filling into a blender and blend until smooth, scraping down the sides with a spatula as needed.
Pour the prepared filling into the pie crust and bake for 58 to 65 minutes. The crust should be light golden brown and the filling will still be a bit jiggly and should have some cracks on the top.
Remove from the oven and let cool completely before loosely covering with plastic wrap or tin foil. Refrigerate for 4 to 6 hours, preferably overnight, before serving.
FOR FREE to continue reading
✔️ Unlock the full content of International Business Times UK for free
offer available for a limited time only
✔️ Easily manage your Newsletters subscriptions and save your favourite articles
✔️ No payment method required
Already have an account?
Log in
© Copyright IBTimes 2023. All rights reserved.