Thomas Fire Update: Ventura County Wildfire Continues To Grow
A massive wildfire in Southern California continued to grow Wednesday as firefighters struggled to put out the flames. The Thomas Fire in Ventura County grew to some 65,000 acres as of Wednesday afternoon and was zero percent contained, authorities said.
At least 150 structures were destroyed, while 12,000 more were threatened, according to the California Department of Forestry and Fire Protection. More than 1,770 fire personnel were on scene responding to the fire, utilizing 19 helicopters and 362 fire engines, Cal Fire said.
The Thomas fire started Monday and spread rapidly thanks to high winds in the area. The flames jumped the 101 Freeway near Solimar Beach Tuesday, KABC-TV reported. California Gov. Jerry Brown declared a state of emergency in Ventura County as a result of the fire.
"This fire is very dangerous and spreading rapidly, but we'll continue to attack it with all we've got," Brown said. "It's critical residents stay ready and evacuate immediately if told to do so."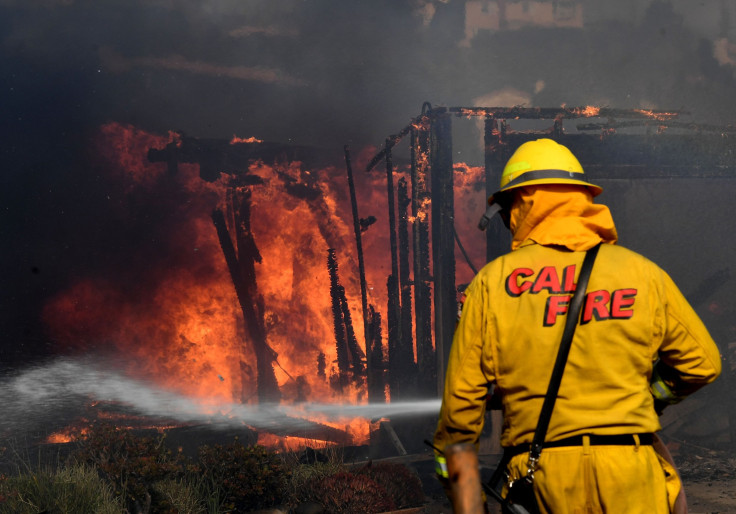 Some returned from evacuations to find nothing left of their lifelong homes. All that was left of Ansen Roberts' home was debris, and the 74-year-old said the fire moved so fast, he was unable to save even his cats or his wallet when he escaped.
"Everything is burned down to the ground," he told KTLA. "I don't know what I'm going to do right now, I can't think right. It hurts."
Additional wildfires raged on elsewhere in Southern California. The Creek Fire, in Sylmar, spread to 11,000 acres as of Wednesday afternoon and was also zero percent contained. An estimated 150,000 people were evacuated, according to the Los Angeles Times.
The Skirball Fire broke out along the 405 Freeway near Bel Air, spreading across at least 50 acres so far. More than 100 firefighters were deployed to the scene to help contain the flames. Residents were asked to be ready to leave though mandatory evacuations were not yet in place. In Santa Clarita, the Rye Fire consumed some 5,000 acres and was at five percent containment. More than 1,300 homes in Westbridge were evacuated.
"It's been years since anything here has burned at all," said Los Angeles Fire Department Capt. Cody Weireter said of the Skirball Fire, according to the Los Angeles Times. "You've got heavy, heavy brush. You've got the dryness – obviously, we haven't had any rain at all. A lot of the fire is topography driven, which already becomes dangerous. The wind is going to increase that twofold."
© Copyright IBTimes 2023. All rights reserved.
FOLLOW MORE IBT NEWS ON THE BELOW CHANNELS