Thousands Gather At Dawn Ceremony To Mark Gallipoli Centenary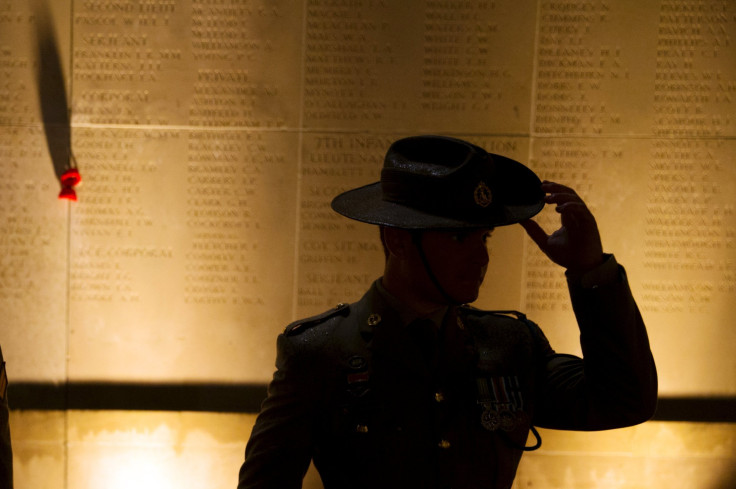 GALLIPOLI PENINSULA, Turkey/SYDNEY (Reuters) - Leaders and dignitaries from Australia, New Zealand and Turkey led thousands at dawn ceremonies on Turkey's Gallipoli peninsula on Saturday to mark the 100th anniversary of a World War One battle that helped shape their nations.
The Gallipoli campaign has resonated through generations, which have mourned the thousands of soldiers from the Australian and New Zealand Army Corps (ANZAC) cut down by machinegun and artillery fire as they struggled ashore on a narrow beach.
The fighting would eventually claim more than 130,000 lives, 87,000 of them on the side of the Ottoman Turks, who were allied with imperial Germany in World War One.
Australian Prime Minister Tony Abbott, New Zealand Prime Minister John Key and Britain's Prince Charles laid wreaths as bagpipes played at Anzac Cove, just north of where the landings occurred, in front of more than 10,000 people.
Abbott told the crowd, many of whom spent a cold night in their sleeping bags to secure a place at the crowded grounds, about the lives lost during the campaign, which helped forge Australia's identity.
"Like every generation since, we are here on Gallipoli, because we believe that the ANZACs represented Australians at our best," he said.
"It's the perseverance of those who scaled the cliffs under a rain of fire. It's the compassion of the nurses who attended to the thousands of wounded.
"And it's the greatest love anyone can have: the readiness to lay down your life for your friend."
SHAPING NATIONS
Gallipoli was the first time that soldiers from Australia and New Zealand fought under their own flags and is seared in the national consciousness as a point where their nations came of age, emerging from the shadow of the British empire.
The Allied forces also included British, Irish, French, Indians, Gurkhas and Canadians. Approximately 58,000 Allied soldiers died, roughly half of them from Britain and Ireland, according to the Gallipoli Association.
Only 11,000 have known graves on the Gallipoli peninsula. Others simply have their names inscribed on memorials.
The peninsula has become a site of pilgrimage for visitors from Australia and New Zealand in particular, who honour their fallen in graveyards halfway around the world on ANZAC Day each year. This year is set to be the largest ever commemoration.
"To us, Gallipoli is also a byword for the best characteristics of Australians and New Zealanders, especially when they work side by side, in the face of adversity," said New Zealand Prime Minister John Key in his speech at the ceremony.
For Turkey, it is also a national touchstone, heralding the rise of Mustafa Kemal Ataturk, who as a young officer led the defence. He later founded modern Turkey, the secular republic that emerged from the ruins of the Ottoman empire.
The former foes now face a common threat from Islamist militant violence and security was tight, particularly after a police raid in the Australian city of Melbourne last week that targeted an alleged plot to attack local celebrations there.
Some of those who had travelled thousands of miles but had not registered for the ceremonies slept overnight in a hall and watched the events on television.
"My great uncle fought at Gallipoli and survived. We need to remember what these people have been through for us and what a waste of young lives it is," said Pam McMillan from New Zealand.
In Sydney, tens of thousands turned out on Martin Place, and military bagpipers played just blocks from where an Islamist gunman and two of his hostages were killed last year when police stormed a cafe to end a deadly hostage siege.
In New Zealand, the Auckland Museum estimated a turnout of 30,000 people for that city's dawn services.
(Writing by Matt Siegel and Dasha Afansieva; Editing by Nick Macfie and Nick Tattersall/Mark Heinrich)
© Copyright Thomson Reuters 2023. All rights reserved.
FOLLOW MORE IBT NEWS ON THE BELOW CHANNELS