Toddler Denied Kidney Transplant Because Father Violated Probation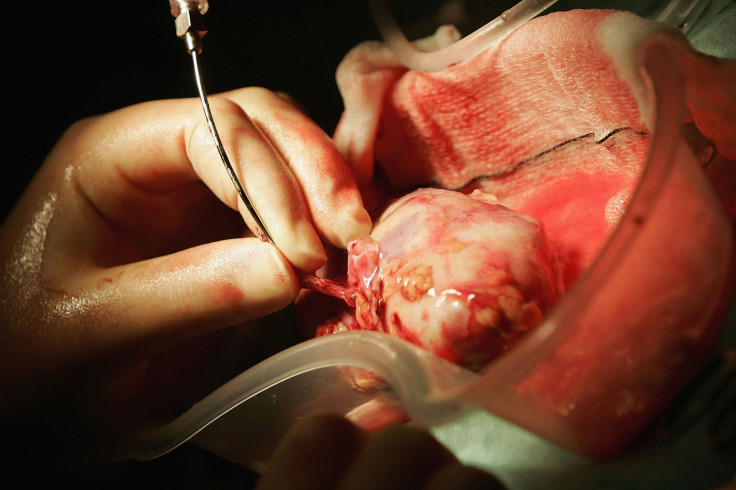 A Georgia toddler needs an organ transplant and a hospital rejected his father's kidney, despite being a 100 percent match, due to a probation violation.
AJ Burgess, a 2-year-old who weighs only 25 pounds and was born without kidneys, spent 10 months in a neonatal intensive care unit. His father, Anthony Dickerson, was proven to be a 100 percent match to give AJ a kidney, but he was in prison for violating probation on his weapons charges. Dickerson, 26, was released from prison and was ready to undergo the procedure October 3, but he was sent back to prison for violating his parole for possession of a firearm or knife during the commission of or attempt to commit certain felonies.
"That's all I ever wanted, was a son," Dickerson said to Atlanta NBC-affiliate WXIA Friday. "And I finally got him, and he's in this situation."
Emory Hospital in Atlanta asked for Dickerson's parole and probation information, telling him he needed to have good behavior for three to four months before donating a kidney to his son. The hospital said they would reevaluate Dickerson's behavior in January 2018.
The hospital issued a statement concerning the issue:
"Emory Healthcare is committed to the highest quality care for its patients. Guidelines for organ transplantation are designed to maximize the chance of success for organ recipients and minimize risk for living donors. Because of privacy regulations and respect for patient confidentiality, we cannot share specific information about patients."
According to Burgess, January 2018 may be too late for her son. He suffered a stroke two months ago and his body is beginning to fail and will continue to fail unless he undergoes bladder surgery. She set up a GoFundMe page to raise awareness and funds for her family's situation.
"He made it his business to say once I get out I'm gonna promise to my son that he can get a kidney," AJ's mother Carmella Burgess said of Dickerson.
According to the United Network for Organ Sharing, living organ donors should be in good physical and mental health.
© Copyright IBTimes 2023. All rights reserved.