'Tokyo Revengers' Episode 18 Live Stream Details: How To Watch Online, With Spoilers
KEY POINTS
Takemichi's new mission involves saving Baji and Mikey
He needs to stop Kisaki, who is the mastermind behind the Bloody Halloween's tragedy
"Tokyo Revengers" Episode 18 is airing Saturday
Takemichi finds out how Mikey's actions led to Toman's downfall in the past timeline. In "Tokyo Revengers" Episode 18, Takemichi vows to stop Kisaki and save Baji from getting killed.
The present-day Draken opens up to Takemichi. He tells him how Mikey lost his mind during the Bloody Halloween fight and ended up killing Kazutora.
After the killing, Mikey's Toman loses to Valhalla, who overtakes the gang. Later, Toman becomes the present-day Tokyo Manji Gang operating under the parent organization, Valhalla.
The official synopsis of "Tokyo Revengers" Episode 18 teases Takemichi heading back in time to stop the tragedy from happening. Draken tells Takemichi how things went down during the decisive battle between Toman and Valhalla.
He reveals Mikey was furious that Kazutora killed Baji. It remains to be seen if Takemichi can stop Kisaki's plan and help Mikey not fall into the trap laid out by Kisaki.
In the last episode, Takemichi learned about Kazutora and Baji's past and how they ended up killing Mikey's brother. Takemichi met Matsuno Chifuyu and they discussed why Baji quit Toman and joined Valhalla.
"Takemichi finds out about Baji and Kazutora's past and realizes how hard it's going to be to bring Baji back to Toman. The next day, Takemichi was trying to figure out what to do about his promise to Mikey when Baji's second in command, Matsuno Chifuyu appears before him. Chifuyu seems to believe that Baji joined Valhalla not to crush Toman, but to infiltrate Valhalla and expose Kirisaki," read the synopsis of Episode 17, according to Crunchyroll.
The cast of the anime includes Yūki Shin as Takemichi Hanagaki, Azumi Waki as Hinata Tachibana, Eiji Takeuchi as Nobutaka Osanai, Daisuke Ono as Yasuhiro Muto, Masaaki Mizunaka as Keisuke Baji, Kengo Kawanishi as Nahoya Kawata, Satoshi Hino as Masataka Kiyomizu, Ryota Ohsaka as Naoto Tachibana, Shouta Hayama as Kazushi Yamagishi, Shunsuke Takeuchi as Makoto Suzuki, Showtaro Morikubo as Tetta Kisaki, Yuu Hayashi as Manjiro Sano, Yukihiro Nozuyama as Ryohei Hayashi and Takuya Eguchi as Shuji Hanma.
Fans can watch "Tokyo Revengers" Episode 18 online on Crunchyroll. The episode will live stream in Japanese with English subtitles this Saturday.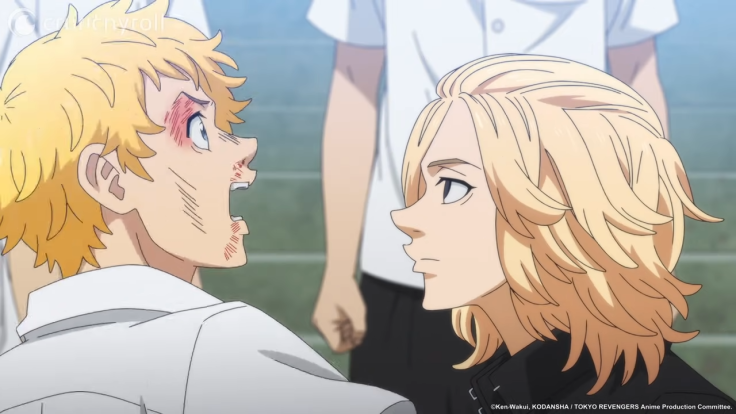 © Copyright IBTimes 2023. All rights reserved.