Tom Brady's Monkish Diet: Absolutely No Strawberries (Ever), Cheeseburger Thoughts And Lots Of Vegetables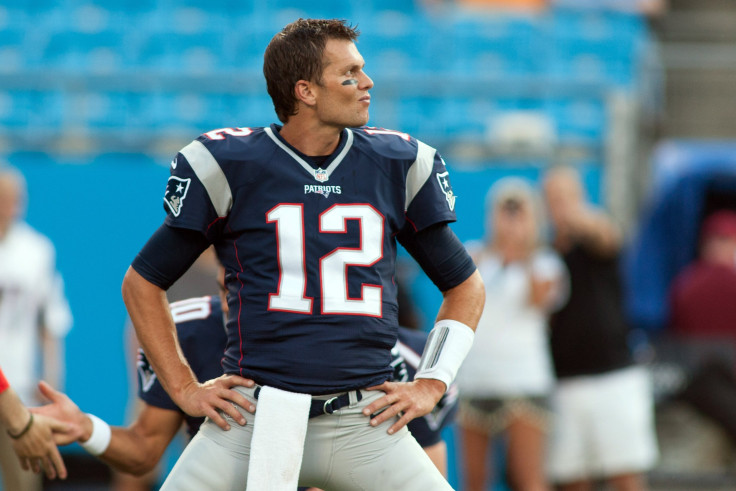 While New England Patriots quarterback Tom Brady — who is currently serving a four-game suspension — gave up the fight against the NFL in the now-infamous Deflategate saga, there is one battle he will not give up. That is Brady's hard-line crusade against strawberries.
New York Magazine published Wednesday an interesting story on the football player, focused on his time away from the field during the start of the NFL season as he serves his Deflategate-related suspension. In the interview, Brady's notoriously strict diet came up. Wrote Dayna Evans of New York Magazine:
"Do you need to eat a cheeseburger every day to realize that you love a cheeseburger?" he ponders, Confucius-like. "Or could you eat it once a week … or once every two weeks … or once a month … or once every two months?" Tom Brady has learned that he doesn't love strawberries or coffee by never having tried either at all, a commitment no mortal man could ever conceive of pulling off. "I've never eaten a strawberry in my life. I have no desire to do that." Never? "Absolutely not." Brady is magnificently laser-focused for a man who owns more UGGs than any person could ever imagine. "I don't believe you could be a 39-year-old quarterback in the NFL and eat cheeseburgers every day. I want to be able to do what I love to do for a long time."
Plenty of folks try to cut out coffee in an effort to improve their well-being, but strawberries are not typically considered a plight on health or something that would hamper the performance of an athlete. Although, one cannot really argue with Brady's results, including four Super Bowl rings and two MVP awards.
This is not the first time Brady's strict, if perhaps a bit odd, diet has come to light. The 39-year-old has even put out an entire "nutrition manual" (available now at www.TB12store.com for the low, low price of $200). Allen Campbell, personal chef to Brady and supermodel wife Gisele Bündchen, described their diet to the Boston Globe in January. It's 80 percent vegetables, all whole grains and lean meats, with absolutely zero white sugar, white flour or MSG, he said. Also, of course, no nightshades and a healthy wariness concerning tomatoes.
"[Tom] doesn't eat nightshades, because they're not anti-inflammatory. So no tomatoes, peppers, mushrooms, or eggplants," Campbell told the paper. "Tomatoes trickle in every now and then, but just maybe once a month. I'm very cautious about tomatoes. They cause inflammation."
One has to assume no strawberries as well. But an International Business Times investigation has uncovered evidence that strawberries have seemingly made appearances at the Brady-Bündchen table, even if the fruit was shunned by the veteran quarterback.
WellAndGood.com published in June an article titled "5 Desserts That Are Tom & Gisele-Approved". Their Costa Rican vacation chef Joanne Gerrard Young detailed a coconut strawberry parfait as dessert number five. A photograph credited to the chef showed a fresh, seemingly chocolate-covered strawberry as a garnish atop the parfait. This seems in stark-contrast to Brady's hard-line, absolutely zero strawberry stance. Although WellAndGood.com did note that the dessert "filled with coconut, fresh strawberries, cacao, and maple syrup" was one of "Bündchen's absolute favorite desserts," according to Young.
This could mean that Brady has left his wife to savor her Costa Rican dessert alone — à la the lunchroom character Stephen Glandsberg in the movie Superbad — or perhaps he picks around the strawberries in the parfait. Or maybe Brady has tried a strawberry; maybe he simply forgot. Can we all account for certain which fruits we have, or have not, tried in our lives? It's a mystery.
The NFL has not announced if it will launch an investigation in the Defruitgate saga.
© Copyright IBTimes 2023. All rights reserved.