Tommie Lee And Sas DeLeon's Cozy Instagram Photos Have 'Love & Hip Hop: Atlanta' Fans Upset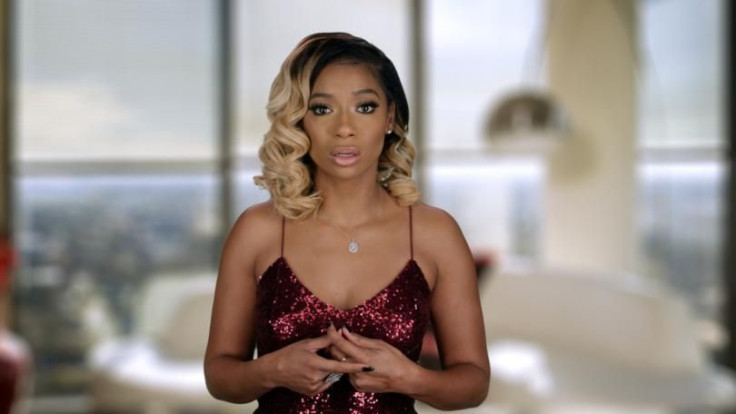 Fans of VH1's "Love & Hip Hop: Atlanta" were none too pleased when Sas DeLeon took to Instagram to post a few photos of him getting a little too close to his brother's on-and-off girlfriend, Tommie Lee. Apparently, Sas and Tommie did a photoshoot together but their poses left some fans questioning whether something was going on between them.
In the first photo, posted Sunday, Tommie is seen wearing a gold barely-there dress as Sas stands next to her with his hand on her thigh. "Flyest gangsta you'll eva meet #NBL #LEADERS #MMMob #FreeScrapp @tommiee," he captioned the photo. Sas then shared another image from the photoshoot on Monday, but this time his hand is resting on Tommie's butt.
Fans started to flood the comments section of the photo slamming Sas and Tommie for taking a picture that appears to be so intimate. "Y'all might as well let the ppl know that you 2 are actually a couple and Tommie never dated Scrap. It was just for TV," one fan wrote. "Why he touching her a-- though? Where is the loyalty?" another fan commented.
When Sas caught wind of the negative comments on the picture, he responded by posting an image of him smiling, writing in the caption: "Currently laughing at these stupid mothaf----- in my comments." Tommie has not commented on the backlash from the photo.
Sas, Tommie and Sas's brother Scrapp DeLeon joined "Love & Hip Hop: Atlanta" in Season 5, which wrapped this month. Tommie and Scrapp's rollercoaster relationship was one of the main storylines of the season, but the pair split shortly after Scrapp was sent to prison because Tommie found out he has kissed Karlie Redd.
During an interview Hollywood Unlocked radio show Monday, Tommie opened up about her relationship, confirming that she's single and no longer dating Scrapp. "Me and Scrapp is not talking," she said.
© Copyright IBTimes 2023. All rights reserved.