Top 50 Footballers In The World For The 2014-2015 Season; Messi, Ronaldo, Or Suárez Best Player?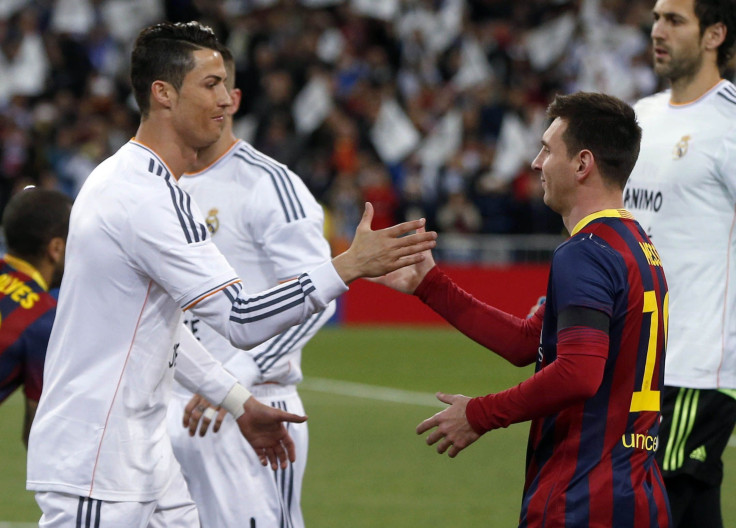 The 2014 World Cup saw several players announce themselves on the global stage and many others confirm their world-class status. It was also a tournament where attacking play dominated, at least for the early stages. In part that confirmed that the best players around today are in forward areas of the pitch, rather than at the defensive end. This summer's transfer market reflects that, with former Chelsea center back David Luiz, a player with some clear flaws, being purchased for close to £50 million by Paris Saint-Germain.
Perhaps the most notable area lacking in superstar talent is at defensive midfielder. It wasn't long ago when players like Dunga, Claude Makelele, Gennaro Gattuso, and Esteban Cambiasso were in top form and receiving praise for their versatility on both sides of the ball. Barcelona's Sergio Busquets appears to be a throwback to that era as the only elite player at the position.
There are still plenty of great goalkeepers in the world, but few true superstars. Germany's Manuel Neuer was exceptional at the World Cup, while Belgium's Thibaut Courtois has proven to be star on the rise. Meanwhile, veterans like Italy's Gianluigi Buffon are still going strong after several years between the sticks.
An IB Times list of the top 50 footballers in the world also illustrates that the current top talent is skewed toward attack, as well as the fact that the best players have become increasingly concentrated among a few of Europe's elite clubs. Of the 50 players on the list, 24 come from three teams with eight player each: Barcelona, Bayern Munich, and Real Madrid. A total of 13 play in the English Premier League.
Here are our rankings for the best players entering the 2014-2015 club season.
1. Lionel Messi (Barcelona, Argentina) Has had a tough past year and rarely looked fully fit, but showed again the once-in-a-generation ability he possesses when dragging Argentina to the latter stages of the World Cup despite not being at his best. He still has plenty left at age 27, which is a scary thought for Barcelona opponents.
2. Cristiano Ronaldo (Real Madrid, Portugal) Rightly ended Messi's domination to win his second Ballon d'Or earlier this year after consistently starring for club and emphatically firing his country to the World Cup. After a forgettable World Cup, Ronaldo will have more incentive to win another Champions League and La Liga title.
3. Luis Suárez (Barcelona, Uruguay) Continues to attract controversy, but his ferocious desire to win added to a rare ability to win game's single-handedly is what has seen him become one of the best players in the world. How Suarez adapts to playing alongside two superstar forwards at Camp Nou will be perhaps the most intriguing story of the season.
4. Gareth Bale (Real Madrid, Wales) Did not have an easy time when he first moved to the Bernabeu for a world record transfer fee. Yet he has since responded superbly, and his searing pace and eye for the goal saw him score in both the Copa del Rey and Champions League finals last season.
5. Andrés Iniesta (Barcelona, Spain) A consistent presence in central midfield, the 30-year-old continues to be a star for the Catalans. Suffered in what was an immensely difficult season for Barcelona last term and then a disastrous World Cup for Spain. Still, no player combines his dribbling skills with ability to split open a defense with a single pass.
6. Neymar (Barcelona, Brazil) Somehow managed to thrive on the immense pressure on his shoulders as the poster-boy for the 2014 World Cup, before his unfortunate injury. Should enjoy a better second season at Barcelona after time to get used to the system.
7. Arturo Vidal (Juventus, Chile) In his third title-winning season with Juventus, Vidal scored 18 goals in all competitions and established himself as the world's best all-round midfielder. It was disappointing then that injury limited his influence at the World Cup. The Chilean is in his prime at age 27, and is expected to excel in 2014-2015.
8. Arjen Robben (Bayern Munich, Netherlands) Not for the first time in his career, it appeared that Robben might be cast aside when Pep Guardiola arrived at Bayern Munich. Instead, he proved the club's best player last season and continued to produce the best form of his career during the World Cup.
9. Zlatan Ibrahimović (Paris Saint-Germain, Sweden) Had the most prolific season of his career last term, scoring an extraordinary 41 goals for PSG. Sadly his unique talent was absent from the World Cup after the Swede lost a shootout with Ronaldo in a memorable qualifying playoff.
10. Ángel di María (Real Madrid, Argentina) Looks to be on the way out of Real Madrid, but then that looked the case last summer before he adapted superbly to a midfield role and went onto be voted the Man of the Match in the Champions League final. While Madrid appear to believe he doesn't have the marketing potential of the stars they continue to sign, he is undoubtedly one of the world's best players.
11. Manuel Neuer (Bayern Munich, Germany) There may have been some who doubted Neuer's place as the world's best goalkeeper before the World Cup. Not after. Not only does he have the stature, poise and reflexes to control his line and area, but he also has the footballing ability to almost effectively give his sides an extra outfield player.
12. Toni Kroos (Real Madrid, Germany) Pep Guardiola was reportedly furious when Bayern Munich sold the World Cup winner, and it is easy to see why. The embodiment of the modern midfielder, Kroos is able to operate as holder, No.10 or a combination of the two. When he found his form in Brazil, so did Germany, and he should now flourish at the Bernabeu.
13. Thiago Silva (Paris Saint-Germain, Brazil) It may not be a great era for defenders, but Thiago Silva remains a towering presence. Perhaps the greatest endorsement of his qualities came with what unfolded in his absence during Brazil's 7-1 World Cup semifinal mauling at the hands of Germany.
14. Marco Reus (Borussia Dortmund, Germany) There was widespread fear that Germany's World Cup hopes had been destroyed before the tournament began when Reus was ruled out through injury. That fear was understandable after the attacking midfielder scored 23 goals and produced 17 assists for Dortmund last season.
15. Sergio Busquets (Barcelona, Spain) Remains the world's best holding midfielder, despite the upheaval at Barcelona. Busquets's ability and tactical awareness mean that he can drop back to become a third center-back or step forward and become a creative threat with his underrated passing.
16. James Rodríguez (Real Madrid, Colombia) After showing his potential in Portugal and France, Rodríguez made the whole world aware that there is another way to pronounce "James" at the World Cup. His brilliant creativity may take time to come to the fore in a star-studded Real Madrid side, however.
17. Franck Ribéry (Bayern Munich, France) His performances in Bayern's treble-winning campaign earned him third place in last year's Ballon d'Or, but last season proved tougher as injuries took hold and then ruled him out of the World Cup. Surprisingly retired from the international scene recently having never reproduced his form in Germany for his country.
18. Sergio Agüero (Manchester City, Argentina) At his best, the man whose barrel chest combined with a low center of gravity and lighting pace brings natural comparisons with Brazilian great Romario, is undoubtedly one of the world's finest strikers. After a hugely disappointing World Cup, however, he badly needs a season free of injury to fulfill his talent on a consistent basis.
19. Thomas Müller (Bayern Munich, Germany) Asked to identify what abilities Müller has that make him stand out and you would struggle. For a forward he is not blessed with great pace or outstanding technical ability. Yet, it is with the intangibles that he excels. Those were in full evidence at the World Cup, where his movement and knack of being in the right place at the right time helped him to take his World Cup account to 10 goals, at the age of just 24.
20. Philipp Lahm (Bayern Munich, Germany) The world's best full-back showed last season, under Pep Guardiola's tutelage, that he was a mighty good midfielder too. Guardiola's anointing of Lahm as "the most intelligent player" he's ever coached is high praise indeed.
21. Alexis Sánchez (Arsenal, Chile) Never looked entirely at home, and was certainly never fully appreciated, at Barcelona, yet still scored a far-from-shabby 19 league goals last season. His pace, movement and intensity made him the standout player in an excellent Chile team at the World Cup and he should thrive at Arsenal. Sanchez is also among the most versatile attacking players in the world.
22. Bastian Schweinsteiger (Bayern Munich, Germany) Did not have the best season last term at Bayern Munich and injuries may well have taken their toll. Yet, he showed with a superb performance in the World Cup final that there remain few better all-round midfielders in the game.
23. David Silva (Manchester City, Spain) It may be a team with plenty of stars, but when Silva ticks, so do Manchester City. The way the diminutive Spanish midfielder glides across the pitch and threads passes through defenses is a joy to behold.
24. Robert Lewandowski (Bayern Munich, Poland) Burst on the scene in 2012-2013 with fantastic performances in Champions League with Borussia Dortmund. He didn't quite that match his success last season, yet still managed to lead the Bundesliga in goals (20). Finally completed his long-agreed move to Bayern Munich this summer and the prolific striker should thrive with the array of creative talent behind him.
25. Mats Hummels (Borussia Dortmund, Germany) His early career has not been without lapses, notably in the Euro 2012 final, but this summer's World Cup, where he was the outstanding center-back, suggests he could be ready to step up to the next level.
26. Yaya Toure (Manchester City, Ivory Coast) Scoring 20 Premier League goals last season represented an outstanding return for a midfielder. At the top of his game, there is arguably no more dominant midfielder in the world. Yet his tendency to slacken off without the ball can often land his team in trouble.
27. Radamel Falcao (Monaco, Colombia) There is perhaps no deadlier striker coming onto the ball in the penalty box than Falcao, but it remains to be seen how he recovers from a serious knee injury that ruled him out of the World Cup. The 28-year-old is among the most talented players on the planet when healthy.
28. Luka Modrić (Real Madrid, Croatia) While Ronaldo and Bale garnered the headlines at Real Madrid last season, an argument could be made that Modrić was their best player. After a difficult first season at the Bernabeu, the Croatian became a vital cog in the midfield, adding tenacity without the ball to his fine passing range.
29. Edinson Cavani (Paris Saint-Germain, Uruguay) There is no striker in the world that combines Cavani's ability with his willingness to work selflessly for his team. That trait can occasionally be to his detriment, as it was when playing out wide and second fiddle to Ibrahimovic in Paris last season. His misses also cost PSG victory against Chelsea in the Champions League quarterfinals.
30. Karim Benzema (Real Madrid, France) Having started the season being booed by his own fans, Benzema ended it as a Champions League winner, following his best campaign yet for Real Madrid. The former Lyon striker appears to have found a new level, as he showed with three goals in Brazil this summer.
31. Mario Götze (Bayern Munich, Germany) It was not an easy first season for Götze at Bayern Munich, following his controversial transfer from Borussia Dortmund. That continued at the World Cup, too, when he was dropped by Germany. Yet he responded in the most emphatic way possible with the winning goal in the final and could now go on to become a true global star.
32. Xavi (Barcelona, Spain) Aged 34, undoubtedly one of the best midfielders of all time now struggles to consistently control games as he once did, but the incredible passing remains undiminished and can still decide games at the highest level. He won't be expected to play 90 minutes very often this season.
33. Diego Costa (Chelsea, Spain) A late bloomer, Costa became the main man at Atletico Madrid last season and responded by hitting 36 goals. Although hampered by injury and struggling to adapt to Spain's style at the World Cup, the aggressive striker should flourish under Jose Mourinho's approach at Chelsea.
34. Javier Mascherano (Barcelona, Argentina) The former Liverpool man has spent so long as a more than competent central defender at Barcelona that it was easy to forget what an outstanding defensive midfielder he is. He proved that he has lost none of his acumen for that position at the World Cup, where he put in one of the tournament's outstanding performances in the semifinals.
35. Andrea Pirlo (Juventus, Italy) At age 35, he may have lost a step or two, but a player who has never relied on his place could certainly continue to grace matches at the highest level with his extraordinary passing for another couple of years yet. After all these years, Pirlo still has arguably the best field vision in the world.
36. Mesut Özil (Arsenal, Germany) Did not have the easiest first season at Arsenal and those struggles continued into the World Cup. Still, his movement and eye for a pass mean he should come good in the Premier League.
37. Eden Hazard (Chelsea, Belgium) Last season, Hazard added greater consistency to his game to have a decisive influence on matches on a more regular basis. If he can continue that improvement he could join the world's true elite. The playmaking abilities have been there since his days with Lille, and this year he has a superstar striker up front with the arrival of Costa.
38. Robin van Persie (Manchester United, Netherlands) His breathtaking flying header was one of the standout moments of the World Cup and an illustration of the Dutchman's class. However, he was anonymous after the group stage and faces a big season after an injury-blighted campaign last term. On the bright side, he is back with Louis van Gaal, which should be a step up from David Moyes.
39. Thibaut Courtois (Chelsea, Belgium) Already the world's best young goalkeeper, Courtois established himself as one of the world's best goalkeepers, period, during a season in which his saves helped Atletico Madrid to the Spanish title and Champions League final. His size and athleticism mean there is no reason he shouldn't continue to excel back at Chelsea.
40. Vincent Kompany (Manchester City, Belgium) Few defenders look are as impressive as Kompany on the front foot, when he can strip the ball from an opponent and then stride forward out of the back, marauding over the ground.
41. Paul Pogba (Juventus, France) The best young midfielder in the world, Pogba is a phenomenon. Still aged just 21, he has already won back-to-back Serie A titles and, with his combination of physicality, athleticism and technical ability, he is only going to get better.
42. Ivan Rakitić (Barcelona, Croatia) Having become the undoubted main man at Sevilla last season, Rakitić responded by leading them to Europa League glory. His glorious passing ability means he should fit in nicely at Barcelona.
43. Gianluigi Buffon (Juventus, Italy) He may be entering the final stretch of his career, but Buffon remains a formidable an influential presence between the posts for Italy. One incredible save from Suarez at the World Cup demonstrated the ability that has made him one of the best goalkeepers of all time.
44. Cesc Fabregas (Chelsea, Spain) His dream move back to Barcelona never worked out as he failed to find a consistent role in the side. His habit of breaking forward, in combination with creative talent, is arguably more suited to the Premier League than La Liga, and, if he gets the trust of Jose Mourinho, he should thrive back in England with Chelsea.
45. Wayne Rooney (Manchester United, England) Few players receive as much criticism as Rooney, largely due to the sky-high hopes English fans had for him when he burst onto the scene as a 16-year-old. While he will never be that world-beater his early ability he suggested, he remains, when at his best, a fine all-round footballer.
46. Mario Mandzukic (Atletico Madrid, Croatia) The Croatian's form understandably dipped last season after discovering that he would be usurped at Bayern Munich by Robert Lewandowski. But the Croatian striker, who leads the line with relentless work rate, should rediscover his best at Atletico under Diego Simeone.
47. Diego Godín (Atletico Madrid, Uruguay) Not only was he an absolute rock at the heart of Atletico Madrid's stingy defense, but Godín showed what a threat he is in the opposition penalty area by heading goals that won the Spanish title, put his side ahead in the Champions League final and sent his country through to the last 16 of the World Cup.
48. Sergio Ramos (Real Madrid, Spain) Undoubtedly a stylish defender, Ramos can often look imperious at the back and especially when coming forward. Yet, his occasional rash decision-making prevent him from being higher on this list.
49. Gonzalo Higuaín (Napoli, Argentina) Despite Argentina's run to the final, it was a disappointing World Cup for Higuaín personally. The 26-year-old enjoyed a strong first season in Italy, however, and remains one of the most reliable forwards around.
50. Aaron Ramsey (Arsenal, Wales) A horrific injury suffered in 2010 appeared for a long time to have permanently derailed Ramsey's career. However, he had an extraordinary breakthrough last season, scoring 10 goals before injury ruled him out in December, and has again started this season with the form of one of Europe's goal-scoring creative midfielders.
An IB Times Staff Reporter contributed to this report.
© Copyright IBTimes 2023. All rights reserved.