Top 50 Greatest Footballers Of All-Time – Pelé, Maradona, Messi And Ronaldo Included In The Best Soccer Players Ever List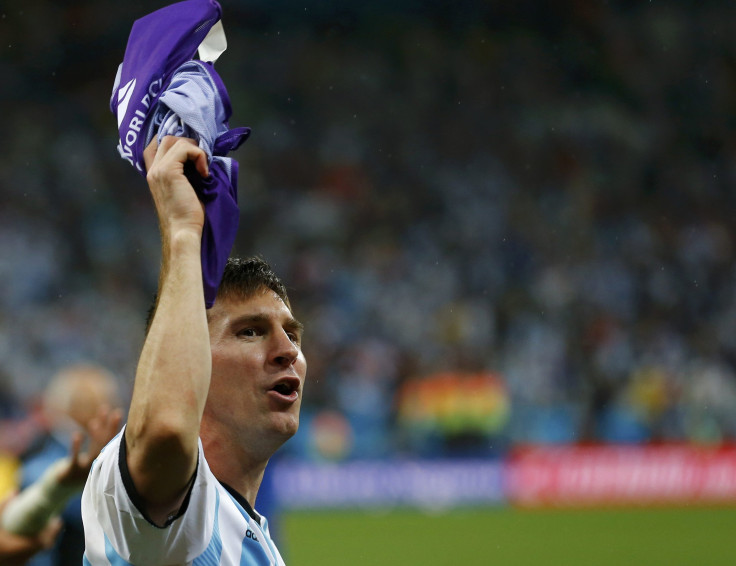 The 2014 World Cup will be remembered as one of the most exciting and entertaining ever. The beautiful game sparks so much attention that it's impossible to ignore the sport's rich history.
Discussions about Argentina, Germany, Brazil and the Netherlands in 2014 can quickly morph into discussions of past World Cups, and how countries had previously competed and the players they boasted of on their roster.
The subject of which players are better than others can spark intense opinions and debate. That's why we've decided to place ourselves in the heart of a long-standing argument.
Like any list, our Top 50 Greatest Players List should be taken with a grain of salt. How does one judge the level of greatness between a striker and a right back? How can a central midfielder be ranked at No. 43 and a goalkeeper at No. 16?
The criteria for our selections include the player's impact on their era and their position, as well as the contributions they provided for their club and country.
This list includes the rank of the player, and the country they represented.
Let the debate begin:
50. Kenny Dalglish, Scotland
49. Zbigniew Boniek, Poland
48. Matthias Sindelar, Austria
47. Karl-Heinz Rummenigge, West Germany
46. Rivelino, Brazil
45. Just Fontaine, France
44. Roberto Carlos, Brazil
43. Andres Iniesta, Spain
42. Ruud Gullit, Netherlands
41. Uwe Seeler, West Germany
40. Michael Laudrup, Denmark
39. Andrea Pirlo, Italy
38. George Weah, Liberia
37. Thierry Henry, France
36. Gianluigi Buffon, Italy
35. Gianni Rivera, Italy
34. Hugo Sánchez, Mexico
33. Nilton Santos, Brazil
32. John Charles, Wales
31. Ronaldinho, Brazil
30. Enzo Francescoli, Uruguay
29. Cafu, Brazil
28. Mario Kempes, Argentina
27. Socrates, Brazil
26. Giuseppe Meazza, Italy
25. Xavi Hernández, Spain
24. Djalma Santos, Brazil
23. Bobby Moore, England
22. Lothar Matthäus, West Germany
21. Bobby Charlton, England
20. Marco Van Basten, Netherlands
19. Ronaldo, Brazil
18. Zico, Brazil
17. Franco Baresi, Italy
16. Dino Zoff, Italy
15. Gerd Muller, Germany
14. Eusebio, Portugal
13. Michel Platini, France
12. Paolo Maldini, Italy
11. George Best, Northern Ireland
And now without further ado, here is the Top 10…
10. Garrincha, Brazil
His nickname in Brazil, "The Joy of the People," tells much about what Garrincha offered on the pitch. Born with both legs that bent to one side, the boy from Rio, whose demons ultimately caught up with him, befuddled defenders with the kind of dribbling and ability to change direction never before witnessed. While Pele is the Brazilian known around the globe, many in his home country have more love for Garrincha. When Pele was injured, it was Garrincha who inspired Brazil to their second World Cup triumph in 1962.
9. Ferenc Puskas, Hungary
The Galloping Major was a part of two of the greatest teams of all time. The most integral part of the "Magical Magyars" Hungary side of the early 1950s, Puskas and his teammates appeared certaint to lift the 1954 World Cup, but somehow lost in the final to Germany after Puskas had put them ahead and was then controversially denied an equalizer in the dying stages. Thankfully, his brilliant career did taste glory at club level, having won three European Cups with Real Madrid, including in 1960 when he scored four in the famous 7-3 defeat of Eintracht Frankfurt.
8. Alfredo di Stefano, Argentina, Colombia and Spain
In marking his sad passing this week, Real Madrid had no qualms about declaring Di Stefano "the best player of all time" in a headline on their website. It is not hard to see why. Born in Argentina, but having also turned out at international level for Colombia and Spain, Di Stefano played a key role in the history of European soccer, having famously come close to joining Barcelona before moving to arch rivals Real Madrid, and becoming an integral figure in the Spanish side winning the first five European Cups.
7. Cristiano Ronaldo, Portugal
CR7 comes in at No. 7 and for good reason. He has shown little sign that he won't continue to be the brightest of stars on a Real Madrid squad filled with world-class players. Once criticized for lacking end product, he has developed into the world's most effective player, a testament to his relentless desire for self-improvement, which can also be seen in his phenomenal athleticism.
6. Franz Beckenbauer, Germany
For decades every defender with any remote ability on the ball has earned comparisons to Beckenbauer, but none have matched the graceful brilliance with which the man nicknamed Der Kaiser strode forward with the ball and initiated attacks during the 1960s and '70s. The scorer of an impressive five goals in World Cups, Beckenbauer finally lifted the trophy as captain in 1974 after suffering painful defeat in the 1966 final.
5. Zinedine Zidane, France
Scored two goals with his head to lead France to victory in the 1998 World Cup final, but it was with his feet that Zidane brilliantly cut teams to shreds. He was a maestro with the ball, weaving passes with perfect weight to his teammates. A clutch performer, Zidane almost single-handedly inspired France to the World Cup final in 2006. It came four years after he scored one of the all-time great goals in a European Cup final to win the trophy with Real Madrid.
4. Johan Cruyff, Netherlands
The most recognizable member of the great Dutch team of the 1970s that revolutionized the game with their Total Football, Cruyff was the total footballer. While nominally a center-forward, the Amsterdam-native was ahead of his time in dropping deep to the befuddlement of his opponents. Sadly, fell agonizingly short of winning the World Cup, but won three straight European Cups with Ajax.
3. Diego Maradona, Argentina
Maradona played in an era when defenders were allowed to get away with brutalizing their more skilled opponents, and yet he was still majestic. A hero for leading Italian club Napoli to their first and still only two Serie A titles, his greatest achievement came when he inspired Argentina to World Cup success in 1986, scoring mesmeric goals in both the quarterfinals and semifinals.
2. Lionel Messi, Argentina
The key member of the greatest club team in history as Barcelona have dominated Europe, Messi can change a game in an instant with unfathomable close control while gliding forward at lightning speed. The Argentinian has answered doubts about his ability to perform for his country and could now complete his legacy by leading them to World Cup glory.
1. Pelé, Brazil
Bookended his career at the top level with World Cup wins, first as a brilliant 17-year-old in 1958 and then 12 years later as part of one of the greatest teams to ever grace the competition. In between he picked up another winner's medal in 1962, although was injured during the tournament. The all-time top scorer for Brazil, Pele fired in a total of 1,281 goals during a glittering career.
An IB Times Staff Reporter contributed to this report.
© Copyright IBTimes 2023. All rights reserved.