Top 50 Footballers In the World For The 2013-2014 Season And Players To Watch In Brazil 2014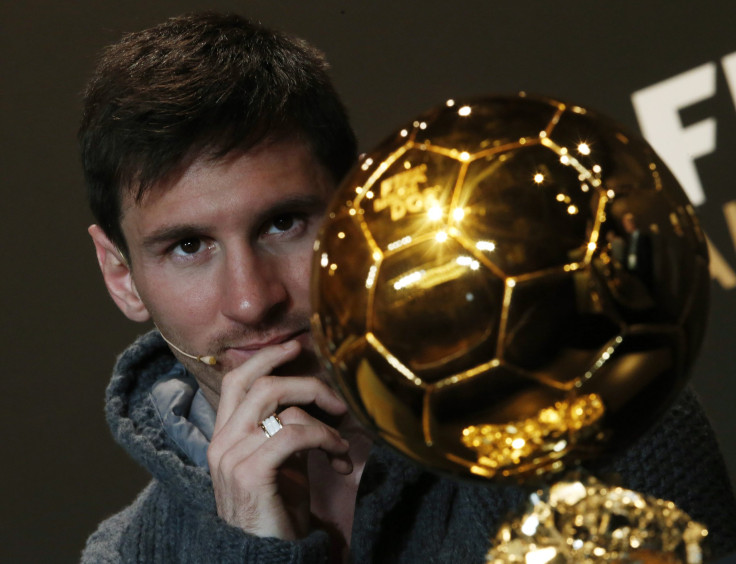 With the 2013-2014 season set to get underway in the top European leagues, there will be plenty of discussion about the best players in the world, with several notable players switching to new clubs.
The 2014 World Cup will also be a motivating factor for these players as they attempt to be in top form for next summer. Entering the tournament, Brazil, Argentina, Germany, and Spain are the frontrunners to win the title. A strong performance by individuals in Brazil 2014 will ensure their names will be remembered for decades to come.
The opportunity to shine in club football is quite different. Players are afforded more opportunities to produce during regular-season matches, Champions League, and in cup tournaments. While a player can thrive in the first half of the season, they may be fatigued by the strain of playing in a high number of matches.
Today's top players mainly serve as attacking midfielders, while there appears to be a bit of a drought of superstar defensive players of the likes of Bobby Moore, Franz Beckenbauer, Franco Baresi, Paolo Maldini, Ronald Koeman, Roberto Carlos, and Fabio Cannavaro.
We ranked where we expect the best players to finish by the end of the 2013-2014 season.
1. Lionel Messi, Barcelona, Argentina An undisputed legend, the clever forward can surpass the greatness of Pele, Maradona, and Beckenbauer if he can win Argentina a World Cup title next summer.
2. Cristiano Ronaldo, Real Madrid, Portugal Has shown no sign of fading from his elite form, and continues to shine on a star-studded club.
3. Radamel Falcao, Monaco, Colombia This powerful forward thoroughly dominates without a strong supporting cast like most players on this list, and the world will soon take more notice.
4. Gareth Bale, Tottenham, Wales A rising superstar by age 22, the athletic winger has emerged as one of the best free-kick specialists in the world.
5. Andres Iniesta, Barcelona, Spain Tremendous poise, combined with superior field vision and technique, makes this humble star the world's best playmaker.
6. Philipp Lahm, Bayern Munich, Germany The best full back in the world has been an extremely steady presence for club and country.
7. Neymar, Barcelona, Brazil He shined at the Confederations Cup, and will only improve in front of a great midfield.
8. Luis Suarez, Liverpool, Uruguay The talisman has been marred by ugly incidents, but he is still an excellent and determined striker.
9. Franck Ribery, Bayern Munich, France A major catalyst for perhaps the best attacking club in the world, Ribery is still a very effective left wing at age 30.
10. Sergio Busquets, Barcelona, Spain Certainly a star on a club packed with stars, Busquets has proven his worth as an elite defensive midfielder.
11. Thiago Silva, Paris Saint-Germain, Brazil The consistently reliable center back not only has excellent athleticism, but an uncanny ability to dispossess top playmakers.
12. Gianluigi Buffon, Juventus, Italy Like many great goalkeepers, Buffon might be getting better with age, and has already reached legendary status.
13. Bastian Schweinsteiger, Bayern Munich, Germany Much was made of the versatile midfielder when he was just 17, and the highly intelligent Schweinsteiger has lived up to many experts' high expectations.
14. Thomas Muller, Bayern Munich, Germany Pep Guardiola should shape this young star into an even better attacking midfielder, which is a scary thought.
15. Edinson Cavani, Paris Saint-Germain, Uruguay Expect a big season from this electric striker, and to perhaps be the deciding factor in PSG's success in Champions League.
16. Robert Lewandowski, Borussia Dortmund, Poland Burst on the scene last season in Champions League, and is emerging into an almost unstoppable scorer.
17. David Silva, Manchester City, Spain Perhaps the most valuable player on arguably the best English Premier League club, this winger's passing and dribbling abilities are outstanding.
18. Zlatan Ibrahimovic, Paris Saint-Germain, Sweden After scoring an astounding 58 goals in 66 club matches for AC Milan and PSG in the last two seasons, Ibrahimovic has proved that he still has something left in the tank at age 31.
19. Xavi, Barcelona, Spain At age 33, Xavi can't expect to carry his club like he previously had, but he remains a superstar playmaker and a legitimate leader for Spain.
20. Robin van Persie, Manchester United, The Netherlands One of the best finishers in the world, the 30-year-old still has excellent touch and a knack for being at the right place at the right time.
21. Gerard Pique, Barcelona, Spain A strong, hard-nosed presence for club and country, who rarely makes mistakes.
22. Mesut Ozil Real Madrid, Germany The early comparisons to Zinedine Zidane were always a stretch, but Ozil is still a truly gifted distributor in the prime of his career.
23. David Luiz, Chelsea, Brazil Don't let the haircut fool you, this versatile defender is a true professional who is capable of shutting down opponents and quickly triggering counter attacks.
24. Mario Gotze, Bayern Munich, Germany Just 21 years old, Gotze combines superb technique with an impressive grasp of the game, and could emerge as a Top 10 player by next season.
25. Wayne Rooney, Manchester United, England Has shown signs of slowing down, but Rooney's intense desire to win and his undeniable talent still serve him quite well.
26. Juan Mata, Chelsea, Spain The transition to the Premier League was a breeze for this mature playmaker, who delivers extremely accurate passes, and is brilliant with possession.
27. Toni Kroos, Bayern Munich, Germany Despite some very minor and correctable flaws, Kroos has a very bright future because of his excellent technique and distribution skills.
28. Marco Reus, Borussia Dortmund, Germany An extremely polished attacking midfielder and winger, both club and country should get even more production out of their talented emerging star in 2013-2014.
29. Andrea Pirlo, Juventus, Italy At age 34, he is still a wizard with the ball, and the smartest player in the game.
30. Karim Benzema, Real Madrid, France Despite some stretches of inconsistency, Benzema has proven to be a steady force in La Liga, and has lived up to lofty standards.
31. Luka Modric, Real Madrid, Croatia A top performing central midfielder when given the freedom to direct an attack, Modric has moments of sheer brilliance.
32. Sergio Aguero, Manchester City, Argentina A fierce, stubborn competitor, who is excellent at creating shot opportunities for himself when they don't appear to exist.
33. Cesc Fabregas, Barcelona, Spain Sometimes lost in the shuffle when surrounded by Messi, Iniesta, and Xavi, but his passing skills and ball control are up there with the best midfielders in Europe.
34. Sergio Ramos, Real Madrid, Spain Still a great defender, and still has a lot left at age 27.
35. Manuel Neuer, Bayern Munich, Germany Seems to get better with every game, Neuer has incredible reflexes and poise.
36. Arturo Vidal, Juventus, Chile One of the most under-appreciated talents in the world, Vidal is arguably the most tenacious players in Serie A, and probably the most versatile.
37. Hulk, Zenit Saint Petersburg, Brazil Only has a modest goals-per-game average, but the talent and the physical presence are there for Hulk to be a top scorer for Brazil next summer.
38. Santi Cazorla, Arsenal, Spain An outstanding offensive threat, he has rightfully earned a great deal of respect in the Premier League for his keen playmaking skills.
39. Angel di Maria, Real Madrid, Argentina Sometimes overshadowed by Ronaldo and Ozil at the Bernabeu, Di Maria has proven to be one of the game's best wingers since leaving Benfica in 2010, and is a deceptive scorer.
40. Iker Casillas, Real Madrid, Spain Despite a minor dip in form, Casillas is undeniably among the best goalkeepers in the world, and still a major weapon for Spain.
41. Xabi Alonso, Real Madrid, Spain Pure class, Alonso is an extremely consistent performer, and has not shown real signs of slowing down.
42. Mario Balotelli, AC Milan, Italy Behavioral issues aside, Balotelli is among the most lethal and talented young strikers in the world and has among the brightest futures on this list.
43. Vincent Kompany, Manchester City, Belgium Nearly always at the right place at the right time, he is a tenacious defender who is also very skilled with the ball.
44. Jordi Alba, Barcelona, Spain Some attitude problems shouldn't deny this speedy left wingback his opportunity to play an even larger role for Barcelona in 2013-2014.
45. Daniele De Rossi, Roma, Italy A consistent performer for club and country, the 30-year-old is still a more than capable central midfielder or center back.
46. Javi Martinez, Bayern Munich, Spain No longer a secret weapon, it may not be long until he is the best defensive midfielder in the game.
47. Gonzalo Higuain, Napoli, Argentina A vastly under-rated striker, the former Real Madrid star should be a huge fish in a small pond for Napoli this season and a key contributor for Argentina next summer.
48. Yaya Toure, Manchester City, Ivory Coast Among the most versatile players in the game, the 30-year-old box-to-box midfielder is also a fine finisher.
49. Ilkay Gundogan, Borussia Dortmund, Germany While Lewandowski grabbed the headlines, midfielder Gundogan was the driving force of Dortmund's run to the Champions League final.
50. Dante, Bayern Munich, Brazil Opponents are finally taking notice of this hard-nosed center back, who thrives against the world's best clubs, and whose stock is rising at age 29.
© Copyright IBTimes 2023. All rights reserved.