Tornado Warnings, Severe Weather: More Than 100M People At Risk In Storm-Battered South
KEY POINTS
Powerful storms, tornadoes ravage the South; two people die in Georgia
Over 100 million people at risk of severe weather
Weather officials warn of heavy downpours, hail, tornadoes, and damaging winds
As a series of powerful storms and tornadoes ravaged the southern U.S., claiming two lives in Georgia, knocking out power and damaging houses, more than 100 million Americans are now at risk of severe weather. Forecasters warned that more strong storms were expected across the Southeast on Tuesday, and states that were at "greatest risk" included Mississippi, Louisiana, Tennessee and Alabama, the Storm Prediction Center said.
Over 100 million people from New Mexico to Delaware were in the path of "some form of severe weather" till Monday evening, the center added. A USA Today report citing AccuWeather stated that tornadoes, heavy downpours, hail and damaging wind gusts of up to 75 mph were likely on Tuesday.
Douglas County spokesman said a man in the county died after a tree and power lines fell on his vehicle on Monday morning. Another death was reported in the community of Bonaire, southeast of Warner Robins, NBC News reported. A 55-year-old woman named Carla Harris died after she was hit by a tree that fell on and through her home, said the Houston County Emergency Management Agency.
A tornado warning was issued for portions of the Atlanta metro area on Monday, but it expired after the storm passed through the region. The National Weather Service said that a confirmed EF-1 tornado struck the Atlanta area and it usurped trees across the area.
One person was injured in West Virginia when a possible tornado hit a lumber company. The person was treated at the scene. A tornado warning remained in effect Monday afternoon for several areas of Alabama, Georgia South and North Carolina. Texas and Oklahoma had a similar warning in effect late Monday evening.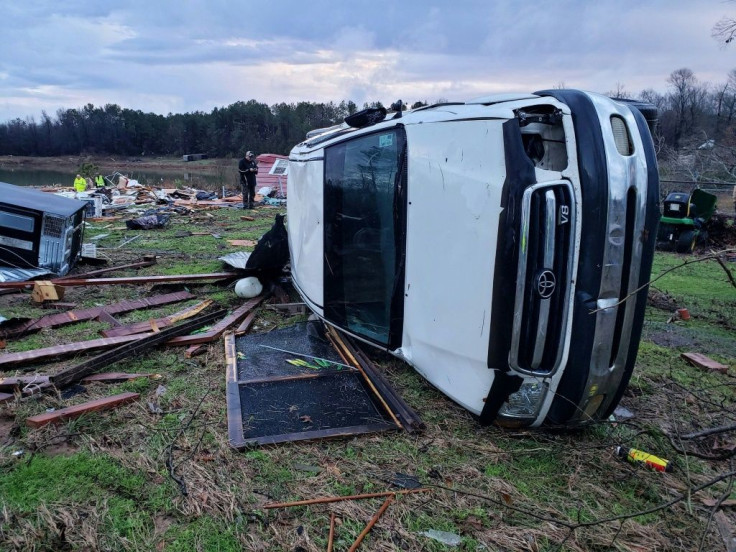 According to CBS affiliate WKRN, tornadoes were reported from Kentucky to South Carolina, and as far as southwest of Atlanta on Monday afternoon. Thirty homes in Tompkinsville, Kentucky, were struck by a tornado on Monday morning, the report said. It added that the damage is far from over as severe storms expected in Texas overnight. These storms are then expected to hit areas from Louisiana to Mississippi on Tuesday before potentially reaching the Atlanta area again.
The National Weather Service in Memphis retweeted pictures showing several fallen trees and power lines. There were reports of damage to homes on Elvis Presley drive, near the street from the home, now a museum, where the legendary singer was born. But it was not damaged.
The violent storms also resulted in massive damage on Sunday. In Mississippi, roofs were torn apart and the severe weather knocked down several trees and power lines. The National Weather Service said that eight tornadoes swept parts of central Mississippi on Sunday, including in the area of Yazoo City.
© Copyright IBTimes 2023. All rights reserved.