'Total Divas' Star Brie Bella Instagrams Picture Of Baby Birdie With Nikki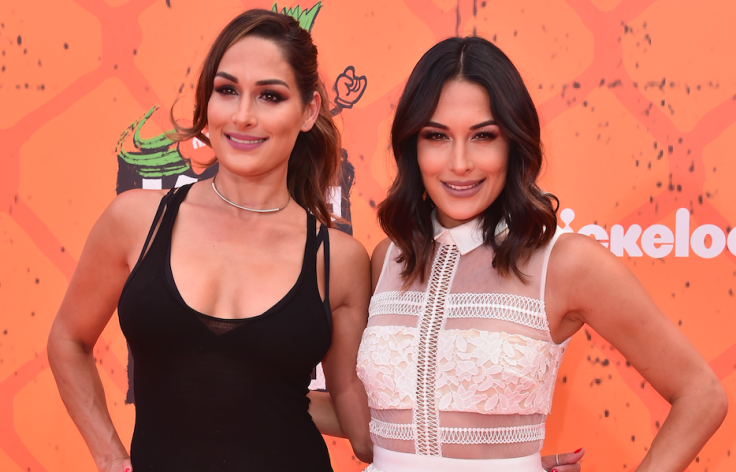 Retired WWE star Brie Bella shared a special Instagram picture Saturday. The post showed her twin sister, Nikki, posing with daughter Birdie Joe on her May 9th birthday. The former wrestler was happy she had the support of husband Bryan Danielson, and gushed over her twin being there, too.
Nikki, 33, cradled Birdie in her arms. "I just love this picture!!" Brie captioned the photo to her 5.1 million followers. "My sister spent majority of my labor with me. I was lucky enough to have Bryan by my side, which he never left, but to also have my sister. I had so much strength and encouragement in the room, that it made my labor easier. There's no greater feeling than seeing your love ones get emotional over your little miracle. It brought tears to my eyes to see my sister meet Birdie for the first time!!! Memories for a lifetime."
The day before, Brie shared a picture of her post-baby body. Unlike some celebrity mother's who are afraid to show off their stomachs, the former wrestler embraced her "postpartum belly."
Brie pouted her lips for the camera and placed her hand over her belly after getting her sweat on at the gym. "[Seventeen] days since I've given birth and I have zero shame in my postpartum belly!!" she wrote Friday. "Graced with some stretch marks and 20 more pounds to lose I'm finally able to start a little cardio. Join me on my journey to getting back my pre pregnancy body. It's gonna be a long road but I'm ready!!!"
Brie has been generous with sharing pictures of herself and Birdie since she gave birth nearly three weeks ago. Even though fans are used to seeing her in a full face of makeup on television, the "Total Divas" star opted for a natural look since she became a mother.
READ: 'Total Divas' Star Nikki Bella Kisses John Cena While Brie Gushes Over Baby Girl
In a picture of her breastfeeding Birdie last week, Brie showed off her fresh face. She didn't, however, include her baby in the image.
"Breastfeeding got me like," she said, sharing sleepy emojis. "......literally my most favorite thing ever but wow it's exhausting.....but I wouldn't change it for the world."
While Brie is enjoying life as a new mother, Nikki is gushing over being an aunt. "Oh my sweet little Birdie. From the moment I first saw you I knew it was unconditional love. I promise to protect and love you forever and ever," the "Total Divas" star wrote about her niece Thursday.
The wrestler, who is engaged to WWE Superstar John Cena, then praised her sister's strength. "And my Brizee, you are the strongest, bravest person I know. So happy God made us twins. Don't know this world without you. And wouldn't ever want to. Goodness I love you both so much," she wrote.
READ: 'Total Divas' Star Nikki Bella Gushes Over Brie Bella's Baby Girl On Instagram
At the end of her lengthy post, she gave a shout out to her brother-in-law. "PS Bryan never left her side, still hasn't, seeing him as a dad is amazing. He's so strong," Nikki wrote.
Brie explained where she picked her daughter's name during an interview with Fit Pregnancy. "Birdie is because my husband and his whole family are 'B's. And he married me, a 'B' too, so his one request was that our kids have 'B' names. I didn't realize how hard it was to find girl 'B' names, but we both came across Birdie and knew that was it!" she said.
Follow me on Twitter @mariamzzarella
© Copyright IBTimes 2023. All rights reserved.