'Total Divas' Star Nikki Bella Gushes Over Brie Bella's Baby Girl On Instagram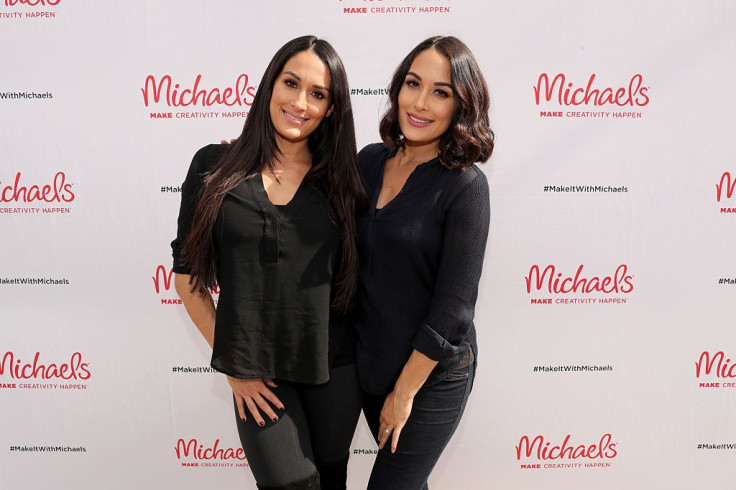 After 41 weeks of waiting for the arrival of her baby girl, Birdie Joe Danielson, Brie Bella finally gave birth and her famous twin sister Nikki Bella couldn't be happier.
On Thursday, Nikki went on social media to gush about meeting the newest member of the Bella family. The WWE star took to her Instagram account to post a glimpse of her sister's newborn while sharing a sentimental message.
In the photo, Nikki's hand can be seen holding Birdie's hand while her left hand, which is accessorized by her diamond engagement ring from John Cena, touches the baby's body.
"Oh my sweet little Birdie. From the moment I first saw you I knew it was unconditional love. I promise to protect and love you forever and ever," the "Total Divas" star wrote about her niece.
The wrestler went on to praise her sister for her strength during the emotional process. "And my Brizee, you are the strongest, bravest person I know. So happy God made us twins. Don't know this world without you. And wouldn't ever want to. Goodness I love you both so much," she wrote.
READ: Nikki Bella talk about Brie Bella's pregnancy
Ending her lengthy post, Nikki gave a special shout out to Birdie's dad and Brie's husband Bryan Danielson. "PS Bryan never left her side, still hasn't, seeing him as a dad is amazing. He's so strong," Nikki wrote.
Over on Brie's Instagram account, she shared the first photo of the three as a family. "The greatest feeling in the world!!! Can't even express the love I feel for her from the moment I saw her I was in love," the "Total Bellas" star wrote.
"Thank you all for your love and support. Birdie Joe is her Daddy's mini me!!" the star wrote. Brie went on to gush about her baby's arrival by adding the hashtags "I'm finally a mommy," "Greatest love" and "Motherhood."
During an interview with Fit Pregnancy, Brie explained the meaning behind her baby's name. "Birdie is because my husband and his whole family are 'B's. And he married me, a 'B' too, so his one request was that our kids have 'B' names. I didn't realize how hard it was to find girl 'B' names, but we both came across Birdie and knew that was it!" she explained.
Brie gave birth to Birdie on Tuesday, more than a week after her April 30 due date. The baby weighed 8 pounds and 10 ounces and was 21 inches long.
Surprisingly, Nikki predicted when Brie would give birth. On Tuesday, the WWE star told E! News that her sister would be giving birth soon. "Her water's breaking today or tomorrow," Nikki said.
The star explained that her sister and her niece were holding off on labor in order to give her time to fly into town to be there for the special moment. "I just feel it, because I think she's waiting for me, both of them," she said.
Although Brie gave birth a few days ago, it looks like she is already so in love with the newest addition to her family.
© Copyright IBTimes 2023. All rights reserved.