Total Solar Eclipse Weather Forecast: Will Clouds Block Your View?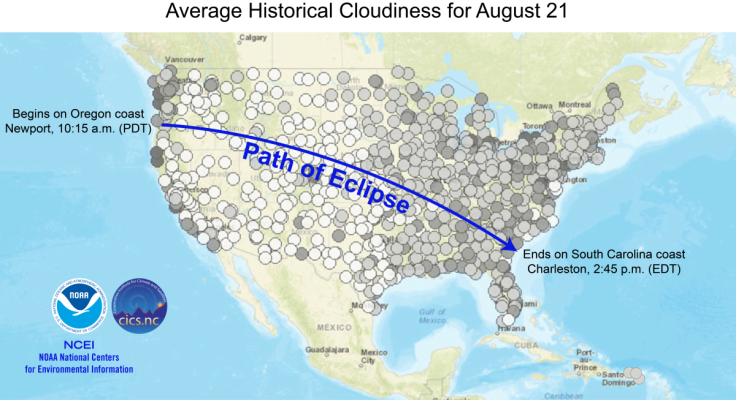 As if it wasn't enough of a bummer that the total solar eclipse on Aug. 21 will be limited to a relatively narrow band across the United States, leaving all the other schlubs to view just a partial eclipse, there might be something else getting in the way of our enjoyment: clouds.
The National Oceanic and Atmospheric Association has released a map that shows how cloudy that day has typically been through history, and it's not a pretty sight. While the western half of the U.S. looks like it might be clear enough on Monday, if past cloud coverage is any indication, the eastern half of the nation is pocked with dark circles, particularly in the Northeast.
Major cities are the ones showing the most coverage, according to an interactive map, which NOAA made in conjunction with the North Carolina Institute for Climate Studies. The darkest circles are concentrated over places like Minneapolis, Chicago, Detroit, Washington, D.C., New York City and Tampa.
Although some clouds cannot block out all the light of the sun, an overcast day would make it difficult to see the moon moving in front of our star — viewers might only be able to see light levels changing.
If clouds obscure this total solar eclipse, there won't be another one visible in the lower 48 states until April 2024, according to NASA. When that year arrives, the total eclipse will move northeast from Texas to Maine.
"Calculations show that it will take about 1,000 years for every geographic location in the Lower-48 to be able to view a total solar eclipse," the space agency explained.
There will also be an annular solar eclipse, when the moon passes in front of the sun but not at the right distance to completely block it out, viewable in the continental U.S. in 2023.
The last time a total solar eclipse moved through the mainland United States was in February 1979.
If clouds ruin the view this summer, and you don't want to wait for the next one in seven years, another option is to visit an area that is expecting a total solar eclipse. Solar eclipses actually happen relatively often; it's just the location from which a total solar eclipse can be viewed that makes each one seem special and rare.
According to NASA, every 1,000 years there are about 635 total solar eclipses — which translates to about two of them every three years. There are also about 840 partial eclipses and almost 800 annular eclipses during that stretch of time.
It's not often that one of those eclipses passes over your home. In fact, given that about 70 percent of the Earth's surface is covered in ocean, a lot of eclipse activity takes place where no one can see it unless they are aboard a ship.
For those who want to follow along with the Aug. 21 total solar eclipse but don't have a good view, either due to an overcast sky or not living along the eclipse path, NASA is broadcasting the eclipse live for your viewing pleasure.
© Copyright IBTimes 2023. All rights reserved.
FOLLOW MORE IBT NEWS ON THE BELOW CHANNELS