'Tower Of God' Episode 5 Live Stream Details, Spoilers Revealed
KEY POINTS
The Crown Game continues in "Tower of God" episode 5
Rachel and her allies will face Bam, Rak, and Khun
Rachel wants Bam dead in the new episode
"Tower of God" episode 5 sees the next round of the Crown Game. The episode is set to showcase Rachel's dark side. Rachel and her teammates will go up against other teams in the next round of the game.
This article contains spoilers from "Tower of God" episodes.
Towards the end of episode 4, Rachel's team is set to participate in the ongoing Crown Game. Rachel's teammate asks if they can kill all the participants and finish the game. Rachel's shocking response – yes.
"Tower of God" episode 5 will take things forward from episode 4's cliffhanger moments. There are several incidents from the last episode that needs to be addressed like Khun possessing a fake crown, Rachel's desire to let others die, and more.
Meanwhile, episode 4 of "Tower of God" starts with Bam screaming at Rachel as she and her team members observe the match. He feels that she cannot be Rachel as he cannot believe she will ignore him this way.
Elsewhere, Anak and her allies fight over who will wear the crown and sit on the throne. Ship Leeso feels that he is the weakest and thinks he should wear the crown while Anak and Hatsu protect him.
Later, it is revealed that if the crown wearer moves from the throne for any reason, their team will be disqualified immediately.
Now, it is on Ship and Hatsu to fight the incoming threat and save the crown from getting robbed.
It is time for the second round, and Bam, Khun, and Rak decide to pass the round and watch the game unfold. Two teams decide to face Ship and Hatsu.
After Hatsu's motivational speech, Ship gathers the courage to fight the opponents. The episode focuses on Hatsu and Ship's comedic chemistry in between battles.
Episode 4 of the anime also reveals that Anak is a princess of Jahad and her weapon – the Green April is exceptionally powerful. The Green April is as powerful as Bam's Black March.
"Tower of God" episode 5 is scheduled to release Wednesday (April 29). The episode will be available for live streaming on Crunchyroll Japanese with English subtitles.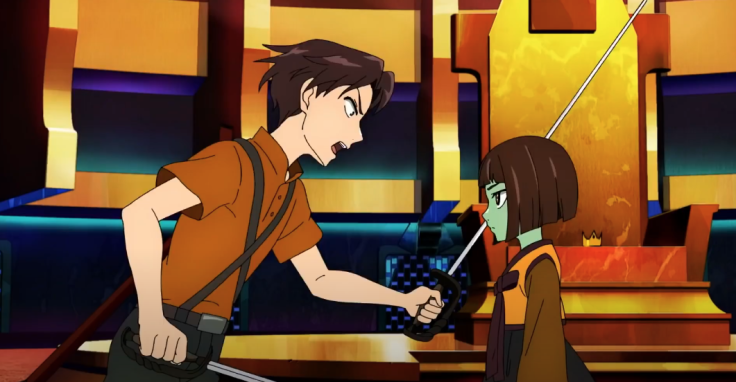 © Copyright IBTimes 2023. All rights reserved.