Toxic Spill Threatens Kruger National Park, South Africa's Biggest Game Reserve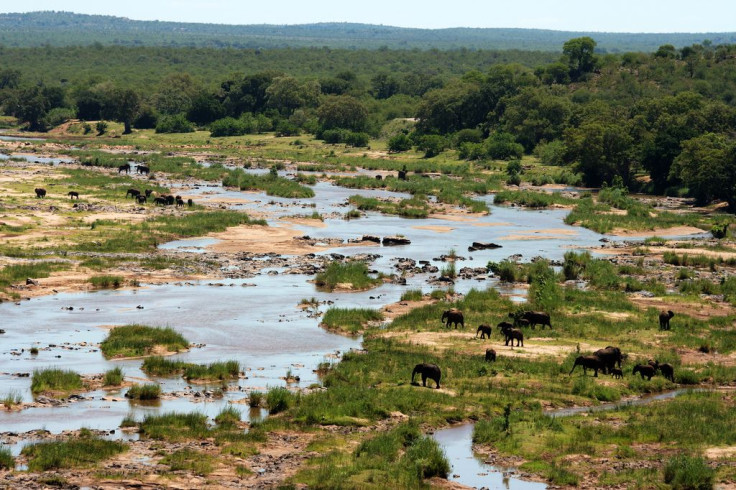 South Africa's department of water and environmental affairs has laid criminal charges against a fertilizer producer whose tailings dam overflowed in the final days of 2013, sending toxic water into Kruger National Park, South Africa's biggest game reserve and most-popular natural attraction.
South Africa National Parks, or SANParks, officially acknowledged the spill earlier this week, saying that highly acidic water from an impoundment dam at Bosveld Phosphate's fertilizer manufacturing plant near Kruger's Phalaborwa entrance had contaminated a 9 mile (15 kilometer) stretch of the Selati River and was spreading. SANParks said Kruger staff detected the toxic spill on Dec. 30 after a tip-off by a local fisherman who had witnessed a "massive" fish kill.
"Heavy rains in Phalaborwa over the weekend of 28 to 29 December contributed to the overflow of the tailings dam. This resulted in highly acidic water being discharged directly into the Selati River just upstream of its confluence with the Olifants River," SANParks noted. "The Selati River is an important tributary of the Olifants River, arguably the most environmentally stressed major river system in South Africa, and an important shared watercourse with Mozambique."
SANParks said it was monitoring the affected rivers and would make the environmental impact of the spillage known to the public once it had conclusive results.
The park authority noted that it had switched all tourist camps in Kruger dependent on water from the Olifants River to backup borehole water. It also issued water restrictions to meet demands and control quality at all tourist facilities.
Kruger National Park spans more than 7,500 square miles (19,500 square kilometers) of land and is known as one of Africa's premier wildlife experiences, attracting in excess of one million visitors each year. The park boasts an impressive diversity of species, including 507 birds, 114 reptiles, 34 amphibians and 49 fish. Its biggest lure, however, is its 147 mammals, including an estimated 8,000 elephants, 5,000 giraffes, 3,000 hippos, 1,600 lions and 900 leopards.
Some park officials fear the toxic spill may have serious long-term affects that could take a toll on some of Kruger's most famous residents.
"We are aware that hundreds of fish have been killed in the river. We have not picked up yet if the bigger animals have been affected; it is too soon to tell," Eddie Rindell, a water resources manager at Kruger National Park, told South Africa's Business Report.
"The spillage is a huge lesson for the park and we need to prevent further incidents," Rindell added. "This is a serious threat to tourism in the long run. We need to have it under control."
Bosveld Phosphates confirmed the spill Wednesday, saying that it "responded immediately to the emergency" and repaired the initial leak within 24 hours. The company admitted, however, that it later discovered a concrete storm water canal on the site that had cracked due to water pressure, resulting in a secondary leak into the Selati River that was "reduced to a trickle" by Jan. 1 and stopped completely on Jan. 6.
"Bosveld is confident that, due to the very high dilution factor caused by strong flows in the Selati River and the Olifants River downstream, there will be no lasting harm to the environment," the company stated. It noted that it had been wrestling with a legacy water management challenge since acquiring the plant from Sasol in 2011 -- a challenge that was compounded by exceptionally high rainfall in recent years.
© Copyright IBTimes 2023. All rights reserved.