Transgender People In Military: TV Ad Hopes To Pressure President Trump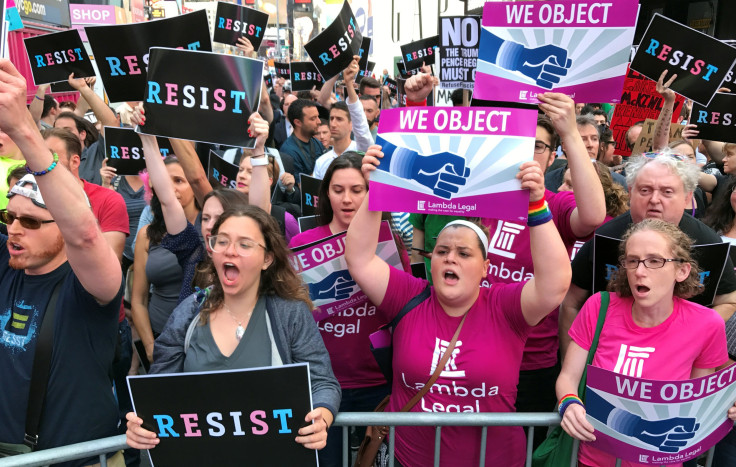 In July 2017, President Donald Trump vowed to not allow transgender recruits to serve in the military. Now, activists are using television ads to pressure the White House into letting transgender people continue to serve in the military.
A television ad, which will be aired Friday in CNN, MSNBC and even Trump's favorite Fox News, uses quotes from Trump, a former senior military leader and several Congress members, who served in the armed forces, to indicate that all qualified Americans should be able to serve. It would be 30 seconds long.
"An unfit president tweets that transgender Americans won't be allowed to serve," the ad would say, Associated Press (AP) reported. "But decorated military leaders say there's no reason to single out these brave heroes."
United States' largest LGBT civil rights advocacy group Human Rights Campaign's spokeswoman Sarah McBride said it's a "critical window of time" to take the fight to the White House, which has not commented on the advertisement.
She said the cost of the ad buy was in "five figures." McBride mentioned it was the largest media campaign on the issue and had the backing of at least four other activist groups.
Before releasing an official memorandum about the ban, Trump tweeted last year: "Our military must be focused on decisive and overwhelming ... victory and cannot be burdened with the tremendous medical costs and disruption that transgender in the military would entail."
According to the memorandum issued by Trump, his order would come into effect from March 23, 2018. However, Trump's ban was overruled by several federal courts, after which the Pentagon was forced to allow transgender individuals to sign up on Jan. 1.
Following this, on Monday, the first openly transgender person signed up for the U.S military.
Pentagon spokesman Major David Eastburn said, "The Department of Defense confirms that as of Feb. 23, 2018, there is one transgender individual under contract for service in the U.S. military," CNN reported.
The identity of the person has not been revealed and it is not clear when the training would begin.
After federal courts rejected Trump's ban, he asked Defense Secretary Jim Mattis for a recommendation on how to proceed. The so-called recommendation reached Trump only last week, AP reported, adding the White House said a quick decision on the matter is not possible.
LGBT activists are worried that Trump administration might authorize health care restrictions due to which it might be impossible for transgender recruits to serve or join the military.
"If they can't access health care, then they won't be able to serve," said McBride. "Then it becomes a ban in and of itself."
Under the new guidelines, an applicant would be allowed to serve in the military only after a medical practitioner certifies the person has been stable without "clinically significant distress or impairment in social, occupational, or other important areas of functioning" for 18 months.
The practitioner should also verify the applicant has "completed all medical treatment associated with the applicant's gender transition, the applicant has been stable in the preferred gender for 18 months, and if presently receiving cross-sex hormone therapy post-gender transition, the individual has been stable on such hormones for 18 months."
© Copyright IBTimes 2023. All rights reserved.