Trashing Hillary Clinton: During GOP Debate, Two Words Not Enough For Republican Candidates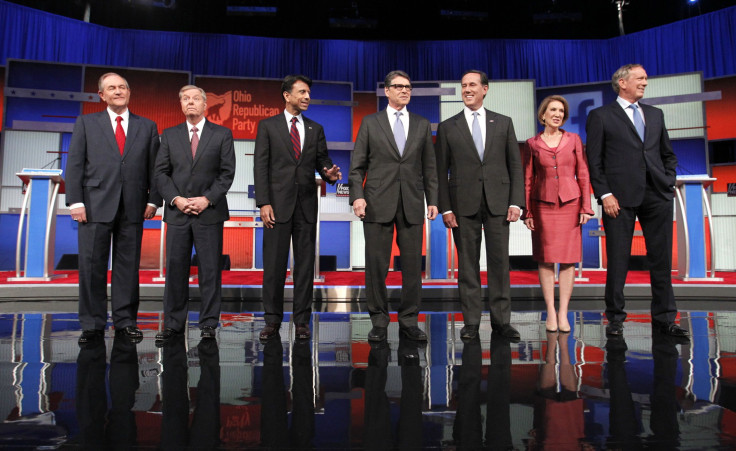 Fox moderators gave the lower-polling Republican candidates the chance to evaluate former Secretary of State Hillary Clinton's capabilities in two words Thursday. But for many of the seven candidates onstage, two words were not enough.
Among those who exceeded the word limit to describe the Democratic candidate during the GOP forum was former New York Gov. George Pataki, who replied, "Divisive and with no vision at all." Texas Gov. Rick Perry also tried to bend the rules with his tongue-in-cheek answer: "Good at email."
Pataki and Perry were two of the seven candidates invited to the 5 p.m. EDT debate. They were joined by former Virginia Gov. Jim Gilmore, U.S. Sen. Lindsey Graham, Louisiana Gov. Bobby Jindal, former U.S. Sen. Rick Santorum and former Hewlett-Packard CEO Carly Fiorina.
Gilmore called Clinton a "professional politician who can't be trusted." Graham said she was "not the change we need." Jindal described her as a "socialist and government dependent." Fiorina racked up four words with her Clinton response: "Not trustworthy, no accomplishment."
However, Santorum did manage to listen to the moderator's question. He called the Democratic candidate "secretive and untrustworthy."
Not much was at stake for the seven at the early debate, but their performances could potentially elevate their campaigns enough to gain entry into the next GOP debate at the Ronald Reagan Library on Sept. 16 in Simi Valley, California.
A prime-time Republican debate was scheduled to air at 9 p.m. EDT, also on the Fox network. It will feature the ten top-polling candidates: New Jersey Gov. Chris Christie; Ohio Gov. John Kasich; billionaire businessman Donald Trump; former Florida Gov. Jeb Bush; Wisconsin Gov. Scott Walker; retired neurosurgeon Ben Carson; former Arkansas Gov. Mike Huckabee; Texas Sen. Ted Cruz; Florida Sen. Marco Rubio and Kentucky Sen. Rand Paul.
© Copyright IBTimes 2023. All rights reserved.