Tribeca Film Festival 2012: Interview With 'Cheerful Weather For The Wedding' Director Donald Rice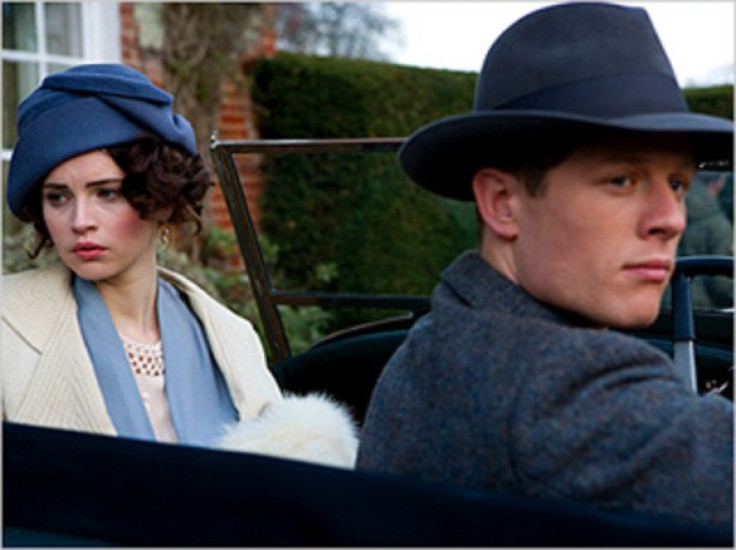 One of the most distinguished films at the Tribeca Film Festival in New York this year is Cheerful Weather for the Wedding. Set in 1932 England, the film centers on a bride's gloomy wedding day.
Dolly (the lovely Felicity Jones) is avoiding her wedding day by isolating herself from her pushy mother and eager guests. As she downs rum and paces about, she recalls a breathtaking love affair she had the summer before. All the while, the man she is fantasizing about, Joseph (Luke Treadaway), is stirring anxiously downstairs. He too is recalling their encounters and imagines in great detail their first meeting and epicly romantic kiss. Heartbreakingly, Joseph is not the man she is set to marry.
For director Donald Rice, Cheerful marks his feature filmmaking debut. The film also showcases his talents as both a writer -- Rice adapted the Julia Strachey novel with Mary Henely Magill -- and a visionary. He brilliantly captures the suffocating nature of Dolly's emotions and juxtaposes them with free-spirited moments of enchantment. While developing the script, he drew inspiration from such ensemble pieces as Gosford Park and The Royal Tenenbaums to properly convey the personalities and interactions of several characters at once.
The International Business Times had the chance to speak with Rice about the popularity of English period dramas, the films that inspire him, and how Tribeca audiences have responded to the movie.
How do you think people have responded to the film at Tribeca?
I don't mind admitting that I was a bit nervous because it was the film's world premiere away from home. But Tribeca has shown my films before [Rice directed the shorts I Am Bob and Traffic Warden], and they went down very well. It's a great festival, it's very well run, the people are incredibly friendly, and they get excellent audiences. On Friday night, which was the premiere, I was so thrilled with how it went down. I was sitting with Elizabeth McGovern, and we were both delighted with it. She actually said it went down better than anything she could remember. I've been really pleased and excited. I think Tribeca was the perfect platform for the film as well.
Where you at all shocked when Cheerful Weather was accepted into Tribeca since it seems to be a depature from the types of films shown at the festival?
I was a little bit surprised, but they're still a young festival and haven't been pigeonholed. They're very imaginative in their programming, and it helps that they're in one of the great roundabouts in the world: New York. Everyone and everything, at one point or another, comes through New York. There's not another city like that in the whole world. They've got a very diverse audience, and they've got very diverse audiences coming in. The fact that they took a chance on this film shows that they have chutzpah.
There's been an unwavering fascination with British period dramas that doesn't seem to be dying out. Why do you think that is?
Period drama can touch an enormous range of films. Cheerful Weather combines elements of comedy and drama, but I'm happy to call it a period drama just as I'm happy that it's being compared to Downton Abbey. It's similar to the show in that it features a large range of characters who are stuffed in one house, but there's a big range of styles. You have the Auden-style productions as well Merchant Ivory films. You can even include Mike Leigh in that group with films like Topsy-Turvy and Ken Loach's The Wind That Shakes the Barley. These are all British and Irish period dramas that are hugely diverse. I think that people are attracted to the fact that they're not going to be patronized and instead treated seriously as an audience. They also know they'll be indulged in terms of scenery, costumes, and acting.
People have a fascination with a period where times seemed simpler in terms of the order of the world. That's why they've never gone away. One of the things about Downton that's so riveting is that audiences can imagine themselves as both the master and the servant. Audiences are able to identify with those living upstairs and downstairs. That's been a staple of great literature from Canterbury Tales onward.
You watched a few films that have ensemble casts to prepare for Cheerful Weather. Can you name some of the films and novels that inspired you?
Mary and I looked for films with a similar tone, particularly when it came to literary adaptations. The tone of Gosford Park is fantastic. There's an element of mischief, which means that the audience doesn't quite take the whole thing seriously. At the same time, you're beckoned into that household, and as a guest you're always looking over your shoulder for people overhearing things. There are characters in the film that you're invited to mock, some you're invited to care for, and others that you're invited to despise. It's a brilliant ensemble piece.
We also looked at The Royal Tenenbaums and Festen [the 1998 Danish film known in the U.S. and the U.K. as The Celebration], which is a little extreme, but the visceral energy of that film was absolutely amazing. There's definitely a chain of DNA between Gosford Park and Festen without a doubt.
In terms of literary adaptations, I've always been a fan of Brideshead Revisited [the 1981 British television miniseries] because it indulges the book so brilliantly. It's a 10-hour adaptation of a book that's about 300 pages. Charles Sturridge [the director] decided that the book needed time since it was about looking back on youth. It needed time to indulge the story of this man growing up. If they had done it in two hours, it wouldn't have worked.
We were just looking to get the right tone of Cheerful Weather. Even though it's only a 90-page book itself, it's got a very sharp, clever, and clear tone.
The central scenes of the film, which involve the wedding, are very claustrophobic whereas the flashbacks show more freedom. How did you go about conveying those elements?
The summer flashbacks were entirely the work of Mary and I. We were reluctant to step away from the book, but as soon as we did the script started to get better. It developed its own artistic integrity. We thought that the audience would want to get out of the house and have a taste of what happened the summer before. The scenes showed something far more relaxed and rich. Those scenes are soaked in color and are much slower. It also gives the audience an opportunity to see the characters when they looked happy. It was no good just showing them looking sad and miserable on the wedding day. We needed to show what they'd had when they'd had it.
In terms of the film industry, you started out doing smaller production jobs. How did you make the transition from that to directing your first feature film?
I found doing small-scale production jobs really fun, and I would always recommend that to anybody starting out. The experience that I got just being a runner or production assistant was absolutely invaluable. You also meet people. Developing Cheerful Weather was a steady and slow process. Getting the script in shape took quite some time. By the time it got the green light, I felt like I knew all the characters intimately, and creatively I was ready to go. It took lots of steps to get to the feature.
© Copyright IBTimes 2023. All rights reserved.