Tribeca Film Festival 2016: How 'Detour' Brought Together 3 Young Stars, With A Twist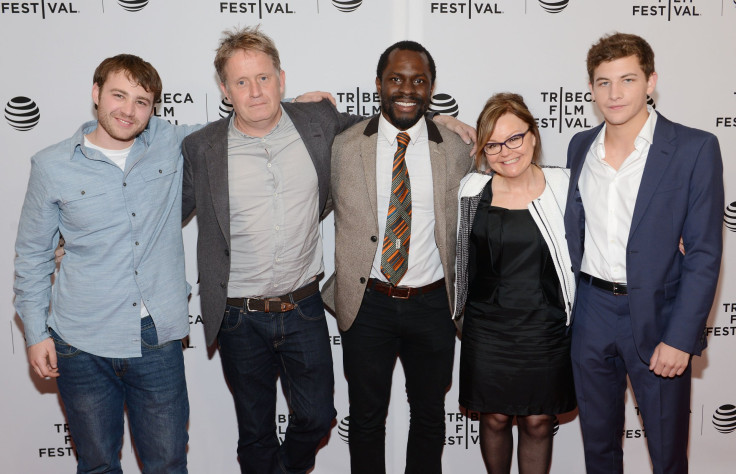 "Detour," which premiered this week at the 2016 Tribeca Film Festival in New York City, is a twist on the Alfred Hitchcock classic "Strangers on a Train." The film's three leads, however, are certainly no strangers to the spotlight.
In casting "Detour," which tells the story of law student Harper (Tye Sheridan), who drunkenly agrees to pay tough guy Johnny Ray (Emory Cohen) to kill his scheming stepfather, director Christopher Smith cast three of Hollywood's brightest young stars. Sheridan, 19, has built a critically acclaimed career in prestige films like Terrence Malick's "Tree of Life" and Jeff Nichols' "Mud." Cohen, 26, is fresh off his leading role in the Oscar-nominated "Brooklyn," and Bel Powley, 24, who plays Johnny Ray's femme fatale girlfriend, Cherry, was the subject of much buzz after 2015's "The Diary of a Teenage Girl."
But when Smith doled out the roles, he could not have known how much star power he had on his hands.
"You've got to remember this was a year and a half ago," Smith told International Business Times during an interview at Tribeca alongside Cohen and Sheridan. "I had seen and loved [Cohen] in 'Place Beyond the Pines.' 'Brooklyn' hasn't come out yet. Bel is apparently really good in this movie 'Diary of a Teenage Girl,' which nobody has seen ... Now everyone is saying you've got this amazing, hot cast. 'Brooklyn' could have been terrible. 'Diary of a Teenage Girl' could have been terrible."
Sheridan was the first of the three attached to the film and, at the time, the biggest name of the trio. Having gotten his first break big in the best picture-nominated "Tree of Life" at age 14, he went on to success in movies like "Mud," "Joe" and "Scouts' Guide to the Zombie Apocalypse." Later this year he will play Cyclops in "X-Men: Apocalypse."
For "Detour," he was on set in South Africa with Smith long before Cohen and Powell, filming the chunk of the movie that takes place at Harper's house. "Detour" daringly splits its narrative based on Harper's moral choice of whether to follow through with his murderous plan or stay home. The story is simultaneously a film noir road movie about Harper, Johnny Ray and Cherry's trip to Las Vegas to do the dirty deed as well as a drama about what happens if Harper does not get in the car. However, a devious twist — the movie has many — links the alternate universes in unexpected ways.
For Sheridan, balancing the two narratives was about keeping things simple.
"I just wanted to make sure that everything falls into sync with the story," the young actor said. "The way we filmed was quite simple. Just act the way he would act at this point in the story."
For the road movie part of the film, however, Smith and Sheridan would need their Johnny Ray, but 10 days out from the start of production, the role was still unfilled. That is when someone suggested Smith take a look at Cohen.
Smith had seen Cohen as a troubled teen in "The Place Beyond the Pines" and admired his performance. But he had initially imagined someone older, closer to 30 or 35, for the role. He soon realized, though, that the younger Cohen, who was in Atlanta producing an album when he got the call from the director, would bring an appropriately juvenile energy and a family dynamic to the movie's trio of outcasts.
For Cohen's part, the "Brooklyn" star saw humor in the short-tempered criminal, not at all out of place in a movie that revels in playing with the audience's expectations.
"I know he is written as this d---," Cohen remembers telling Smith, "but I actually think he is really funny."
Cohen's age did not keep him from bringing intensity to the role, either. When Johnny Ray visits drug kingpin Frank, played by John Lynch, to whom he owes money, Frank scolds the young outlaw by hurling whiskey glasses at his chest, cruelly announcing that it "does not count" until one breaks. Cohen says when the plastic glasses they used on set did not come out right on film, he opted to have Lynch throw real ones instead.
"I'll take the hits," said Cohen. "It's not about being method. Johnny Lynch is Frank, I'm Johnny Ray. Let's throw some glasses!"
Sheridan added: "He had bruises all over his chest."
When Bel Powley's name was first tossed around for the role of Cherry, Smith believed that the "chubby" girl he saw in that movie could never be the frail, femme fatale he wanted for his film. However, once he saw some pictures of the thin and fierce actress, he changed his mind. He had to trust people singing her praises about "Diary of a Teenage Girl," since he had not yet seen it.
"I go to meet her and go, 'Apparently, you're good,'" Smith confessed.
At the time, Smith thought he had cast three talented, but young unknowns. Now he has one of the hottest casts at the Tribeca Film Festival. Talk about a twist.
© Copyright IBTimes 2023. All rights reserved.