Tropical Storm Emily: Florida State Of Emergency, Upgraded Strength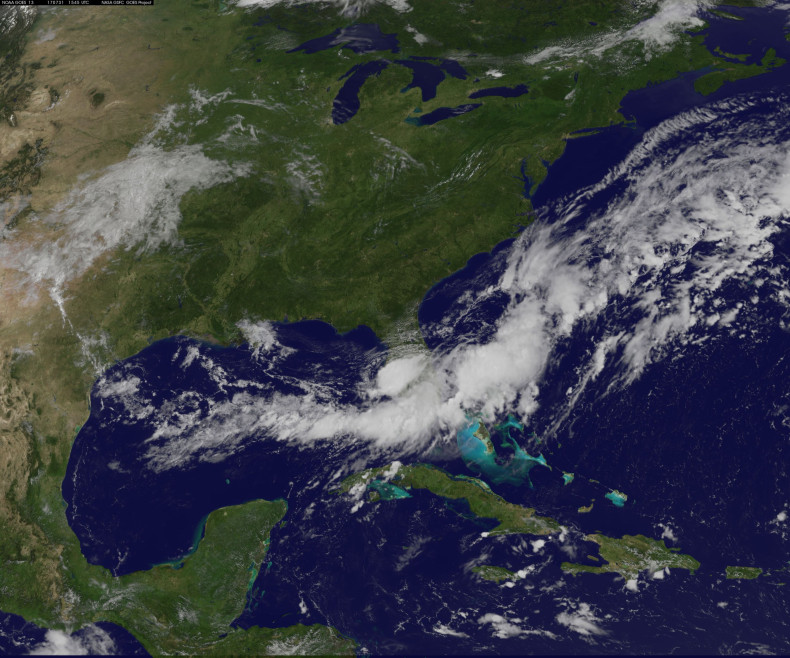 Some residents of Florida woke up to a very rainy and, in some areas, flooded sunshine state. Tropical storm Emily made landfall along Florida's Gulf Coast Monday morning and was on track to make its way across the state before heading out into the Atlantic Ocean.
The storm was upgraded from a tropical depression to a tropical storm at 8 a.m. EDT Monday by the National Hurricane Center, just two hours after the first warning about the tropical depression that Emily formed from.
The storm is expected to drop inches of rain on the state, some areas will get up to eight inches, forecasters are estimating. While the storm will have strong winds, the rain is the real cause for concern in Florida.
Read: Hurricane Season 2017: What Are The Chances?
Emily developed rapidly and forecasters didn't see it coming. The Hurricane Center's advisory for the tropical storm advises that rain accumulating between two and four inches is expected between the Tampa Bay area and Naples on the West Coast of the state through Monday. Certain isolated areas could see up to eight inches of rainfall in that time. Other areas in the central and southern parts of the state will see one to two inches on average with some areas getting up to four inches.
Heavy rains were already falling on some areas as Emily made its way across the state Monday. Videos and photos of the rains and flooding were already cropping up on Twitter during the early hours of the storm.
What's the difference between a tropical depression and a tropical storm?
Tropical Storm Emily was upgraded because of wind speeds. A tropical depression is classified by wind speeds of 38 miles per hour or less. Once the storm's winds pick up some speed, anywhere between 39 mph and 73 mph, the system becomes a tropical storm. Hurricanes are classified by winds of 74 mph or more, according to the National Oceanic and Atmospheric Administration.
Read: Hot Summer? NOAA Report Shows States Likely To See Above Average Temperatures
Florida issued a state of emergency for 31 counties across the state as of Monday, reported the Sun Sentinel. The storm will cross the width of Florida during the day Monday and through the evening into Tuesday. Most forecasters are predicting that by Tuesday morning it will have moved out into the Atlantic.
The storm is expected to weaken and return to a tropical depression as it travels across the state throughout the day and into the night, according to NASA. Before it heads off into the ocean though it will drop a lot of rain on Florida and probably cause some damage from floods and winds.
© Copyright IBTimes 2022. All rights reserved.