'True Blood' Season 7: Pam's Kristin Bauer Van Straten Comments On Sarah Palin At Comic-Con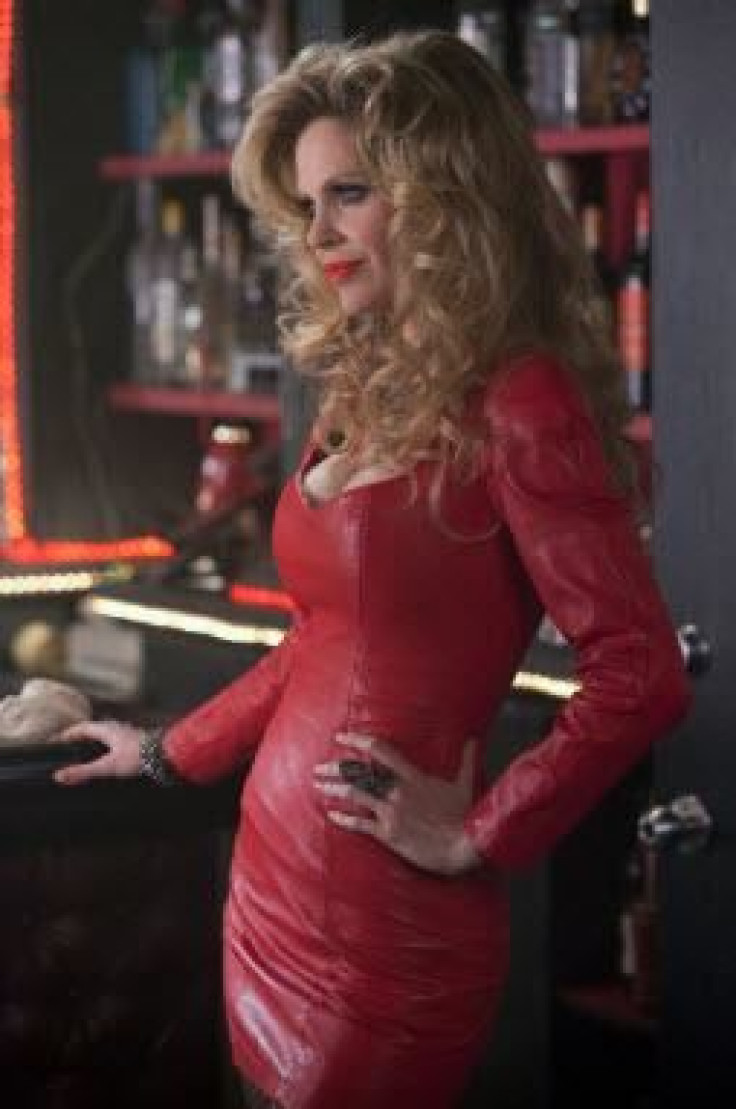 Pam isn't the only one with a sassy mouth on "True Blood." While at San Diego Comic-Con, the vampire's human counterpart, Kristin Bauer van Straten, made sure to comment on the latest drama involving former governor of Alaska and Republican vice presidential nominee, Sarah Palin.
According to The Wrap, the actress and animal rights activist referred to Palin as a "wolf-killer lady."
"She'll way in on anything," Straten said of Palin during the 2014 "True Blood" Comic-Con panel. "It's sweet many, many years later that I've made her angry, I had fun doing it."
For those that haven't been keeping up with the off-screen shenanigans of "True Blood," Palin spoke to the press last week regarding episode 5 of the hit HBO series. The episode featured Eric and Pam attending a fake Republican gala for Sen. Ted Cruz, R-Texas, at the George W. Bush Presidential Library in Dallas, Texas. The vampire characters mocked the event – with Pam even saying that she was dressed like a "Republic***."
Following the episode, Sarah Palin revealed that she was offered a cameo and turned it down.
"The brilliant minds of 'True Blood' were brazen enough to ask me to do a cameo on their show, apparently so they could insult a conservative woman in person instead of just all conservative women in general," the former VP nominee told Breitbart News. "Their offer wasn't presented in any negative way, perhaps to benefit from a surprise factor after the guest appearance. I turned them down anyway."
HBO confirmed in a statement to Talking Points Memo that casting for "True Blood" did approach Sarah Palin, amongst several other Republic figures, for a small role in episode 5.
"Casting directors for the show reached out to Ms. Palin's representative but did not receive a response," HBO spokeswoman Kelley Carville explained. The rep continued that the show's intention wasn't to attack Palin.
"Had Sarah Palin come on the show, she would have been treated with the same level of dignity and respect all of the show's actors are and would have been privy to the script in advance of filming," said Carville.
Sarah Palin wasn't the only one to comment on episode 5 of "True Blood." Ted Cruz also responded to his reference in the episode shortly after it aired.
"Of all the places I never thought to be mentioned, HBO's 'True Blood' vampire show would have to be near the top of the list," Cruz posted in a Facebook message. "Sunday night, they aired a misogynist and profanity-ridden episode where Texas Republicans are murdered attending a 'Ted Cruz fundraiser.' Well, I'm sorry to have lost the vampire vote, but am astonished (and amused) that HBO is suggesting that hard-core leftists are blood-sucking fiends …"
The seventh and final season of "True Blood" will continue on Sunday, July 27, with episode 6.
© Copyright IBTimes 2023. All rights reserved.