Trump Approval Rating On Coronavirus Response Remains Very Low
KEY POINTS
The latest ABC News/Ipsos poll shows 58% of Americans disapprove of Trump's handling of the federal government's pandemic response
It shows 94% of Democrats disapprove as against 90% of Republians that approve
59% of Independents disaprove of Trump's actions
Almost six in 10 American voters don't like how President Donald Trump is responding to the COVID-19 pandemic, stretching a downturn that surfaced in early April, a new poll shows.
Trump received a 58% disappproval rating and a 41% approval rating for his handling of the coronavirus crisis, according to a ABC News/Ipsos poll conducted June 17 and 18 -- holding virtually steady from a poll that the outlets took two weeks ago.
The outlets began the poll in March 11, when Trump's disapproval rating stood at 43% when the poll began on March 11. His highest approval rating -- 55% -- was on March 18.
Except for the March 18 survey, the president's approval rating has been below 50% in the nine other polls conducted from March 11 to June 17.
The new number comes with less than five months until the Nov. 3 general election. As in the other polls, the results are starkly divided along partisan lines.
Democrats are nearly unanimous -- 94% -- in their disapproval of Trump's response. Republicans are nearly just as strong in their approval -- 90% .
Independents, a key swing voting bloc, came down against Trump as well -- with 59% checking the disapproval box.
Race, gender and age also showed deep divisions on Trump's performance.
Black Americans and Hispanics strongly disapprove of Trump's response, 85% and 74%, respectively, while 49% of white Americans disapprove.
And 62% of woman give Trump a thumbs-down, compared with 54% of men.
The poll was conducted in English and Spanish among a random national sample of 727 adults with oversamples of black and Hispanic respondents. The margin for error is 4.1 points, including the design effect.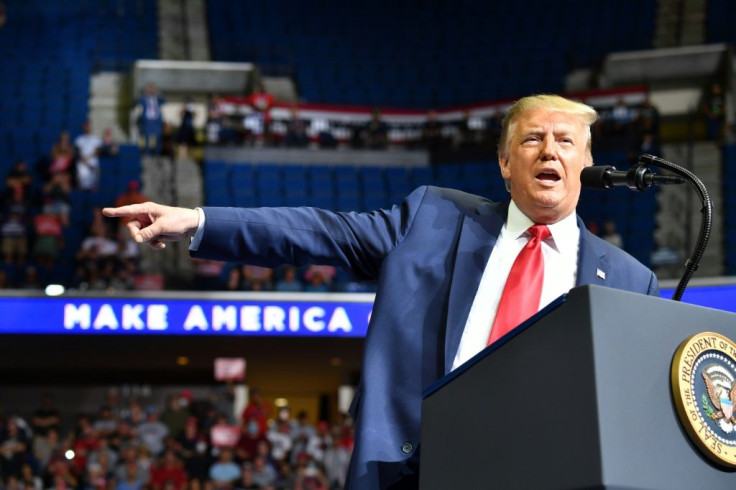 © Copyright IBTimes 2023. All rights reserved.