Trump Backs Off Call For 2020 Election Delay, But Says Mail-In Voting Will Be 'Greatest Fraud'
KEY POINTS
Trump lashes out at universal main-in voting and hints at postponing Nov. 3 general election
He insists the 2020 elections could be "fixed" and "rigged" by Democrats using mail-in voting
President softens stance after GOP leaders assert the November election will proceed as scheduled
President Donald Trump backed-off his suggestion of delaying the Nov. 3 general election, but not his fierce attacks on universal mail-in voting, after GOP leaders publicly rejected his position.
At Thursday's White House briefing, Trump insisted the 2020 elections could be "fixed" and "rigged" by Democrats, who want universal mail-in voting due to the COVID-19 dangers posed by in-person voting. He called mail-in voting a "disaster" that will lead to "the greatest fraud."
"You're sending out hundreds of millions of universal mail-in ballots," said Trump. "Hundreds of millions. Where are they going? Who are they being sent to? It's common sense."
Trump, whose comments come as he trails Democratic presumptive nominee Joe Biden in most major polls by double digits, earlier questioned if the election should be delayed due to the potential for mail-in ballot fraud. He claimed delays in mail-in results and lost ballots might mean the election winner isn't clear for weeks or months after the election.
"I want an election, and a result, much more than you. I think we're doing very well," he said. "... I don't want to see a rigged election."
Hours after the press conference, however, Trump said has was only trying to raise awareness about mail-in voting fraud with his tweet. He claimed he wasn't serious about postponing the election.
"Glad I was able to get the very dishonest LameStream Media to finally start talking about the RISKS to our Democracy from dangerous Universal Mail-In-Voting (not Absentee Voting, which I totally support!)," he tweeted.
Trump's sudden about-face came hours after he tweeted early Thursday morning that "Universal Mail-In Voting (not Absentee Voting, which is good), 2020 will be the most INACCURATE & FRAUDULENT Election in history. It will be a great embarrassment to the USA. Delay the Election until people can properly, securely and safely vote???"
He went on to defend this allegation at a contentious press briefing, which came after top GOP leaders like Senate Majority Leader Mitch McConnell, R-Ky., and House Minority Leader Kevin McCarthy, R-Calif., publicly repudiated Trump's call to delay the election.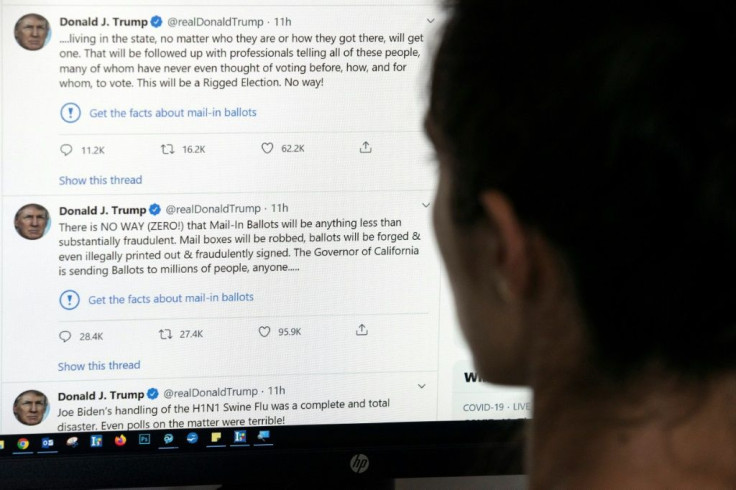 "Never in the history of the country, through wars, depressions and the Civil War, have we ever not had a federally-scheduled election on time," McConnell told a Kentucky radio station. "We'll find a way to do that again this November 3rd."
McCarthy dismissed Trump's call to delay the election. "Never in the history of federal elections have we ever not held an election and we should go forward with our election," he said. "No way should we ever not hold our election on the day that we have it."
Majority Whip Sen. John Thune, R-S.D., insisted there will be an election in November despite Trump's tweet.
"I think that's probably a statement that gets some press attention, but I doubt it gets any serious traction," said Thune to CNN.
"I think we've had elections every November since about 1788, and I expect that will be the case again this year."
Trump ally and Senate judiciary chairman Sen. Lindsey Graham, R-S.C., said Trump's call to delay the election: "I don't think that's a particularly good idea."
© Copyright IBTimes 2023. All rights reserved.
FOLLOW MORE IBT NEWS ON THE BELOW CHANNELS