Trump Campaign Misspells Name Of Iowa Town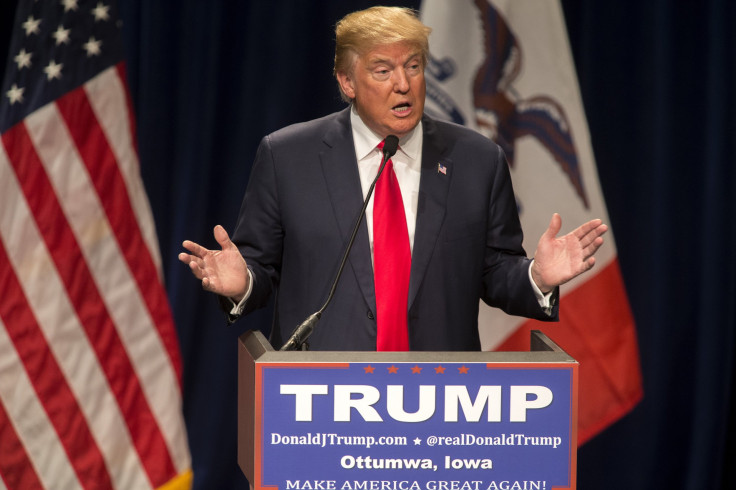 When you're jetsetting between states and preparing impassioned speeches to drum up support before a critical vote, it's hard to remember to spell-check everything. Republican U.S. presidential candidate Donald Trump's campaign distributed media credentials that misspelled the name of an Iowa town he was visiting this weekend, writing it as "Ottumwba" instead of "Ottumwa."
The errant "b" did not go unnoticed by eagle-eyed journalists. Scott Mahaskey, director of photography at Politico, tweeted a photograph of the error from the campaign trail:
Ottumwa is a small city of roughly 25,000 people in southeastern Iowa. Trump spoke there Saturday in an effort to build support ahead of the Iowa caucuses Feb. 1. The New Hampshire primary election will follow Feb. 9. Although the billionaire businessman is still considered the front-runner in the overall race for the GOP presidential nomination, he is being led in the Hawkeye State by U.S. Sen. Ted Cruz of Texas.
"We gotta win Iowa," Trump told supporters who gathered at the Ottumwa rally, according to Reuters. "We gotta win it. OK, so we're going to win it, OK? Otherwise, we're wasting our time, folks."
The Ottumwa Courier noted many local residents turned out for his visit, calling it "one of the largest crowds in recent history."
Although embarrassing, the spelling mistake was not the most egregious typo made by Trump's campaign. In November, the campaign erroneously spelled "Tennessee" without the second "s" on a poster plastered in front of the candidate's speaking podium during a visit to Knoxville. The poster was removed before he began talking.
Elsewhere, the trailing Republican candidates made efforts to bolster their popularity before the key votes in Iowa and New Hampshire. Sen. Rob Portman of Ohio endorsed his state's Gov. John Kasich for president Saturday. Neither Trump nor Cruz has earned the endorsement of any governors or senators, the New York Times reported.
CORRECTION: An earlier version of this story stated that the population of Ottumwa is 5,000 people. According to the U.S. Census Bureau, the population of Ottumwa in 2014 was 24,682. The article has been updated.
© Copyright IBTimes 2023. All rights reserved.