Trump Congress Speech Fallout: Honoring Navy SEAL Appropriate But Investigation Still Important, Democrats Say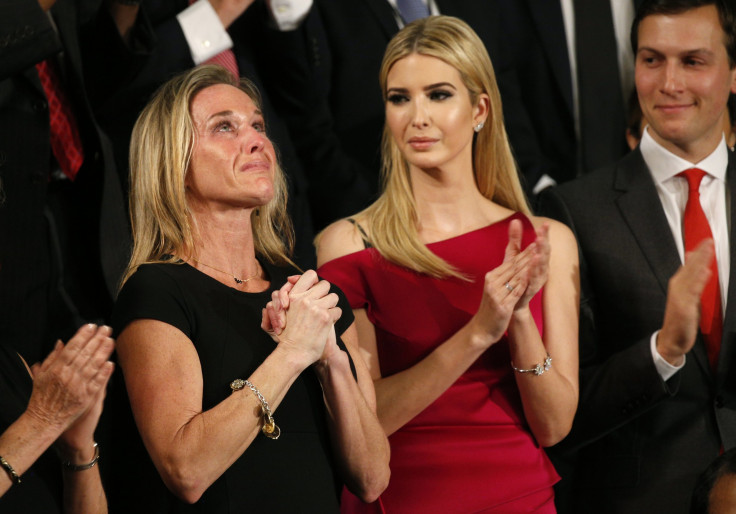 Following President Donald Trump's speech to Congress on Tuesday, several political observers accused him using Carry Owens, the widow of Navy SEAL Ryan Owens who was killed in a raid in Yemen five days into his presidency, as a stage prop to win applause. Although Democrats did not raise questions about Trump's intent of honoring Owens, they said that the tribute does not answer the questions surrounding the Yemen raid.
"Ryan died as he lived: a warrior, and a hero - battling against terrorism and securing our nation...I just spoke to General Mattis, who reconfirmed that, and I quote, 'Ryan was a part of a highly successful raid that generated large amounts of vital intelligence that will lead to many more victories in the future against our enemies...Ryan's legacy is etched into eternity. For as the Bible teaches us, there is no greater act of love than to lay down one's life for one's friends. Ryan laid down his life for his friends, for his country, and for our freedom - we will never forget him," Trump said on Tuesday.
Navy SEAL Chief Petty Officer William "Ryan" Owens was killed on January 29 in a ground mission in Yemen that also resulted in the death of over 20 civilians, along with 14 al Qaeda militants. In its aftermath, several questions were raised about whether or not the raid was worth the loss of an elite U.S. special operator and an Osprey aircraft. Some Democrats have raised demands for an official investigation (the request for which was also made by Owens father) of the raid, which has been subsequently characterized as "botched."
"I was proud to be part of the standing ovation in tribute to her courage and strength and her sacrifice, particularly as the dad of a naval officer who's currently deployed. But it's no substitute for an investigation," Sen. Richard Blumenthal (D-Conn.) said, according to Politico.
Other Democrats pointed to the fact that the way Trump was trying to absolve himself of the responsibility when he began by saying "they lost Ryan."
"I think he made an unfortunate statement earlier where he kind of blamed it on the generals, kind of deflected responsibility, and I think, in his way, he was trying to make up for it," Sen. Tim Kaine (D-Va.), said.
Meanwhile, White House Press Secretary Sean Spicer on Wednesday thwarted accusations made by prominent media personalities such as Glenn Greenwald, Michael Moore, Bill Maher, among others, who said that Trump used Carry Owens, the widow of Navy SEAL Ryan Owens, as a prop to earn applause.
© Copyright IBTimes 2023. All rights reserved.